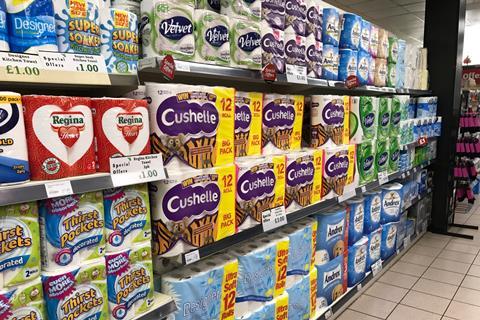 The growing possibility of a coronavirus epidemic in the UK is fuelling panic buying - with 34% of shoppers already stockpiling items and 88% set to do so in the event of a major outbreak.

Retailers and suppliers have been keen not to raise fear levels, but that has not stopped shoppers clearing shelves of items such as dried pasta, tinned tomatoes, hand sanitisers and toilet roll.

Exclusive research, compiled for The Grocer by Him, shows shoppers have stockpiled from 2.8 categories in case of supply disruption with frozen foods, toiletries, medicines, water and petfood also popular.

The poll of 1,000 shoppers found 84% were concerned over the prospect of a major UK outbreak, with 67% worried shops will run out of groceries.

Experts claimed UK food and drink supply was robust enough to prevent major shortages.

Bernstein senior analyst Bruno Monteyne said it was important not to scaremonger. "The industry has plans to deal with this. Yes, it will be chaotic - and expect pictures of empty shelves - but the industry will reduce complexity to keep the country fed."
What will shoppers stockpile?
Have you started to stockpile, or would you stockpile products, if we have a major coronavirus outbreak?
Started to stockpile
Would stockpile
None
66%
12%
1
Tinned foods
17%
59%
2
Dried goods (ie pasta, rice, noodles, cereals, jams)
14%
50%
3
Frozen foods
14%
52%
4
Toiletries
14%
35%
5
Household goods (ie loo paper)
13%
47%
6
Medicines
13%
37%
7
Wipes and hand gels
12%
35%
8
Water
11%
29%
9
Pet food
10%
26%
10
Meat
10%
27%
11
Minerals and vitamins
9%
17%
12
Fruit & veg
9%
26%
13
Soft drinks
9%
20%
14
Dairy
8%
27%
15
Chilled foods
8%
16%
16
Bread / baked goods
7%
27%
17
Bagged Snacks
7%
21%
18
Confectionery / sweets
6%
15%
19
Fish
6%
13%
20
Energy bars
6%
11%
21
Alcoholic drinks
5%
15%
22
Baby food
5%
6%
23
Other
1%
1%
Source: Him, 4 March 2020
And Andrew Opie, BRC director of food & sustainability, said retailers were working with suppliers to minimise disruption and "availability of products remains good".

FDF CEO Ian Wright also confirmed there was "no evidence of significant disruption to food supplies. UK food and drink manufacturers have robust procedures in place."

However, our research demonstrates these messages are not resonating with consumers, with 12% expecting to buy a new, bigger freezer in order to stock up.

The virus is also changing the way they shop. Almost a quarter (23%) said they had switched to online grocery shopping to cut down on what they might see as risky trips to the supermarket.
Online sales were already surging last weekend.

On Monday, Ocado warned it was facing "exceptionally high demand" and, in an email to customers, advised them to place orders early.

The retailer said: "More people than usual seem to be placing particularly large orders," and suggested customers place their order two to three days in advance as "delivery slots are selling out quicker than expected."

Meanwhile, Waitrose has provided online shopping guidance for customers affected by coronavirus. It has published information on its mobile app to say it is "still happy to deliver" to customers self-isolating due to coronavirus, but they must contact customer services to let them know, after their order is placed.
How shoppers are changing their behaviour in response to the coronavirus threat
67% Over two-thirds of shoppers are concerned that stores will run out of grocery items in the event of a major coronavirus outbreak in the UK, amid widespread reports already of shelves being stripped of loo rolls, tinned cans and pasta
84% At 86%, women are slightly more worried about a major coronavirus outbreak than men (83%)
12% Some good news for white goods sellers. With 42% of shoppers intending to stock their freezers up more, that's the number of shoppers who say they plan to buy a bigger freezer
23% will increase their use of online grocery shopping due to coronavirus concerns. Ocado reported 'exceptional demand' and 'particularly large' orders last weekend