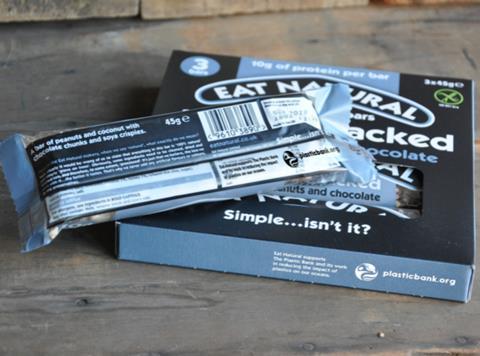 Snacks and cereals brand Eat Natural has made a commitment to 'plastic neutrality' through a new partnership with sustainability organisation Plastic Bank.
Eat Natural is the Plastic Bank's first British fmcg partner, according to the supplier. It aims to offset its annual plastic footprint by financing the collection of 115 tonnes of ocean plastic, mainly in the Philippines.
Plastic Bank operates in impoverished areas around the globe, allowing collectors to trade plastic waste for money, goods, or health and education services. The system, which the operation calls Social Plastic, helped "both the fight against poverty and the battle against plastic waste".
Eat Natural said its relationship with Plastic Bank, which will be highlighted on pack, was "one part of a much wider 'sustainability jigsaw'" the Essex brand had been piecing together. In the past 12 months, it has switched its see-through packaging to a thinner micron plastic, which maintains freshness but uses less plastic. It has also banned disposable cups at its premises and issued each member of staff with a KeepCup.
All food and packaging waste is sent away to be incinerated by a waste-to-energy provider – and broken pallets are recycled into beehives.
"In an ambient food business like ours, plastic is currently an unavoidable entity," said Karum Sandhu, director of stewardship at Eat Natural. "But we are committed to ensuring that we are doing as much as we can to protect our precious planet."
The brand was now working with film suppliers on making further reductions, he added. "We're also exploring the use of solar panels on our buildings with a view to having 100% of our power coming from green energy in the future."