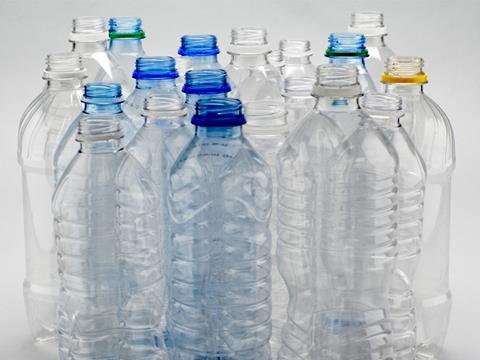 Bottled water suppliers in the UK and across the EU have committed to significantly increase the collection of PET bottles and the use of recycled PET over the next seven years.
Trade body the European Federation of Bottled Waters today (15 May) announced a four-part plan to accelerate the shift towards a circular European economy and encourage a consistent approach towards recycling.
The level of collection of PET bottles varied "substantially" across the EU, said the federation. "Some member states collect more than 90% of PET bottles while others collect less than 20%, meaning our packaging today is part of the unacceptable phenomenon of littering alongside other discarded items."
Germany and Estonia are among the most successful in collection, said the EFBW, while Bulgaria and Latvia had most "room for improvement".
The EFBW wants to see 90% of PET bottles collected by 2025 as an EU average – a significant increase on the current 60% average. "Action is needed to dramatically increase the collection, high-quality sorting and recycling of PET bottles. The achievements of certain countries have shown that this is possible. We want them to be the norm, not the exception."
Suppliers will also collaborate with the recycling industry to use at least 25% rPET in bottles by 2025 as an EU average. "To increase the use of rPET into new bottles, natural mineral and spring water producers require a consistent supply of high-quality recycled material," said the EFBW.
The body will also encourage investment in eco-designs and research in non-fossil-based plastic – and support initiatives that encourage the proper sorting and disposal of packaging by consumers.
The UK's Natural Hydration Council represents the likes of Danone, Nestlé Waters and Highland Spring as a member of the EFBW. It backed the European federation's pledges on PET, saying "empty bottles should be considered as valuable resources, not waste. We agree that action is needed to dramatically increase collection, high-quality sorting and recycling across the EU."
The council added that its members would fulfil the aims through their support of the UK Plastics Pact kicked off last month by Wrap, and through their involvement with the University of Cambridge Institute for Sustainability Leadership "to develop a roadmap, which will look to eliminate plastic packaging waste from the soft drinks category, with a first report due later this summer".