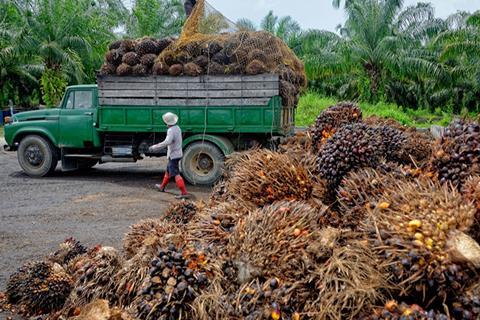 Nestlé has reached "a key milestone" in its commitment to achieve zero deforestation in its supply chain, the company has announced.
The food and drink giant today (30 April) revealed that more than three quarters (77%) of its agricultural commodities were now verified as deforestation-free.
It comes nine years after Nestlé pledged to ensure that none of its products globally would be associated with deforestation by 2020.
Since 2010, the company has worked with suppliers and partners like Airbus and Earthworm Foundation (formerly known as The Forest Trust) to identify areas at risk of deforestation. It does this using tools including supply chain mapping, on-the-ground verification and satellite imagery from Starling, its satellite-based service launched last September to monitor 100% of its global palm oil supply chains for evidence of deforestation.
Nestlé has now begun to use Starling to check for deforestation in pulp and paper supplies, and the company plans to extend to its soya supply chain later this year.
The technology helped the Swiss supplier "understand better where deforestation occurs, what drives it and who is involved" it said. It used the information gathered "to verify compliance, challenge suppliers and prioritise transformative actions".
Data provided by the satellite system has also been used to create a Transparency Dashboard for consumers. Launched today, it provides information on deforestation trends observed near the mills from which Nestlé sources palm oil.
Starling was an example of how innovative use of technology was "accelerating our journey towards zero deforestation" said Magdi Batato, Nestlé executive vice president, head of operations. "This is transforming the way we manage deforestation risks in our palm oil supply chain. We are using this tool to hold our suppliers and ourselves accountable. We are satisfied with our progress, but there is much more to do. The last miles to go are always the hardest."
Nestlé was "the first company to use satellite monitoring across all its palm oil supply chain, accelerating its no-deforestation commitment and providing such level of transparency to the public" added Bastien Sachet, CEO of Earthworm, which along with Airbus helped the supplier launch Starling.
"The data collected through these satellites points out that challenges remain and no single company can achieve that on its own. All businesses that have similar commitments must start monitoring, verifying and most importantly acting on the basis of what these tools reveal to us. Eventually, publicly available information about deforestation and supply chains will allow consumers and investors to really see which companies are truly walking the talk."
Nestlé today urged other consumer goods companies to adopt satellite monitoring services, to accelerate efforts to achieve deforestation-free supply chains and transparently report on their progress.