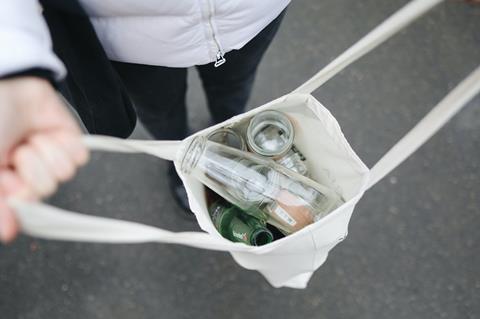 Industry groups have welcomed a move by government to water down plans to make businesses pay the £2.7bn cost of recycling and litter.
In its response to a consultation, published today, the government has said the Extended Producer Responsibility scheme will be introduced in phases from 2024 rather than 2023.
Businesses in England and Northern Ireland will not be made to pay for packaging waste that is littered, while devolved governments in Scotland and Wales are still considering such proposals.
Glass has also been ruled out of the scope of a planned deposit return scheme in England and Northern Ireland.
Payments for household packaging waste and packaging in street bins managed by local authorities will be determined from 1 April 2024. The household waste payments will support improved and more consistent household recycling collections, covering additional packaging materials such as plastic film, according to the outcome of the consultation.
Modulated fees based on recyclability of packaging will be introduced from 2025 rather than 2024.
Defra expects the cost for packaging producers to be £1.7bn a year - compared with an earlier estimate of £2.7bn. Around £1.2bn of the cost will arise from managing household waste, which currently falls on taxpayers, according to the document.
It said the government would continue to explore payments for packaging waste collected from businesses.
Among other concessions, the government has decided to maintain the threshold for producer recycling obligations and disposal cost payments at £2m turnover and 50 tonnes of packaging handled each year, rather than lower it. However, a lower threshold of £1m turnover and 25 tonnes of packaging handled each year will be introduced for producers to report packaging placed on the market.
It comes after The Grocer last week revealed food and drink bosses had won major concessions from the government over the plans.
"Food and drink manufacturers fully support changes in UK public policy to help us all move towards a circular economy, and we're committed to continuing to work in partnership with governments and consumers to achieve this," said FDF CEO Karen Betts.
"We're pleased the UK government has today proposed a constructive and pragmatic approach to Extended Producer Responsibility, which will impose changes on how manufacturers approach packaging our products.
"We welcome the UK government's flexibility as the measures have been drawn up, including further discussion on business waste, which would impose disproportionate costs on businesses, as well as the obligation on industry to pay for illegal littering, a decision which we hope the devolved administrations will also adopt.
"Food and drink manufacturers will continue to engage with UK and devolved governments on the remaining elements of EPR, including the establishment of the scheme administrator and implementing the related chemical recycling process."
BRC sustainability policy advisor Nadiya Catel-Arutyunova said: "The BRC supports the EPR reform and its full implementation from 2025. We are grateful that Government has heard us on both the issue of costs and the need to develop performance-based system that will uplift UK's recycling rates.
"We need a well-designed system that works for businesses, local authorities and customers, and expands and improves recycling across the country. We look forward to the publication of the secondary instruments, and will be scrutinising the details when they become available.
"Retailers have been working hard to increase the level of recycling and recyclability of their products. We stand by to support and advise the government on issues such as modulated fees and the future scheme administrator, both will be essential to the implementation of a successful packaging EPR reform."
ACS CEO James Lowman said: "Retailers in England and Northern Ireland will be relieved that they won't have to handle the return of glass drinks containers as part of a deposit return scheme. All of the operational problems related to a deposit return scheme – colleague safety, storage, handling heavy waste and breakages – are made much more acute by the inclusion of glass.
"We are disappointed that retailers in Wales and Scotland will have to face into these problems and bear the significant financial and operational costs of doing so."
Lowman also criticised plans to go ahead with a mandatory take-back scheme for disposable fibre-based composite cups such as coffee cups, saying it "could have a significant impact on convenience stores, especially when many will be making major changes as a result of the introduction of DRS".