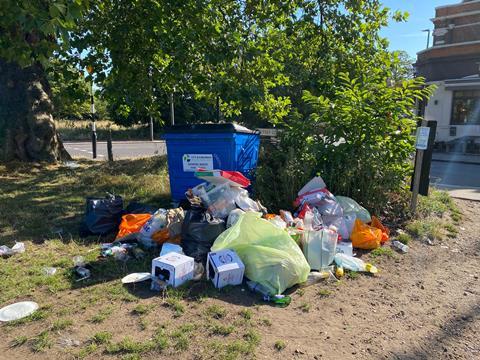 Food and drink bosses are understood to have won major concessions from the government over plans to make the industry responsible for the £2.7bn cost of recycling and litter.
Ministers from all the UK governments are expected to publish details of plans to introduce Extended Producer Responsibility (EPR) in the next few days. The proposals were expected to involve food and drink and packaging companies covering the cost of everything from criminal fly-tipping to litter collection.
However, The Grocer understands the governments have agreed to water down the proposals after being warned they could add to already soaring food prices.
While details of the revised proposals are yet to emerge, it's believed controversial elements of the scheme have been removed, potentially reducing the cost to industry by tens of millions.
The government has also told industry sources the rollout of the scheme will not begin until at least 2024, a year later than planned.
Last year, a dozen different trade bodies wrote to environment secretary George Eustice warning EPR proposals were based on an "unrealistic" timeframe. But it is the huge cost of the changes and the resulting impact to consumers that is believed to be behind the backtrack.
Under the government's own latest estimates, the proposals were set to cost the industry £2.7bn, with trade bodies warning it would lead to a £100 average annual increase to household shopping bills.
This week, the TaxPayers' Alliance said if all affected producers across all industries decided to pass the cost on to taxpayers, it would result in taxpayers paying twice for waste collection, through both council tax and higher prices.
With taxes rising and the energy price cap also going up to almost £2,000, taxpayers were facing a cost of living crisis, it said.
It is understood UK governments have to publish the proposal this week or face more delays, with the introduction of purdah ahead of local elections in Northern Ireland and Scotland.
However, a source said the government had listened to the concerns of industry.
"It looks like the proposals are going to be a lot more pragmatic and the cost of the scheme to the industry will not be so disastrous," the source said.
Under the revised proposals, it is understood producers will be responsible for the cost of recycling the types of packaging they use. Other elements will include larger coffee shops having to introduce recycling bins as well as a consistent logo on packaging to promote recycling.
The governments hope the plans will lead to 76% of packaging being recycled by 2030.