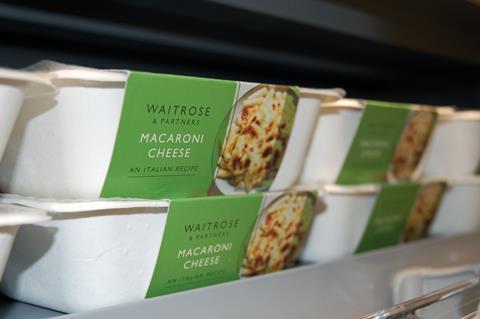 Waitrose is to roll out home compostable packaging for "a large quantity" of its own-label Italian ready meals.

The upmarket grocer has claimed a world first with the move, which will see it replace the black plastic tray with fibre-based cream-coloured containers. These have a similar texture to cardboard, and will save 158 tonnes of black plastic, it said.

It has partnered with packaging suppliers Huhtamaki and Saladworks to create the cream-coloured plastic, which will be rolled out from 29 May on SKUs including Chilli Prawn Spaghetti, Broccoli Orecchiette and Tomato & Mozzarella Pasta Bake.
The packaging can be heated in ovens or microwaves and is cool to touch after cooking. It is Forest Stewardship Council certified, creates a 50% saving in CO2 emissions, and is widely recyclable.

The move comes as part of Waitrose's pledge to remove hard-to-recycle black plastic from all own-brand products by the end of 2019. It is the first phase of the retailer's plan to replace black plastic on all its ready meal lines, and follows its removal of the material on its meat, fish, poultry, fruit and vegetables.

"Pioneering the first home compostable ready meal packaging that ensures customers can continue to cook their food quickly, safely, and now more sustainably, is a major breakthrough in packaging innovation," said Waitrose packaging and reprographics manager Karen Graley. "This step, combined with moving millions of ready meals out of black plastic, is a significant milestone in how we package food and eliminate hard-to-recycle material for good."