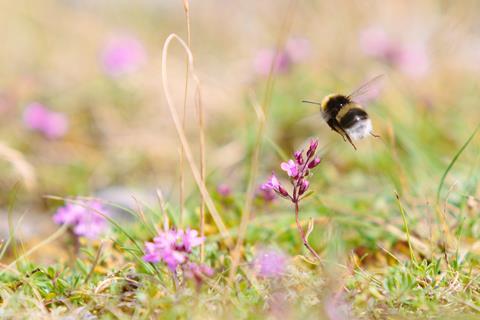 I think it's time we had a serious talk about the birds and the bees. No, not that awkward conversation you had with your parents during your teen years. I'm referring to the need to recognise the vital role these pollinators play in feeding everyone on the planet. Without these insects, we would starve.
Understandably, much of the work on sustainability is done within the context of mitigating climate change. However, if you're worried about climate change, you should be even more worried about nature loss. Without nature, there is no food.
Nature is being damaged at a terrifying rate. Britain has lost nearly half of its biodiversity since the Industrial Revolution, and experts warn continued global loss will lead to an irreversible ecological crisis. Our country is ranked in the bottom 10% in the world and the worst among G7 nations.
The loss of nature in Britain is visible and worrying. In our lifetimes, almost half our farmland birds, mammals, amphibians, insects and invertebrates have disappeared, along with 97% of our wildflower meadows. The consequences of this wildlife decline go beyond simply the loss of nature. The destruction of these critical ecosystems, which are essential to farming, will have a negative and long-term impact on food production.
While these statistics make depressing reading, the food industry has the power to reverse this loss.
With 72% of Britain's land currently being farmed, everyone involved from field to fork has a real opportunity to work together to avert a critical situation for food production, and redress the impact we have had on nature.
Here at the RSPB, we are leading the way with Fair to Nature, the only UK certification scheme with a focus on biodiversity and a proven approach to restoring the balance of nature in farming. We believe working with people across the food supply chain will help to protect and restore nature on farmland.
By signing up, brands commit to sourcing ingredients from Fair to Nature farms, where biodiversity is being protected and restored. Fair to Nature farmers dedicate at least 10% of their farmed land to a range of habitats that have been proven to reverse wildlife declines, such as wildflowers for pollinators and beneficial predators, seed-rich crops to feed farmland birds, and field boundaries and margins providing 'wildlife corridors' around the countryside.
Many of these interventions also help mitigate climate change by improving the landscape's ability to store carbon and can often be commercially beneficial.
The use of the Fair to Nature logo on-pack demonstrates to consumers the product they are buying is committed to protecting nature.
This is an issue that's not going away. In his National Food Strategy, Henry Dimbleby called for a legally binding target to reverse biodiversity loss. In December, an agreement which will define the future of the world's biodiversity is set to be concluded in Montreal, Canada. Ultimately this could lead to new legislation.
Brands that act now will get first mover advantage among the growing number of consumers wanting action on nature loss, and will be in the vanguard of a movement to secure our food supply for the future.
Ask yourself this question: what is my organisation doing about the birds and the bees? If you don't know, don't be embarrassed. I'm happy to have a private chat about the 'facts of wildlife'.