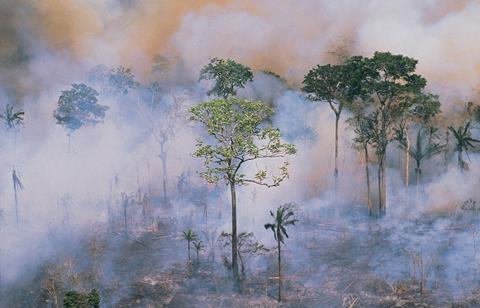 Tesco has called on the government to order companies to introduce due diligence across their supply chains to ensure all food in the UK is deforestation-free.
The move came as Greenpeace launched a new campaign urging Tesco to drop Tulip and Moy Park as suppliers. Both companies are owned by JBS, a Brazilian meat company with alleged links to deforestation in the Amazon.
Although Tesco no longer sells any Brazilian meat, the supermarket confirmed it wouldn't drop its suppliers as "businesses need to be part of the coalition to bring about change".
"Blacklisting them could lead to thousands of job losses, impact British farmers and ultimately compromise our ability to offer fresh British meat and chicken to our customers," it said in a statement.
Instead, Tesco wants the government to enforce mandatory due diligence requirements across all companies' supply chains to monitor for deforestation.
"We call for our government to mandate food companies, as part of its National Food Strategy, to introduce effective due diligence across supply chains to make sure all food sold in the UK is deforestation-free," said CEO Dave Lewis in a statement.
Zac Goldsmith, international environment minister, confirmed last week that the government was already considering the proposals following recommendations by the Global Resource Initiative. The requirements will be voted on by MPs as an amendment to the Environment Bill due to return to Parliament later in the year.
Labour MP Kerry McCarthy introduced the amendment as "far too many UK businesses are complicit" in the record levels of Amazon deforestation this year.
"We need fully transparent supply chains, so that we know we are not unwittingly supporting deforestation," she said.
Brazilian environmental destruction has captured public attention in the past year and the food industry's role in perpetuating the crisis is increasingly in question. More than half of Brits would consider rejecting products from companies linked to deforestation, according to a YouGov poll commissioned by Greenpeace, while 26% want supermarkets to sell less meat.
Greenpeace is also calling on Tesco to halve the amount of meat it sells by 2025. "The Amazon is perilously close to tipping point," said Anna Jones, head of forests at Greenpeace UK, "Our future depends on us eating less meat and dairy and more plant-based food."