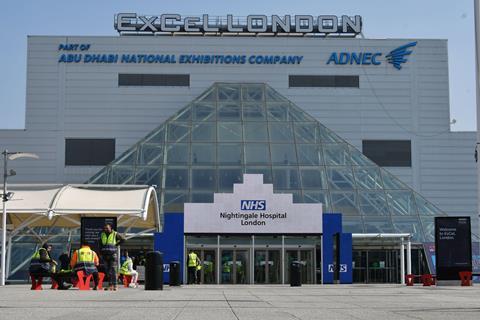 Tesco is opening pop-up stores at emergency hospitals

Locations for the temporary stores include London, Birmingham, Bristol, Harrogate and Manchester
Tesco is to build pop-up stores at the government's emergency Nightingale Hospitals, which have been erected to help the NHS cope with the impact of the coronavirus outbreak.

The first Nightingale hospital opened at London's Excel Centre last week and others are set to follow in Birmingham, Bristol, Harrogate and Manchester.

Tesco's first pop-up will open at the NEC in Birmingham. Construction work on the temporary store began on Sunday 5 April.

The retailer said it was in "late discussions" over the other sites and hoped to have pop-up stores at all of them to help NHS staff access the essentials they need quickly and conveniently.
Read more
"As part of our continued commitment to support and thank those in the NHS for all they are doing, we began work on Sunday on our first dedicated NHS Nightingale Hospital pop-up store, at the NEC in Birmingham," said Tesco CEO Dave Lewis.

"Following an idea from Public Health England (PHE), we will be providing NHS staff with on-site 24-hour access to the food and household products they need. We aim to be open by the end of next week."

Other Tesco moves to help NHS frontline staff have included setting aside dedicated shopping hours for doctors and nurses in its stores.

Yesterday (6 April) it announced it had teamed up with former McLaren Formula One boss Ron Dennis in an initiative to provide one million free meals to frontline NHS workers.