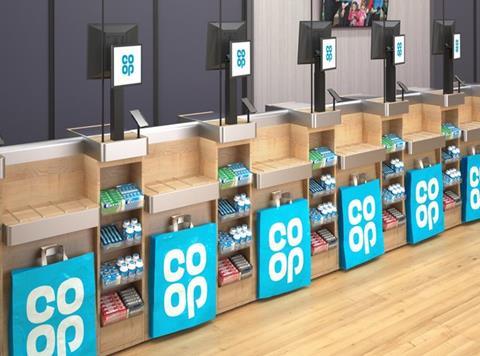 The Co-op has launched a major revamp of its in-store marketing, including taking the axe to confusing "cardboard clutter" and moving to a new transparent rate card for food and drink suppliers.

The first brands to start using the new system saw their campaigns rolled out this week, following the January overhaul carried out by the retailer's shopper marketing agency Threefold.

The Co-op said the move would reduce clutter by introducing new limits on how many point of sale promotions can be used in store.

It said it would also reduce the demands of store colleagues, while ensuring brands could achieve a "stronger share of voice" in store when running advertising campaigns.

As part of the move, the Co-op is reducing the number of different types of PoS from 37 to 19. It said it would make it simpler for brands to have sight of what is available and where to invest marketing funds.

The previous Co-op in-store marketing offer was characterised as having dozens of different options for putting promotions on the shelf.

However, the retailer, which has made great play in recent months of its ethical credentials, has also introduced a new "fair and transparent" rate card for all suppliers. It said this ensured there were "no hidden deals" in paying for marketing in Co-op stores.
Marketing material
The Grocer understands there has been disquiet among some suppliers over the Co-op's previous rate card with suppliers charged separately for the production of marketing material and the media in-store.

With the issue of promotional compliance in the headlines following the recent Tesco debacle, the Co-op said the new move was also aimed at tackling promotional activity compliance. It said it would be bringing in third party companies to monitor its performance in this space.

Threefold has previously worked with digital department store Shop Direct, building campaigns for the likes of Nike, Dyson, Samsung and Mothercare.

"Relaunching our in-house shopper marketing proposition with Threefold means we can provide a bespoke agency service to our branded suppliers. We know that the best marketing campaigns are developed through creative thinking and precision planning. With Threefold, we're looking to build great marketing campaigns that add value to our customers and ultimately enhance their shopping experience with us," said Co-op customer director Jemima Bird.

Threefold director Sam Knights added: "Managing a media estate can be tricky, and we've seen so many retailers lose out on brand investment, because they don't create the right sort of environment to work effectively with brands and get the best possible value from their media estate. We see this as a partnership with the retailer and their brands. We work in-house within teams to build that close connection, running campaigns that boost both brand equity and the bottom line."