Butter-enhanced spreads promise to generate much-needed growth for BSM sales. Will they find favour with consumers?
They're the new hybrid products looking to shake up butters and spreads. The category has already got 'buttery spreads' and 'spreadable butters' – now 'spreads with butter' are vying for space in the increasingly crowded fixture.
The new hybrid trend is closely associated with Unilever, which in May this year launched Gold from Flora (rsp: £2.49) and Bertolli with Butter (rsp: £1.49). Both are billed as a blend of butter and spread containing less saturated fat than butter – 40% in the case of Gold from Flora and 45% for Bertolli with Butter – while offering a more indulgent taste than traditional buttery spreads.
Unilever will be hoping the launches will give a much-needed shot in the arm of the BSM category, which according to Kantar Worldpanel has seen value sales slip 0.8% to £1.35bn on volumes down 3.2% [52 w/e 22 June 2014]. Crucially, what growth there is in the sector is coming from standard butter, up 6.6% by value. Compare that with low-fat spreads (down 1%) or margarine (down 14.2%), and it's easy to see why Unilever wants to tap some of butter's halo effect.
But is there space for 'spreads with butter' in the BSM category or will the new hybrids risk cannibalising sales and confusing consumers?
"There is an opportunity to premiumise around spreads packaging, such as better print quality"
Unilever is certainly convinced there's a distinct consumer need for a BSM product positioned in between buttery spreads and spreadable butter. Its two new hybrids were launched after the company "identified a new group of consumers who want the creamy taste of butter at great value while looking after themselves too," says Rachel Chambers, marketing manager for spreads at Unilever. "The proposition, combined with the products' great value, presents retailers with a strong opportunity to generate sales and fuel growth for the category."
The launches have been supported by a heavyweight £10m campaign involving both TV advertising and a heavy-duty sampling push, which saw Unilever give away full-size packs. Online, the sampling drive involved an e-commerce tie-up with retailers such as Tesco, which allowed shoppers to request a sample, add it to their online shop, with the cost deducted from their basket at the checkout. Unilever says the three-week campaign reached about 75,000 consumers. Offline, meanwhile, Unilever ran sampling at venues including London railway stations, giving away packs of Flora Gold to commuters.
It's a sizeable investment, but Chambers claims the £10m backing Unilever has thrown behind the launches is already paying off.
Gold from Flora generated £1.1m in value sales according to EPoS sales data up to 28 June, while Bertolli with Butter generated sales of £1.2m. They also secured a 4.5% market share of spreadable butters.
It's a promising start and some welcome news for the Flora brand, which took a high-profile hit after Unilever changed its production process and recipe, prompting a consumer backlash.
European success
The success of the 'spreads with butter' concept in other European markets gives Unilever further confidence that it is on the right track with hybrids. It has launched Rama mit Butter in Germany, Bertolli with Butter in Belgium and Crème Bonjour in Finland.
"In Finland, Crème Bonjour has proved a hit with customers," Chambers says. "It achieved 15% penetration in the first six months of launch and enjoys repeats of over 42%, which is well above average. Similar success stories are evident in Germany and Belgium with penetration and repeat rates exceeding expectations. We're aiming to replicate that success in the UK."
But rivals aren't so sure. Arla, Dairy Crest and Kerrygold owner Adams Foods claim they have no plans to follow suit with their own spreads with butter.
"We would expect hybrid products to suffer from a limited repeat purchase after an initial trial period due to their inferior taste delivery versus established spreadables," says Stuart Ibberson, business unit director at Arla Foods.
"The evidence from other markets where these products have launched suggests that the large majority of volume comes from people switching from the parent brand product and that they create no additional growth to the category," he points out.
"There may be a small window of opportunity for them in the short term due to their low cost. However, we expect repeat purchases will be limited as they won't be able to deliver on taste like other more natural BSM products can."
Louise Pike, head of BSM at Dairy Crest, agrees. "Spreadable butter is a simple product made from just two ingredients – butter and oil – and appeals to consumers moving towards the trend for naturalness. Hybrid butters, in contrast, generally have more than 10 ingredients. With this in mind, they appear relatively artificial and more processed than spreadable butter, especially to consumers seeking a more natural product solution."
Pike therefore expects long-term sales of hybrids to come from consumers "already purchasing the Flora and Bertolli brands in their original forms, looking to trade up to a more naturally healthy product."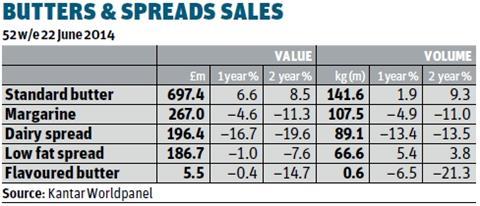 Bob Carnell, MD of Kerry Foods GB – a major supplier of own-label spreads to the mults – takes a slightly different view. Although he claims the impact of Gold from Flora on the BSM sector has so far been limited, he does see scope for suppliers to drive premiumisation by increasing butter content. "There is definitely a requirement from retailers for premiumisation and higher butter content is one – though not the only – way of achieving this."
Shopper confusion
Some have also expressed concern the new products could confuse shoppers. Adam Foods marketing director Alastair Jackson points out that although Gold from Flora is being marketed as "a blend of golden butter and Flora," the product only contains 22% re-blended butter.
"It is being positioned with a heavy focus on butter. The TV ad is very near the mark," he says. "Consumers may well see through that butter credential."
"A new group of consumers want the creamy taste of butter at great value while looking after themselves too"
Ibberson adds: "The brands that have entered the hybrid products market are not renowned for their butter and taste credentials, so these products could make an already confusing category even more confusing for shoppers."
There have indeed been signs of some confusion. A sampling campaign for Gold from Flora raised eyebrows this summer. Held in London in mid July in the middle of a heatwave, shoppers took to Twitter to question why Flora was giving away "free butter" in such hot weather – and many thought it was ice cream.
Such examples, of course, are only anecdotal evidence. But if shoppers did indeed turn out to be confused by hybrids, the new spreads could end up cannibalising existing BSM sales rather than adding value.
Unilever, however, is convinced hybrids can grow overall category value. "Gold from Flora looks to use Flora's positioning as a family favourite to bring more consumers into the brand and grow the category with a new offering from a brand they know and trust," says Chambers.
"Retailers can encourage consumers to trade up by ensuring they stock a selection of added-value offerings including cholesterol lowering spreads or olive oils alongside other leading products to target upper market shoppers who typically purchase a diverse range of spreads for different functions."
Premiumisation
"We would expect hybrid products to suffer from a limited repeat purchase due to their inferior taste"
Of course, as Carnell at Kerry points out, increasing the butter content isn't the only strategy spreads suppliers have to add value. With interest in home cooking and baking still on the rise, the big BSM players are investing heavily to position their products for culinary purposes. Arla has perhaps been most bullish on that front, launching a dedicated cooking range under the Lurpak Cooks brand earlier this year, but other butter and spreads brand are also increasingly using cooking- and baking-focused messages in their marketing and communications.
And despite the public health debate recently shifting more towards sugar, reducing satfat and salt remains a key priority for the BSM sector – and an opportunity to drive premiumisation. Dairy Crest expanded its Clover portfolio with a new super-light variant – Clover Lighter than Light – at the end of March, having earlier launched three functional spreads under the Clover Additions brand.
Slashing the satfat
Kerry, meanwhile, has developed what Carnell describes as "unique technology" to reduce salt and satfat in spread "without compromising taste. We can reduce calories by up to 24%, sat fat by up to 37% and salt by up to 15%," he says.
"This makes our buttery, olive and sunflower spreads 80% less satfat than butter and our spreadable 50% less satfat than butter."
Some own-label spreads made using the new technology have already rolled out, with more to come, and Carnell says he expects retailers' communications around the new spreads and their health credentials to pick up later in the year once the products have been bedded in to ranges.
We tear up the rule book in bid to make spreads sexy
Well? Why not sprod instead of spread? In case you're wondering, Sprod is a range of flavoured vegetable oil filled tapioca balls that can be burst on toast, used to fry with or sprinkled on salad.
Okay, so it's not actually a real product… at least not yet. The concept is part of our bid to show how spreads could get their mojo back after losing share to spreadable butters in recent years. We put our heads together with brand design agency Springetts to come up with ideas that could aid the ailing category.
"A spread is only a spread if we limit its definition," says creative director Paul Williams, explaining the Sprod concept. "We wondered if you could redefine the category by giving spreads the confidence to have their own voice and not be defined by a relationship to butter."
Springetts has certainly come up with some concepts that far remove the sector from butter. As well as Sprod, there's Sow the Seed, a whipped yoghurt and vegtable oil product, and With a Twist, a spread mixed with oats aimed at tapping the current trend for oats.
That's not all. Springetts has come up with branding, packaging and recipe concepts that could help bring spreads in to the 21st century, whilst keeping an eye on their heritage.
Beyond product formulations, Carnell also sees scope for dialling up the premium cues of the spreads category by investing in more premium-looking packaging. "There is an opportunity to premiumise around packaging – better print quality, for example," he says. "It's something we're looking at."
Whether these routes towards premiumisation or the new generation of hybrid spreads will ultimately prove the right recipe for injecting value into BSM, of course, remains to be seen.
It's early days for hybrids, but it's clear they are an interesting development that has got not only the industry, but also shoppers, talking.
The key to success will be whether they can tempt shoppers to trade down from butters to give spreads a much-needed boost. For Unilever, that really would be gold.