From crashing commodity prices to supermarket price wars, it hasn't been an easy few years for UK dairy. But some companies continue to grow and invest despite the tough trading climate. Here are 10 we feel deserve a higher profile for their impressive achievements.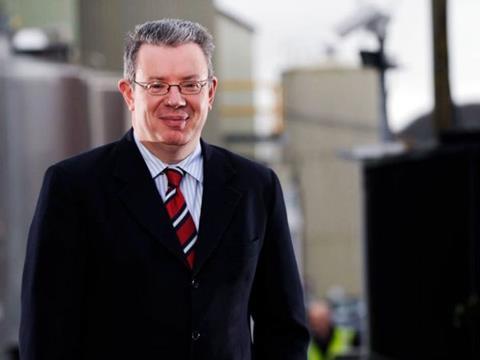 Crediton Dairy
Still a relative newcomer to the UK dairy scene, Crediton Dairy has been making a big splash in milk drinks with its Moo brand.
Crediton was created in August 2013 after a management buyout of the former Milk Link business from Arla Foods led by MD Tim Smiddy (pictured) and his business partner Neil Kennedy, now the company's chairman.
Fast forward three years, and Crediton has a turnover in excess of £58m, employing 130 people at its processing facility in Devon and sales and marketing office in Bristol.
Crediton processes over 100 million litres of milk a year from a dedicated group of farmers in a 25-mile radius of the dairy. "We concentrate on the production of customer label and branded flavoured dairy drinks for leading retailers and are also a major supplier of milks and creams to the foodservice, wholesale and convenience sectors," says Smiddy.
The company's Moo brand of flavoured milks have proven a big hit with consumers and Moo is now the number one branded dairy drink in the one-litre take-home sector, Smiddy claims.
In 2015, Crediton announced a £5.6m programme of investment to increase processing capacity and accelerate NPD over the next three years. It recently completed a £1.2m capital investment in a new Tetra Pak Prisma 330ml filling line, enabling it to take advantage of opportunities in the impulse dairy drinks market.
Investment in on the go meant that it could also enter the lucrative coffee-based milk drink sector, and Smiddy claims its Arctic Café Latte, produced exclusively for the Co-op, is now the bestselling dairy based coffee drink in the market by volume and value on a weighted distribution basis [Nielsen 52 w/e 2 July 2016].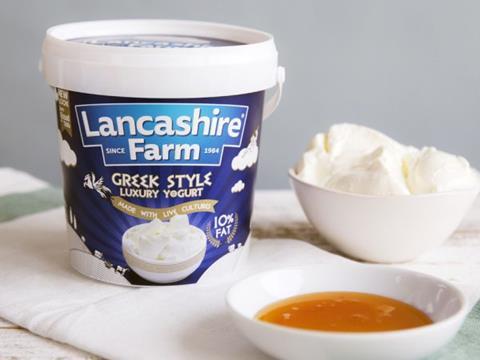 Lancashire Farm Dairies
Lancashire Farm Dairies: Family business Lancashire Farm Dairies has achieved big things from small beginnings.
The company was founded by Ghulam Zouq - father of the current MD Azhar Zouq - in 1984. Ghulam had emigrated from Pakistan in the 1960s and initially made a living selling fruit and vegetables, before spotting the potential in the UK's growing yoghurt market.
Lancashire Farm began producing its own yoghurt products in 1998 and now manufactures more than 40 SKUs across its Lancashire Farm and Pakeeza brands. Its Rochdale manufacturing facility currently employs over 150 staff and uses milk from 11 Lancashire dairy farms to create its range of yoghurt and chilled dairy products.
Already supplying the big four supermarkets, along with a raft of smaller retailers and independents, Lancashire Farm this year secured extra listings in Nisa and The Co-op.
In the 2014/15 financial year the business achieved a turnover of just under £25m, and its natural yoghurt sales were up 18.1% last year compared with category growth of 13.6% [Kantar Worldpanel 52 w/e 5 November 2015].
Ghulam handed over the reins to his son Azhar in 2000 but remains in the business, with a full-time position heading the finance department at the age of 76.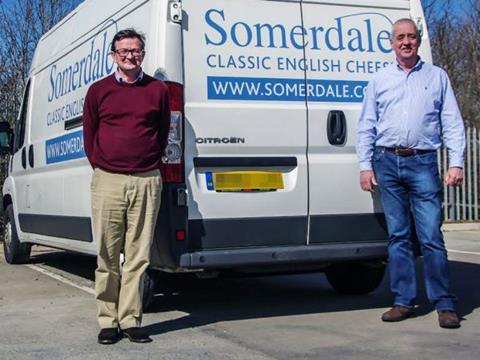 Somerdale International
Founded in 1990, Somerdale now exports British cheeses and dairy products to over 50 countries globally.
It specialises in awardwinning producers, including Barbers in Somerset, Joseph Heler in Cheshire, Cropwell Bishop in Nottinghamshire, Quickes in Devon, Singletons in Lancashire and The Abergavenny Fine Food Company in South Wales, but the Somerset-based firm also has its own brands such as Somerdale and Westminster.
Growth has accelerated over the past six years, says MD Stephen Jones (pictured right), with overseas earnings up 73% over the period. In 2015/16 sales grew 15% to £32m, and have increased across all core international markets.
This April, Somerdale was given the Queen's Award for Enterprise in International Trade.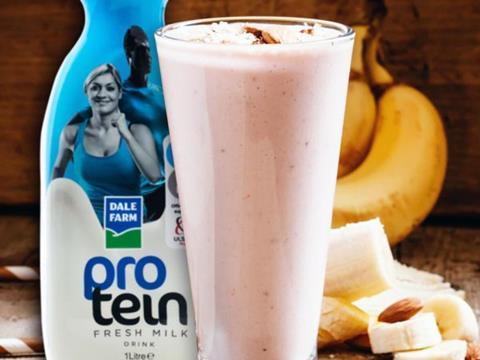 Dale Farm
Dairy co-op Dale Farm has been flexing its muscles in sports nutrition, scoring gold for its farmer owners.
Claiming to be the UK's largest dairy co-operative, Dale Farm processes over 800 litres of milk each year sourced from its 1,300 farmer owners across England, Scotland, Wales and Northern Ireland. It took its first steps into sports nutrition in September 2015 with the launch of a protein-enriched milk - sales of which have rocketed 42% in the last quarter compared with the first six months on shelf. The co-operative has since added to its high-protein portfolio with Dale Farm Quark and has 12 more low in sugar, high-protein new dairy concepts in the pipeline.
This innovation is paying off - Dale Farm's profit before tax rose from £1.3m to £6.8m in the year ending March 2016, with sales of consumer products up 2.8% to £220m.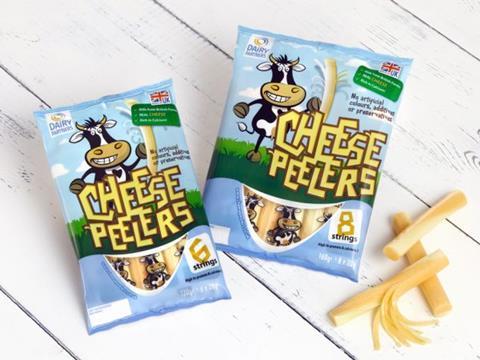 Dairy Partners
Mozzarella producer Dairy Partners has successfully capitalised on soaring global demand for pizza, growing pre-tax profits 11-fold from £300k to £3.4m in 2015.
Founded in 2008 by the former owners of Meadow Cheese, Dairy Partners employs 119 staff across two manufacturing sites in Stonehouse, Glos and Newcastle Emlyn, Carmarthenshire, producing mozzarella and pizza cheese in a range of formats.
It processes three million litres of milk a week, sourced from a dedicated supply group of 112 farmers within a 40-mile radius of its Carmarthenshire plant.
Earlier this year, the business took on Cheestrings with the launch of its Cheese Peelers and relaunch of Simpsons String Cheese brands in the UK. But its biggest success story has been its phenomenal growth in exports, which director Robert Peel puts down to continued worldwide growth in pizza.
International volume sales rocketed 152% in 2015 from 1,776 tonnes to 4,477 tonnes, helping drive overall volume sales growth of 63%, with turnover up 47% to £52m. With growth averaging out at 108% per annum over the past two years, the company was named 20th out of the 200 fastest growing export companies in the UK by The Sunday Times International Track 200 league table 2016.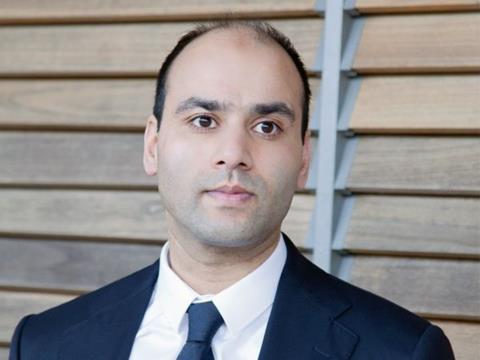 Medina Dairy
Over the past 18 months, Medina has made big leaps towards a lofty goal: to become an alternative supplier of milk to the mults.
Medina was founded in 1980 by Sardar Hussain, the father of current CEO Sheazad Hussain (pictured). Today, it supplies fresh milk & creams to some 5,000 UK locations, with sales of over £157m.
Operating from three UK fresh milk processing sites, Medina last year secured a toll-processing arrangement with Müller at the Severnside Dairy - increasing its capacity by 100 million litres of milk a year.
Since then it has secured contracts to supply fresh milk direct to Iceland in South West England and South Wales from Severnside, and to supply fresh milk and cream from its Watson's Dairy in Hampshire to Sainsbury's stores in the South of England, kicking off from July 2017.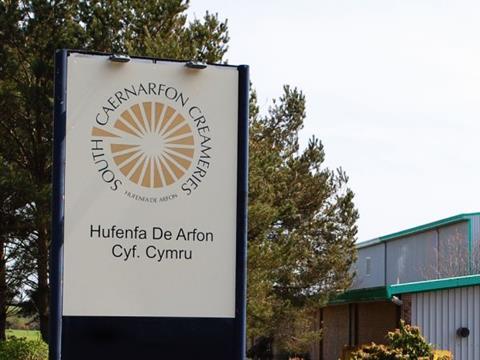 South Caernarfon Creameries
Fiercely proud of its Welsh roots, South Caernarfon Creameries is making its mark in the UK.
Founded by local farmer John Owen Roberts in 1938, South Caernarfon Creameries is the largest farmer-owned co-op in Wales, with 130 member farmers supplying in excess of 10 million litres of milk and nearly 10,000 tonnes of Welsh and British territorial cheeses a year.
Still on its original site near Pwllheli, it recently opened a new £8m cheese production facility that has boosted capacity by 25%. This year it landed a contract to supply Sainsbury's with its Basics range of 12 cheeses and has worked with Lidl to develop an own-label and branded Welsh cheese offer.
Turnover for the year was £31.7m, generating operating profit of 1.2% and contributing circa £25m per year into the Welsh agricultural economy.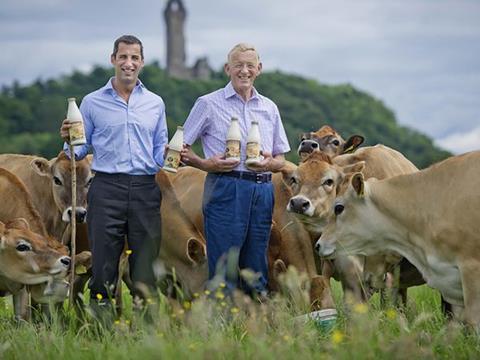 Graham's the Family Dairy
A family business in every sense of the word, Graham's the Family Dairy has evolved from humble dairy farming roots to become one of Scotland's most successful food brands
The Stirlingshire business was founded in 1939 by Robert Graham, who milked his herd of 12 cows by hand and made deliveries by horse and cart. Under the leadership of his son and now grandson (pictured) - both also called Robert - the business has grown into Scotland's biggest independent dairy, employing around 600 staff and processing 500,000 litres of milk a day at its dairy in Bridge of Allen and two processing sites in Nairn and Fife.
With over half of all Scottish households now buying its dairy products, Graham's was named as Scotland's number one dairy brand by Kantar Worldpanel UK's official brand review last year. It also saw a 21% rise in annual pre-tax profits to £1.6m and a 1.7% increase in turnover to £86.5m despite difficult market conditions.
Success has continued into 2016, with Graham's landing a major deal to exclusively supply milk and whipping cream to Starbucks stores across Scotland, and another with Brakes Scotland to supply dairy products to all of its customers. Export sales are forecast to be £2m this year.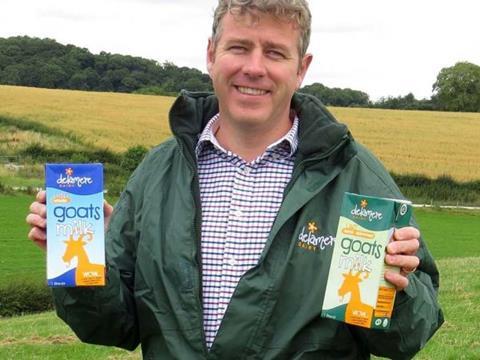 Delamere Dairy
Harnessing the mighty power of goats, Delamere has carved out a dairy niche that is paying dividends on world markets.
Founded by Liz and Roger Sutton 31 years ago, Delamere is now a £21m international business with 22 staff, a head office in Knutsford and sales offices in Belgium and China.
Run by MD Ed Salt (pictured), Delamere supplies branded and own-label goats milk products to supermarkets in the UK and 17 markets overseas. It also started selling its goats butter in America in 2015 with great success, and overall butter sales are up 25% year on year in the first half of 2016.
This year, it has secured new listings for its UHT goats milk in China with Carrefour and No. 1 Store, and for its goats cheese in the US with Costco.
It was awarded a Queen's Award for Enterprise for International Trade this year.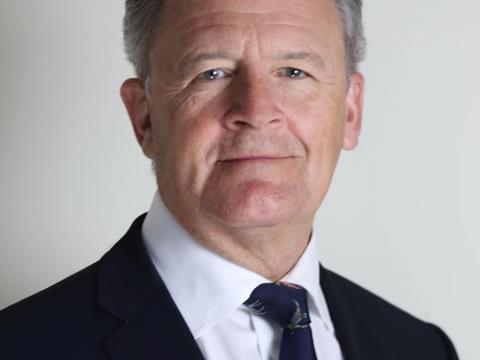 Fayrefield Foods
A major UK dairy commodity trader, it is also making a name for itself in supermarket cheese. Established in 1982 by chairman John Kerr, Fayrefield has grown into a group of seven companies with a turnover of £180m.
In the UK, Fayrefield supplies the major mults, foodservice, independents, discounters, wholesalers and food manufacturers, and employs more than 110 staff, the majority working at its new £7m cutting, wrapping, storage and central distribution facility near Crewe.
Sales have held up well, says MD Nick Hilton (pictured). Key cheese brands Collier's and WeightWatchers have achieved steady growth, while Violife - launched two years ago - is "showing strong growth". "What we try to do is blend a 30 years-plus understanding of dairy commodity markets with finding strong niche brands."