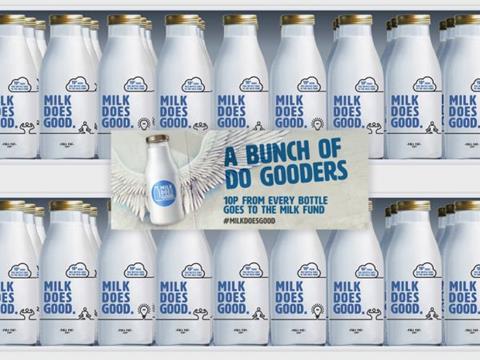 Nothing says sexy like generic milk marketing. Or maybe not. But while the term "generic promotion" is enough to make any self-respecting marketeer run for the hills, it is also something British dairy needs much more of.

"As soon as you say the word generic to some people they switch off or think of campaigns of the past and then question its value," says Dairy UK CEO Judith Bryans. "What they are not grasping is that generic promotion of the underlying integrity of dairy foods is essential if we want our current and future generations to feel emotionally connected with our products, understand their value and see them as desirable and important in their lives."

The UK dairy industry's last major generic marketing campaign was Make Mine Milk, launched in 2010 by the Milk Marketing Forum - a consortium of leading British dairy companies - with EU funding.

The three-year campaign aimed to boost sales by repositioning low-fat milk as the "drink of choice" for young people, and saw an impressive lineup of milk moustached celebrities plastered on buses and billboards across the country.

Make Mine Milk did have an impact. British milk consumption - which had been falling for 20 years - returned to growth, with 110 million extra litres sold in 2011 alone.

But since then, generic dairy promotion has fallen by the wayside. And with fresh milk sales down 1.7% on flat volumes (0.7%) this year, Dairy UK believes it is time for another push. "If we want a market for dairy in the future, whether it's at home or abroad, we have to invest in generic promotion, says Bryans. "But the way we do it has to change."

The way consumers engage with communications and promotions has changed considerably in recent years, she adds. "They want a two-way conversation and for messages we give them to be relevant to their lives, so we have to entertain, educate or be useful."

AHDB Dairy and Dairy UK have this year agreed to work together on generic promotion, and are currently investing in an independent piece of strategic work to see where the best opportunities lie.

To help them, we challenged creative agency RPM to come up with a milk marketing campaign fit for the 21st century. And boy, did they deliver.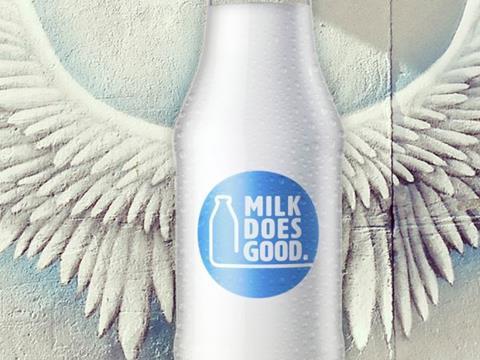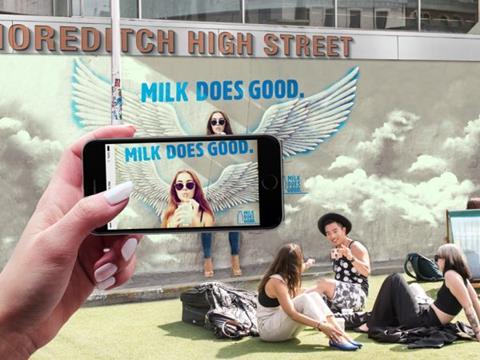 Milk Does Good
Developing a generic campaign, rather than one for a specific brand, was no easy task, says RPM creative director Tim Jones. Because before you even start thinking about the campaign, you first have to create a brand for the generic product you are trying to sell.

"We felt milk needed a rebrand. So we had a lot of work to do figuring out what milk's purpose was in the world, and what it stood for."

Overcoming negativity was particularly challenging, he adds. "The more you read, the more you see the challenges to milk, and the bigger the barriers feel. There is almost more negative press than positive press out there."

But for all of the debate over cows milk and wellbeing, there is a goodness about the white stuff that can be compelling if told in the right way. It contains vital nutrients and minerals that highly carbonated soft drinks would die for. It's good for children's growth, for energy and recovery. It's good for British farming.

So Milk Does Good - the strapline to our campaign - is all about reminding people of these forgotten truths, as well as finding new ways for milk to give back to communities.

"We have to go back to basics, set the record straight, and give people more reasons to believe in milk," says Jones.
"As an industry there is a big bit of work to do around fighting for what we can say about the product"

Tim Jones, RPM
Milk Does Good would kick off with The White Paper - an industry-funded supplement to be distributed with national magazines so it gets straight into the hands and minds of consumers.

Produced with input from the industry, scientists and creatives, The White Paper would be a definitive, transparent and honest presentation of the facts about milk, rich with statistics, facts and revelations about milk's purpose in the modern age.

"As an industry there is a big bit of work to do around fighting for what we can say about the product," says Jones. "There are values and there are product benefits around milk, really powerful ones. But it is all about getting those messages really tight and then finding the best way to deliver them."

The White Paper would be followed by a targeted print ad campaign (see p8) in selected glossy lifestyle magazines. Provocative and playful, the Milk Does Good ads would highlight truths about milk that have specific relevance to each magazine's audience.

An ad in beauty magazines would declare milk is 'The Original Beauty Serum', for example, while a Men's Health ad would highlight milk's protein content, and an ad in skate title Thrasher Magazine would remind people of the importance of calcium for healthy bones.

"Instead of getting into the big debate over milk, we wanted to find the smallest truths and explode them," says Jones. "Our print ad campaign is about finding the truth that is most relevant to a specific community of interest, and communicating it to them in their language."

There were, again, some challenges here for RPM. EU health claim rules place big restrictions on what can be said about milk, and the approved wording doesn't always make for snappy ad copy. Which again underlines the need for the dairy industry to establish exactly what it can say about its products, and how it can say it, as well as pushing for more health claims to be approved, says Jones.

Having started the conversation in print, Milk Does Good would take these messages to the streets with a disruptive sampling campaign, such as a Cleopatra-inspired milk skin bar in the beauty area of Selfridges, Popeye milk vending machines in gyms and refreshment stations in skate parks.

"Again, this is all about taking milk into their world, speaking in their language and focusing on small truths," says Jones. "Just by sampling milk in Selfridges beauty hall, you are implying there is a small thing in this product that could actually be quite good for you."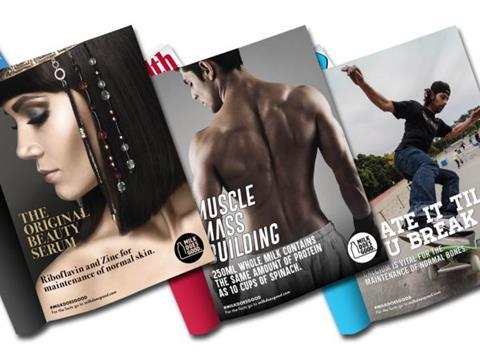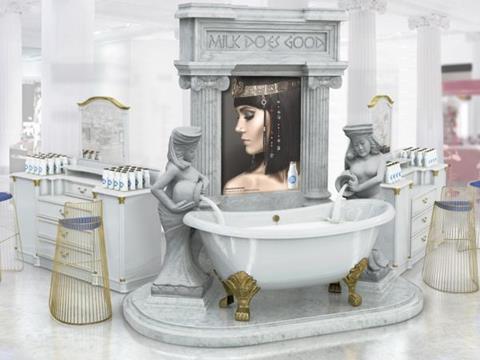 Milk Fund
Delivering targeted and tailored messages to specific audiences can get people on board with the idea that milk does good, says Jones.

"People identify most strongly through their passions and attitudes. If you can focus on that passion or attitude, you can make a message that is far more resonant and relevant. And it is an easier battle to match our product to a specific benefit rather than trying to tell the whole world that milk is not so bad."

But with so much bad press around the white stuff, these existing truths are not enough, he adds, and people need more good reasons to buy milk.

So at the heart of the Milk Does Good campaign is the Milk Fund - which uses embedded generosity to change the conversation around milk. This initiative would see the cross-industry launch of a new format 250ml bottle, with 10p per sale going towards a national fund used to invest in community projects - from regeneration to education and grassroots sport.

"We wanted to give milk a bit of a purpose, because it didn't really have one," says Jones. "We keep coming back to the idea that if that purpose was to deliver to the UK a bit more goodness, it could be a really powerful thing. It would start a new conversation that can't be challenged."

To give shoppers more reasons to buy the bottles, to encourage retailers to give them more prominence on shelf, and create a bit of noise in the media, celebrity artists and influencers would be invited to customise the 250ml bottles.

"The celebrity collaborations are all about convincing shoppers it is worth paying a bit more for. The glass design has a vintage value to it, and is a nice nod back to milk deliveries and the industry's history in communities."
"Supporting local communities is about finding cause-related issues that are more relevant to shoppers"

Tim Jones, RPM
Milk Fund projects would be community based, from Milk Does Good branded buses delivering milk to kids in inner city schools and taking them on trips into the countryside to meet farmers, to urban regeneration projects, with artists creating green spaces for wellbeing and play.

"We could even segment activity against communities of interest," says Jones. "So as well as taking an ad in the skate magazine, we could regenerate a skate park or sponsor an athlete to strengthen the relationship with that community. Suddenly we would have a group of people saying, you know what, milk is alright."

The concept of the Milk Fund is, of course, not dissimilar to the Morrisons Milk for Farmers model. And farmers might be put out with the extra 10p going to the community, rather than towards easing their plight. But Jones believes a more outward looking generosity is vital to restore the good name of milk.

"Implicitly we all want to support British farming, but it is quite a distant concept," he says. "Supporting local communities is about finding cause-related issues that are more relevant to shoppers."

Of course, the good milk does for British farmers is another important truth, and the distance between farmer and society must be narrowed.

So the Milk Does Good social media campaign would include a focus on British farmers.

A reality content series, Milking It, in collaboration with a leading media partner, would follow the lives of farmers around the UK, who would also engage through Instagram, Snapchat and other channels.

"We wanted to turn the camera on farmers and make their plight more relevant and salient by turning them into social media property that people can follow and adore," says Jones. "So the next time someone says 'buy British milk because farmers are struggling', people are already engaged."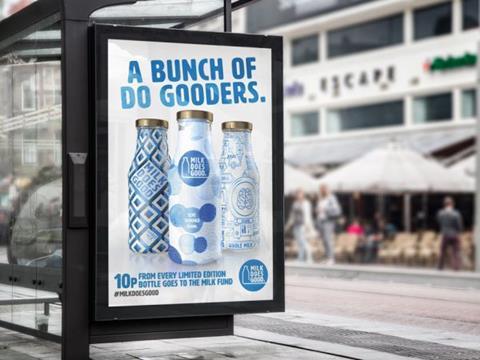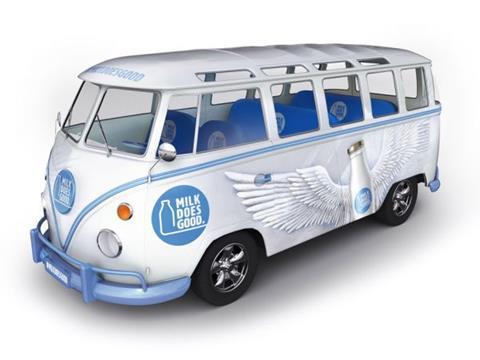 The future
By changing the conversation around milk and giving it a real purpose, Milk Does Good would help people find "a greater affinity with what is currently a ubiquitous commodity," says Jones.

As the industry goes away to look to future promotions, it should be thinking about how it can improve its image in the community as a whole, such as by sponsoring grassroots sports and development, he adds. "There is a real need for milk to change the conversation and be bigger than a liquid, and mean something much more to the UK."

Crucially, while generic promotions are needed to raise the profile of the category as a whole, the way those promotions target shoppers should be anything but generic.

"They need to be considered and smart with how they manage their communications," says Jones. "If they target the right people in the right place they could do some great things. But I think it is time for a different approach."