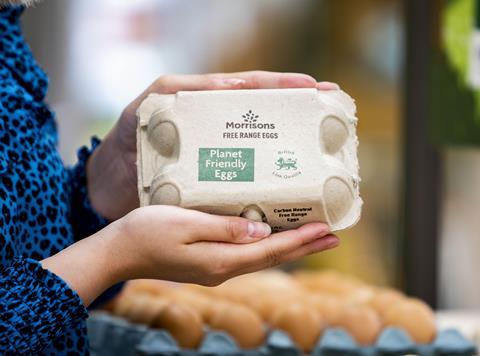 Morrisons claimed a rare Grocer 33 pricing win this week, in our special ethical sourcing shopping list.
All the products in this week's shopping basket were either from B Corp suppliers or had ethical credentials such as being Fairtrade, free-range or cruelty-free.
At £90.69, Morrisons came in £5.24 cheaper than Asda. It was aided by having 14 promotions – two more than any of its rivals. The retailer offered the lowest price on 15 products and was exclusively cheapest for six, including the Graze Barbecue Crunch, Tony's Chocolonely chocolate and Lily's Kitchen dogfood.
Second-placed Asda was also cheapest for 15 items and exclusively so for six. These included the Fuel10k granola and Whole Earth peanut butter.
That third place went to Waitrose was perhaps even more surprising than Morrisons' victory. At £96.78, the upmarket supermarket was unusually competitive – coming in £6.09 more expensive than Morrisons and just 85p pricier than Asda. Waitrose offered the lowest price for 13 products and was exclusively cheapest for six. This was helped by a dozen promotions, 11 of which were money-off deals.
There was just 2p between Sainsbury's and Tesco based on their respective shelf-edge prices, though members of Tesco's loyalty scheme would have benefited from bigger savings. Sainsbury's shoppers would have received £4.30 in Nectar Prices discounts, while Tesco Clubcard holders would have saved £6.30.
The high level of promotions helped keep year-on-year inflation down to 10.2% this week, while prices were up 1.3% month on month.
The biggest price jump this week was on the Alpro dairy-free yoghurt, which was 39% more expensive than last July.