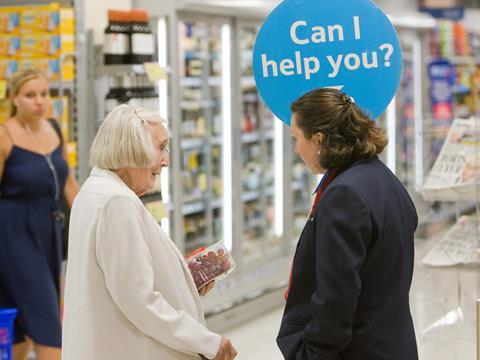 Tesco in Perth won this week. Offers were "eye-catching" and a "sampling of Lindt chocolate was very popular". The store is "large and seems to sell everything". "Polite and very helpful" staff took our shopper to products, checked stock or went looking themselves. Only two items weren't available.

Morrisons was a distant second, scoring 66 with its Llanelli store. "It was busy and there didn't seem to be anyone looking after the car park and trolleys". There were lots of staff at counters and tills but "very few on the shop floor". "No queues at the tills" but there "was a mistake on the receipt".

The entrance at Waitrose Stirling "was very welcoming". Inside "there was a home, clothing and toy section - surprising for an average-sized store". Staff were "well-presented, polite and apologetic when something wasn't available". Unfortunately that was a lot - seven items weren't in stock.

"There was a queue to get into the car park" at Asda in Farnborough. It was busy but "the store looked ordered, modern and professional". There "were a few cardboard boxes in the aisles and the yoghurt area was in disarray". The checkouts "were very narrow" but "Karen on the till was professional and friendly". Availability was poor.

The "car parking spaces were narrow" at Sainsbury's Rugby. It wasn't a new store and "was looking a bit shabby". Aisles "were full of restocking trolleys" but all were placed so as to not cause obstruction. Our shopper "was really impressed with the staff". However, there was a long queue at the checkout and availability was poor.