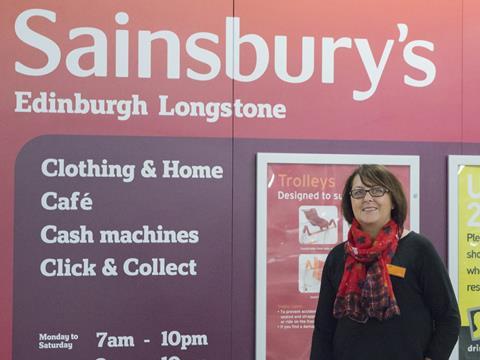 Did you have a successful Black Friday? We had an Argos installed in January, so Black Friday this year has meant a huge increase in footfall because it offers customers many more options than Sainsbury's alone can.

Are you all set for Christmas? Good availability is key, as well as showing customers what we have available. A lot of shoppers trade up at Christmas, and we need plenty of what tends to be bought every year, such as alcohol, crackers for cheese, chutneys and traditional Scottish brands like Tunnock's. Customers are definitely doing their Christmas food shopping a bit at a time.

What festive products are selling well? Christmas crackers are doing really well. We had a 25% off promotion for our luxury Christmas crackers and all Christmas decorations, and that's helped pushed sales. We've got some great cracker designs this year too, which may be driving sales as well. Advent calendars are also selling well, especially those that step away from chocolate, such as our new cheese calendar, which has completely sold out. Customers have shifted the way they shop for Advent calendars, and are happy to spend a bit more for something a bit more special.

You introduced online grocery last year. How has that performed? Fabulously well. We have been trading online for around 14 months now, and it's made a huge difference in how busy we are and brought 50 more employees into the store. It also keeps our stock availability at a good level consistently.

What has customer and employee reaction been like to the Asda merger? The majority are waiting to see if and how it pans out. But if it does come to fruition, I absolutely think it will lead to more product choice and lower prices for our customers.

How did staff take the in-store managerial changes earlier this year? It meant a massive period of change, and it was tough going, especially as there were some redundancies. The changes were the right thing to do for Sainsbury's future, and employees know that. I focused a lot on being sensitive and honest about what was happening towards all employees directly or indirectly involved.

What's the best thing about working for Sainsbury's? I've been with Sainsbury's for 27 years, and managed this store for just shy of three. I like the strong values Sainsbury's has. I'm happy to see it is in very good shape for its future in a very difficult market.
Winner: Sainsbury's Inglis Green Road, Edinburgh
Store manager: Liz Low
Opened: 2013
Size: 50,000 sq ft
Market share: 11.6%
Nearest rivals: Asda - 0.7 miles, Aldi - 0.9 miles, Lidl - 2.2 miles, Tesco - 2.5 miles
Store data source: Analysis by CACI. Call the market planning group on 020 7602 6000