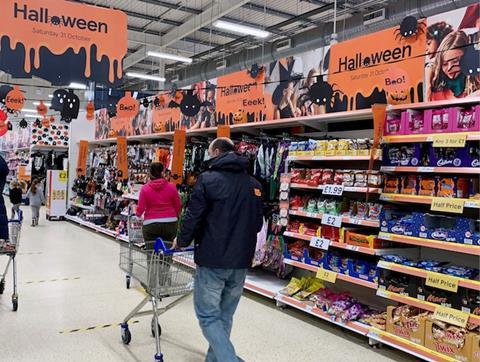 Tesco has won on service and availability for the first time in almost three months, thanks to 100% availability and "friendly" staff.
Its Brockworth branch had a well-signposted car park, hand sanitiser and a one-way system outside. Inside the store, there was floor tape to encourage social distancing.
A "fun and inviting" Halloween display greeted our shopper, followed by further offers on gondola ends.
Its wide aisles were free from obstructions and most departments were clean and well-stocked, aside from the fruit & veg section, which staff were replenishing. They also maintained social distancing and wore face masks.
Customer service was strong, while the short checkout queue was well-managed and the till operator was careful.
The only thing letting Tesco down was that it was "impossible" to socially distance when loading shopping.
Sainsbury's Sprucefield, Lisburn was runner-up with near-perfect availability.
Our mystery shopper was met with an employee counting customer numbers at the entrance. There was also a clear one-way system, hand sanitiser and cleaning materials for trolleys.
She was impressed by the calm and ordered atmosphere and attractive displays. She also found the branch was generally well-stocked, though she came across a spillage that was not being attended to.
One or two restocking trolleys and staff replenishing shelves also caused obstructions.
Although all staff wore face masks, three did so incorrectly and were not keeping a two-metre distance. The till operator, meanwhile, was helpful and chatty.
Morrisons Bridport was third with a "welcoming" first impression thanks to its one-way signage and employee counting customer numbers. The store had perfect availability, but our shopper saw gaps in its fruit & veg section.
There were many online pickers in store, but they were quick to move restocking trolleys if needed. Staff were attentive and knowledgeable, topped off with the till operator being "cheerful" and efficient.
Waitrose in Truro came fourth with a "confusing" entry and exit system, which led to an "unorderly" first impression. Our shopper was happy to see a selection of offers, but felt there wasn't enough space to look at them safely.
Partners were "helpful" and "polite" with most maintaining social distancing, but our shopper felt customers and employees needed "more awareness" of the importance of doing so.
The store also had seven out-of-stock lines and some gaps in its fruit & veg and snacking departments.
Our shopper's visit to Asda Chelmsley Wood, Solihull, began poorly with no staff at its entrance and other customers "huddled together".
Our shopper described the store layout as "strange" while the narrow aisles made social distancing difficult, not helped by "lots of picking" going on for deliveries and click & collect.
Guest supermarket Lidl came bottom of the pile, with a poorly signposted car park and no one-way system. An employee at its Tunstall, Stoke-on-Trent store was supposed to be managing customer flow but "kept leaving his post", leading to a "significant number of customers" not wearing masks.
The "scruffy" store had no staff on the shop floor whatsoever, while other customers' lack of social distancing made our shopper feel "uneasy" and availability was very also poor.
WEEK 17: Sunday, 04/10/2020 (11am-2pm)
WINNER
Asda
Morrisons
Sainsbury's
Tesco
Waitrose
Lidl
Location
Chelmsley Wood, Solihull
Bridport
Sprucfield
Brockworth
Truro
Tunstall
Date
04/10/2020
04/10/2020
04/10/2020
04/10/2020
04/10/2020
04/10/2020
Time slot
11am-2pm
11am-2pm
11am-2pm
11am-2pm
11am-2pm
11am-2pm
Shop starts
11:11am
11:35am
01:00pm
11:11:00am
12:30pm
11:55am
Visit Duration
00:56
01:19
01:30
00:50
01:25
01:19
Shop Duration
00:46
01:08
01:30
00:45
01:15
01:13
Car Park (10)
10
9
9
8
8
7
Signposting (up to 1)
1
1
1
1
1
0
Queueing time to park (up to 2)
2
2
2
2
2
2
Trolleys (up to 2)
1
1
2
2
1
2
Queueing time from parking the car to enter the store (up to 3)
3
3
3
3
3
3
Feedback (up to 2)
3
2
1
0
1
0
Barriers in place but no staff in entrance and people huddled together trying to enter the store.
Store entrance and exit were clearly shown so that there was no collision between the customers coming in and coming out. There was a staff at the entrance to show the customers that we were allowed to enter. The staff was managing the number of customers in store.
There was no staff visible in the carpark area. The enter and exit lanes are well laid out and there was plenty of free parking spaces near the entrance. There was however due to heavy rain an overflow or water on the road that I had to walk through this was about an inch in depth.
The car park was busy, but I was able to find a space easily. There were signs up at the entrance about social distancing, and a sanitising station, but no one counting customers in and out, which surprised me considering how busy the store was. There was a one way system in place for entering and exiting the store. As I was sanitising my trolley I was accosted by a Scottish Power lady, who was trying to drum up business. Very unhelpfully placed and inappropriate given the current circumstances - even if I had have wanted to stop and chat about changing my electricity provider, at the entrance to a busy store next to a sanitising station is not the place for it. There were trolleys neatly stacked in the trolley park by the entrance, but only a small amount.
Entrances and exits where confusing as well as trollies being placed at the exit point rather than the entrance. Unsure if they had even been sanitised. however there where staff situated at exit and entrances and one sanitizer with a foot pedal.
There was no one outside, and no signs or barriers. There wasone chap inside the door to point customers to the sanitizer and (I assume) checking that everyone was wearing a mask. However, he kept leaving his post and there were a significant number of customers in the store without masks. He was the ONLY member of staff apart from the till operators.
Store standards (20)
8
13
14
15
11
6
First impression (up to 5)
0
2
5
2
0
1
Feedback
No space, the entrance was very small with shoppers quickly trying to enter.
Although the store was quite busy when I entered, there was a welcoming feel.
Good safety measures regards hand sanitiser and disinfectant for trolleys. There was one member of staff present at the entrance monitoring and counting customers.
The store felt very busy as I entered, with no staff members managing the volume of people. There was a sanitising station just inside the first door, and then just inside the main shop, and I noticed several placed around the store too. The first aisle was a seasonal Halloween aisle, which was fun and inviting.
People seemed quite confused on entering the store so it wasnt very orderly. only one sanitiser point available and no wipes for trollies etc. There where a few offers as you entered the store which was nice however not much room to stop and look at them while people are trying to enter the store next to you.
The sanitizer spray and big roll of blue paper was just on a unit to the side. I had to look for it, and several other shoppers passed me not stopping. There was no control of numbers entering or ensuring distancing, I was quiet uneasy about their attitudes.
Displays (up to 3)
1
2
3
3
2
0
Availability and replenishment (up to 5)
2
3
3
4
3
0
Feedback
Some of the aisle are very narrow and shoppers queuing to get past.
After entering the store, first thing I noticed was a gondola end of £0.49 vegetable offers. However, most of the items were missing and I could see empty spaces of silver rack and it was a disappointing sight. The item availabilities were overall good as if I couldn't find the exact item, there was the substitution eg. different flavour or different brand.
Most aisles were well stocked, however the main fish end gondola was very sparse. The seasonal isle for halloween was well displayed and fully stocked.
Most departments seemed to be well stocked, with just some areas of fresh fruit and veg needing replenishment (and staff in the area putting fresh stock out).
Some of the staff were very good and helpful. they were all very polite in helping customers when asked and most kept their distance. However a few seemed to be chatting quite a lot rather than concentrating on the customers. we saw staff replenishing shelfs however in some areas such as loose veg, crips, sweets etc there where very obvious lack of product.
The store - especially the famous (infamous?) Middle of Lidl - was quite messy. There were shelves that were empty but no staff whatsoever, restocking anything anywhere.
Obstructions (up to 3)
2
2
2
3
2
3
Spillages (up to 2)
2
2
0
2
2
2
Condition of the store in terms of cleanliness (up to 2)
1
2
1
1
2
0
Feedback
Lots of picking for click and collect or deliveries.
Although I saw a lot of online shopping store pickers, they are all very aware of the obstructions and moved the trolley immediately when I tried to get something. Although the store was crowded, there were many staff members in the store and all was attentive.
Store was clean regards floor etc a few of the main display end gondolas where a bit messy and sparse looking.
The store overall seemed well stocked and clean. There was one spill, which had been attended to and was well marked, and those team members who were replenishing items seemed to be well aware of customers and social distancing.
More sanitiser stations and i feel like there needs to be more awareness around the social distancing policies - staff AND customers
This is Lidl !! Making the store attractive and user-friendly for customers is not their priority. It looked generally scruffy with empty boxes on shelves and there were several items that customers had discarded just abandoned on shelves. One of the problems is the stock is not laid out in a sensible manner - eg. The bananas were in two places, so someone wanting them thinks they only have pre-packed bags, so picks one up, then round the other side of the aisle is the loose bananas, so I saw 3 bags dumped here as customers then selected what they wanted. The layout was awful, no logic to it. There were several stands with what looked like a random selection of items - food & non-food - and the only reason for them seemed to be end of lines, or v.short dates. Everywhere in the store were big, hideous dayglo orange signs saying "when it's gone, it's gone".
Store layout (10)
2
6
6
8
4
0
Did the store layout seem logical and intuitive? (up to 2)
0
2
2
2
0
0
Was it easy to navigate the store while also feeling safe? (up to 6)
0
2
2
4
2
0
Did the store offered any Click & Collect services? (up to 2)
2
2
2
2
2
0
Shop Floor Service (20)
9
14
15
19
17
5
Product location (up to 5)
0
3
5
5
5
0
Staff politness/responsiveness (up to 5)
1
4
2
5
4
5
Feedback
Told if no peaches then they probably don't have but I should look for staff that work that areas… she was restocking that area. Another person very helpful when looking for milk.
Staff were very helpful and knowledgeable. However, when I asked a staff if they had one particular flavour, the staff told me the items on display were all they had.
There was a good amount of staff busy around the store so if I required assistance it would be easy to ask. The only issue I had was I counted 3 staff wearing their masks under their nose and staff member that were replenishing dry goods did not have gloves on.
The strawberry Actimel appeared to be out of stock on the shelf, so I asked a young man (no name tag) who was re-stocking in the aisle if there was any more. He showed me an aisle end two aisles away which had more stock. He was polite, friendly and helpful.
N/A
There was zero staff on the shop floor, except for the chap by the door, (supposedly controling distancing and use of sanitizer). I could not find the soup anywhere, so walked all the way to the front to ask him (the only living soul !!). He was not helpful - "it's down there (pointing in the rough direction of an aisle to the right) it's with the tinned veg". With that he turned away - lovely !!
Was it easy to find a member of staff (up to 3)
3
1
3
3
3
0
Were staff easy to identify through their uniform or name badges (up to 2)
2
2
2
2
2
0
Staff presentation (up to 5)
3
4
3
4
3
0
Feedback
About 25% of staff did not have face masks on.
The staff were wearing face coverings and they maintained the distance and I felt they spoke slightly louder so that the customers could hear well.
I did see a couple of staff conversing and not abiding by the social distancing measures.
All staff were wearing masks, only some had gloves.
N/A
They were so good at social distancing they were out the back - not anywhere near the shop floor.
Tills and checkouts (20)
11
19
17
19
16
9
How well managed were the queues leading up to the till-operated checkouts in terms of maintaining order and social distancing? (up to 2)
0
2
2
2
2
0
How well managed were the queues leading up to the self-service checkouts in terms of maintaining order and social distancing? (Please observe after you've completed your shop, and include observations around attentiveness to customers requiring help due to flashing lights/unattended items in bagging area) (up to 2)
0
2
1
2
0
0
How long did it take to queue (prior to scanning) (up to 4)
4
4
4
4
4
2
Please rate checkout staff on their customer service and safety (up to 7)
2
6
6
6
5
2
Time for G33 items to be scanned (including payment) (up to 3)
3
3
2
3
3
3
Was the till receipt free of mistakes? (up to 2)
2
2
2
2
2
2
Feedback - please provide any further details/feedback on the tills and checkout:
Quality of the receipt is terrible, hardly readable. My server and next 1 up did not have face masks.
The till staff made eye contact with me and I could see the staff was cheerful and smiley. The till staff handled items carefully but manged speedily.
Emma the customer service assistant was very well mannered and helpful and engaging with conversation. I also received the lego cards that were part of the instore promotion.
The tills were busy, but there were plenty of tills open for the volume of customers, and I didn't have to wait. There were screens up in place around the tills, but not between customers. They had used every other till in order to minimise contact, but the till directly next to the one I used was open, and it was impossible to socially distance with the other customer whilst we were both loading items onto the belt. At other supermarkets I have seen perspex barriers in place to remedy this situation. Karen on the tills was very friendly and polite.
She asked if I had a Waitrose card, but did not offer me one when I said no.
There are a total of 7 tills at this store, When I got to check out only 3 were open and each till had a long queue. The customers were maintaining their own social distancing regime, quite successfully, As usual, the till operator is "on the clock" and therefore the goods are flung through the scanner at break neck speed. There is no interaction with the customer except to ask for payment. The till girl was not wearing a mask or gloves. As per their system, I had to get everything back in my trolley as they were flung towards me, and then retire to the shelf to pack my items. It;s not the till staff at fault, they are told not to engage and they don't start scanning until everything is on the conveyor as each customer is timed, and these timings are checked to ensure the till staff are getting customers through as fast as possible. I wonder if anyone at Lidl head office has ever heard of customer care? PS: you've asked me to answer question 27, but this is erronious as there are no self check-out facilities at all.
Availability score (20)
12
17
18
20
6
1
Of the 33 items on your shopping list how many were:
Available (up to 20)
28
30
32
33
26
18
Out of stock (-2 per item)
3
0
1
0
7
4
Not stocked (-1 per item)
2
3
0
0
0
11
Availability %
90.3
100.0
97.0
100.0
78.8
81.8
Please note down the items on your shopping list that were out of stock (please highlight the products that have managed to get a satisfactory substitutions)
Asda cooked chicken, only small packs.

Peaches, told none.

Asda macaroni cheese tin, only brand names available.

N/A
Baked ginger bread men
N/A
garlic butter not in stock bought garlic fresh and butter.

bounty pack not in stock bought box of chocolates on offer.

loose carrots had sold out empty box bought bag of carrots.

no double gloucester bought red leicester had to buy a different brand of gpats cheese.

no crinkle crisps had to buy ordinary ones.

no own brand and right size of crumble mix so had to buy remaining small packs of a different brand and a substitution to make up size.

no own brand variety pack cereal so had to buy kellogs

White cabbage (only red left, so no sub) .

200g Heinz baked beans (only large cans in 4-packs so no sub).

No 1 pint bottles of milk left so no sub.

Blossom Hill rose wine, got Chimarosa (OB) as substitute

Please note down the items on your shopping list that were not stocked (please highlight the products that have managed to get a satisfactory substitutions)
Applewood cheese, not stocked.

Asda diet coke, subs for Pepsi - no asda fizzy drink cans anywhere, could only find branded cans.

not stocked: Alpro hazelnut milk - satisfactory sub :Alpro Rice milk.

not stocked: Jakeman's honey&lemon - satisfactory sub: Lockets honey&lemon .

not stocked :Morrisons mixed vegetable crisp - sub: Morrisons cheese savouries.

N/A
0
0
Loose potatoes not stocked so 2.5k bag as sub.

Green giant sweetcorn replaced with OB Freshona.

Old fashioned giant porridge oats not stocked.

Free range chicken legs not stocked so whole free range chicken as sub.

Warburtons crumpets NS, so OB Rowan Hill sub.

Soreen loaf not stocked, no sub.

Kerrygold butter NS so Danepak as sub.

Teisseire sirop NS no sub.

Kelly's ice cream NS, AlpenFest as sub.

Birds Eye peas NS, so Freshona as sub.

McCain oven chips NS so OB as sub

Please give any other details or info about your shopping trip, good or bad
Would usually go to the Minworth asda. Better parking spaces and wider aisles. Some trolleys were padlocked up which seemed unusual. Enter the stores and you are in the clothes section, usually fruit and veg first, has a strange layout.
There were many staff especially online shopping pickers and they were very knowledgeable about where all the items were and they were aware of their trolleys causing obstructions. Although the store was crowded, I didn't need to queue long to be navigated to the till. I liked how they organise the queue and the staff tell the queuing customers which till they could go. Very efficient.
The aisles are a good size to navigate around although when the staff were replenishing goods on some of the isles this led to obstruction and isles becoming very busy.

The store was well laid out although I was disappointed that the deli and cheese counter was closed especially on such a busy day footfall wise. I would like to see staff wearing the masks correctly and gloves when replenishing.

There was not a one way system in effect in the store, but there was tape on the floor in some places to encourage social distancing.

The store as a whole felt very busy, and it did not feel as though they were controlling the number of people in the store.

There were a number of items on my receipt that I saved money on due to being a club card member (total savings of £7.57).

I personally feel there is two types of shopping going on . The traditional supermarket and then the click and collect with people rushing to fill baskets and obtain goods to be collected. Changes the feel of the store. Maybe the store should be extended . In other super markets their online business is not so noticeable
I couldn't find several items and the signage was unhelpful. Small and just stuck at right angles to the shelves. There is so much miscellaneous stuff piled down the centre that the rest of the store seems to take second place. Many of the bins in the centre were empty or had very little stock, so it was a complete waste of space. I have been in other Lidl stores, and it seems the lack of corporate strategy regarding merchandising and maximising floor space is bad across the whole business.

As you will have gathered it was not good !! There is a huge retail park (with a massive Asda) only about 500 yds away.

It seems the idea of pile it up sell it fast, and in large quantities, is the main driver of the business.

The systems for safety in these dangerous times were just not there, and I must admit to feeling quite uneasy about it.

Lidl, must try harder !!

TOTAL SCORE (100)
52
78
79
89
62
28