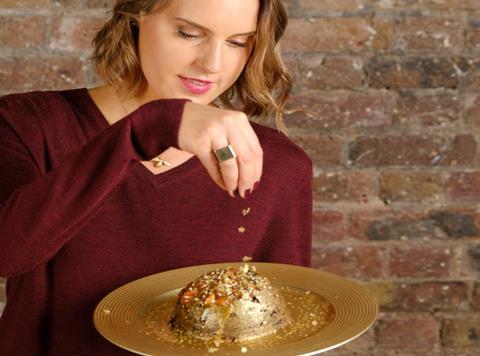 Bling's the thing for festive dessert in 2016. Christmas pudding – once simply a stodgy, brown dessert – is now a stylish table centrepiece, and this year the fashion is to pimp one's pud with gold-leaf or star-shaped sprinkles.
So says Sarah Gibbon, category manager at Matthew Walker, the Yuletide pudding giant that supplies pretty much all fmcg retailers, from Lidl to Harrods (as well as foodservice and its own branded range).
Christmas pud has come a long way since Sarah was a Northern nipper in the 1970s, when the most exciting thing about the post-turkey sweet was the possibility of choking on a concealed 5p piece. There were only a few brands available, and, lacking topping and fillings, those that were in the shops were "really dense, quite heavy, fruity and alcoholic-y" she says.
Incredibly, it wasn't until 2010 when puds experienced a modern-day sea change, according to Gibbon. That was the year in which Matthew Walker teamed up with Heston Blumenthal. The UK's foremost culinary wonk stuffed a pudding with a whole candied orange and the product – with an rsp of £16 – ended up on eBay for 500 quid.
Nowadays, there are hundreds of variations of pud: some filled with booze, some without; some have fillings, others don't. There are even options in non-traditional shapes: one MW offering is a fruit-stuffed star with sauce that 'helter-skelters' down it.
This winter will be "very much about gold and bling", says Sarah, as puds are presented as a lavish finale to festive meals throughout the festive season – or even as gifts. That's certainly what MW hopes will be the case. The supplier has also put stock in maturity: puds that are aged to create "unparalleled" taste and "mellow" flavour. It's the same approach as distillers have to whisky, but the timescale here is months, not years.
Although MW did last year commit to providing a two-year-old product to Lidl in 2017. Until then, we'll have to make do with between three and 18 months.
Ageing is a trend that looks set to stay – but there will be fleeting fashions, too. It's too early to say what next year's will be, but Sarah won't rule out any possibility. Not even Marmite flavour.