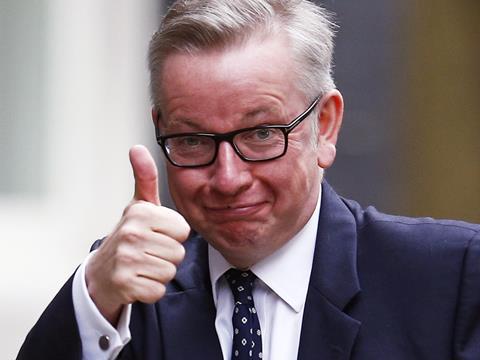 Michael Gove's appointment as secretary of state for environment, food & rural affairs has raised eyebrows and divided opinions. Here, five journalists at The Grocer give their own opinions on his appointment.
Rob Brown, Focus On Editor
I began my career in journalism as a trainee reporter on a local paper in Surrey Heath in 2005, the same year Michael Gove won his seat there. I met him on several occasions. Personally, I remember him as charming, at times self-deprecating and fiercely intelligent; he seemed to listen. He also had a fierce temper, as evidenced by one angry phone call I took from him during the expenses scandal.
His record as education secretary suggests my perception of Gove as a listener was wrong. He dismissed those who criticised his proposed changes to the national curriculum as "Marxists". A judicial review deemed his failure to consult local authorities on plans to axe the Building Schools for the Future project "unlawful". The NUT unanimously passed a vote of no confidence in him, claiming he had based policy on "dogma, political rhetoric and his own limited experience of education".
None of which bodes well for our farming, fishing and food industries. His experience of these sectors is unproven (commuter belt Surrey Heath is hardly an agricultural heartland). As education secretary, he tried to remove climate change from the national curriculum. Last year he voted against cuts to the permitted C02emissions of new homes.
If Theresa May's top priority right now is keeping hold of her job, this makes perfect sense. This is a case of keeping your friends close and your enemies closer. Not much (apart from himself) ever seems to get between Michael Gove and his ambitions, as his betrayal of Boris Johnson last summer makes clear. On all other counts, this makes very little sense at all.
James Halliwell, features editor
Gove lacks charm. And honesty. But he is slippery, manipulative, obsequious and treacherous, so possesses an otherwise comprehensive political skillset. He's back in the cabinet today, after Theresa May continued on her marathon run of questionable decision-making by appointing him to handle the interests of food and drink a year after sacking him for his perfidious antics. Now Gove will represent the industry as Brexit talks loom. Some point to his intellect and love of radical reform as good news in that respect. Let's hope the EU, not exactly fans of Brexit, are not aggravated further by sitting opposite one of its chief architects, particularly one who specifically claimed the EU Common Fisheries Policy destroyed his father's business (his father later contradicted him). Meanwhile Gove has a long list of other Brexit-related challenges to deal with as he makes his debut in food and drink, not least how to replace the CAP and pacify increasingly panicky farmers.
To be successful he needs to hope the industry responds to his single-minded and heavy-handed approach better than teachers did when he was in charge of education. Or turn up the charm and honesty and dial down the rest.
Ed Devlin, deputy finance editor
He is a toad, but a capable toad. Bringing the treacherous, Machiavellian Gove back into the fold certainly raises the collective intelligence of the cabinet up several notches. But those around him would be well advised to keep their guard up lest they find a knife wedged between their shoulder blades, especially his old chum Boris. Gove was widely detested in education circles but his reforms came from a genuine desire to improve schools. He was a much better justice secretary than Chris Grayling and the lightweight Liz Truss, who has now been demoted to chief secretary to the Treasury. The appointment is clearly a poisoned chalice handed to him by Theresa May. She had to give him a role back in the cabinet because of the precarious nature of her authority, but, just like she did with her other leadership rival the loathsome Leadsom, she gives him Defra, the role least wanted in the cabinet.
I can't imagine how the elitist toff Gove is going to sell it to farmers that they will be far worse off as they lose subsidy after subsidy thanks to Brexit. However, he is obviously a very capable politician and far more talented than most of the no-hopers in the cabinet. I'm sure he'll probably make a success of the role.
Kevin White, fresh foods editor
The return of Michael Gove to the political front line was expected at some point, but his appointment as environment secretary yesterday took a few people by surprise. Given Gove's reputation and political profile, the response to his appointment from many food industry bodies has been muted, with many welcoming him publicly but privately questioning his qualifications for the role. Others have been more direct, such as Green Party co-leader Caroline Lucas, who said he was "uniquely unqualified for the post", while Labour's deputy leader Tom Watson suggested the malign hand of Rupert Murdoch had been involved in his appointment.
What we do know is that Gove generally doesn't like experts, and wanted to pull the topic of climate change from the national curriculum when education secretary. He's also described himself as a "shy green" in the past. But compared to his predecessors at Defra in Andrea Leadsom and Liz Truss, what the department now has is a political big hitter with a renowned intellect who – following last week's disastrous election – will have the ear of the PM.
For many years, Defra has been seen as the department where high flyers kick off their career, or where the likes of Leadsom are sent as punishment. So it will be interesting to see whether Gove is willing and able to make a good fist of the portfolio and the onerous task of securing the future of the agrifood sector post-Brexit.
Daniel Selwood, food and drink editor
"Michael Gove is now environment secretary, in the same way that a 5 year old boy running around with his arms outstretched is an aeroplane," tweeted @irkthepurists this morning. Funny stuff. But under scrutiny, the satire doesn't hold up. It suggests a childlike guiltlessness in Gove, when the reality is quite the opposite (in spite of his toddler-style handclapping).
The government's new eco-minister may be "the politest man in the House of Commons" according to the oh-so trustworthy Chris Huhne, but there was nothing mannerly about his (mercifully stymied) attempt to remove mention of global warming from the national curriculum four years ago. Nor was there gallantry in his recently expressed glee at rolling back EU wildlife protection regulations; in his support of fox hunting; or in his admiration of Trump, an oaf who withdrew the US from the Paris Accord for no clear or sane reason.
"It is just possible that the minister is a monster," wrote author Anthony Horowitz following a 2014 encounter with Gove – and Horowitz had gone into their meeting as an admirer.
Be afraid.