Watch the live Store Manager of the Year 2020 broadcast on demand
The winner of The Grocer Gold Store Manager of the Year award has been announced.
Joanne Bennett-McNally of Morrisons Widnes, St Helens has taken home the title in one of the hardest years for the industry in the history of the awards.
"I'm absolutely blown away – I've never won anything in my life!" said McNally.
"It's been a tough year for us all in retail. Watching our customers and colleagues deal with that has been so hard but I'm so proud of what we've all achieved. Tough times don't last but tough teams do."
McNally's sentiment was echoed by Adam Leyland, editor of The Grocer, who said: "It was hugely challenging to find a winner.
"So many cases of store managers going above and beyond, so many challenges that were triumphantly overcome, so many heroic actions. But there has to be a winner."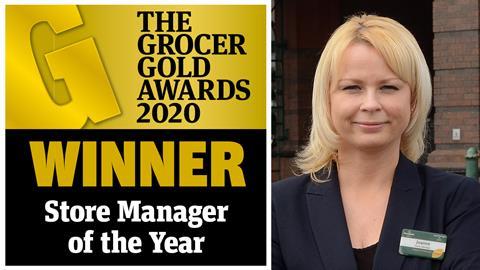 Bennett-McNally stormed to victory when she spoke to our expert judging panel about the extraordinary turnaround of her store.
"Joanne's passion and authenticity just won me over" said judge Amanda Jones, group retail and franchise network director at Post Office.
"She has inspired her team through winning hearts and minds."
Bennett-McNally has worked in retail since she was 20 years old, starting out at Tesco before joining Morrisons as a store manager at the Widnes store two years ago.
Widnes "had a reputation for being a tough store", according to Bennett-McNally. Due to a wealth of operational and cultural challenges, she had her work cut out when she arrived.
"There were issues with compliance, the warehouse was full to the brim and the KPIs were off track," but Bennett-McNally said the issue she tackled first was the low staff morale and the poor customer service that resulted from it.
From staff surveys to taking a particularly grumpy regular customer out for coffee, Bennett-McNally sought feedback and advice from everywhere possible in her pursuit of turning the store around. As she put that feedback into action, the store was soon nailing compliance audits, increasing customer satisfaction levels and making big improvements to waste and shrinkage levels.
"Joanne is remarkable, she's a role model"
But more importantly, colleague engagement increased by 22%, a first for Widnes, making it one of the top in the Morrisons estate. Service levels soon followed: the store hit 12/12 passes for internal mystery shop checks – the only Morrisons store to do so that year.
Full marks is nothing out of the ordinary for Bennett-McNally, who came to The Grocer's attention when her team got an outstanding 20/20 for service on our Grocer 33 mystery shop, winning Widnes Store of the Week – an event she said was "truly amazing" and, until now, one of the proudest moments in her career.
"Joanne is remarkable." said judge Tim Mason, CEO of Eagle Eye.
"She taught me alot about the balancing of doing a great job and managing life during lockdown. She faced some pretty intense challenges during lockdown and managed those in an amazing way. She's a role model."
Bennett-McNally was up against stiff competition from four other store managers: Asda Forfar's Graham Mackenzie, Waitrose Sunningdale's Nick Unter, Tesco Sandhurst's Paul Bunyan and Sainsbury's Lincoln's Scott Ward.
"It has been a competition like no other because it has been a year like no other." said judge and Co-op Food CEO Jo Whitfield.
"There have been such great examples of leaning into community, changing business models dramatically overnight, like doubling online capacity, and making sure you've got the right talent in store to support you.
"The agility and flexibility that every candidate has delivered as part of the day job really shone through."
The Golden Week
Every day this week on thegrocer.co.uk at 3pm we'll be announcing the winners of The Grocer Gold Awards.
Tuesday 10 November: Factory Manager of the Year
Wednesday 11 November: Business Initiative of the Year
Thursday 12 November: The Grocer Cup
Friday 13 November: The Grand Finale announcement of all the winners