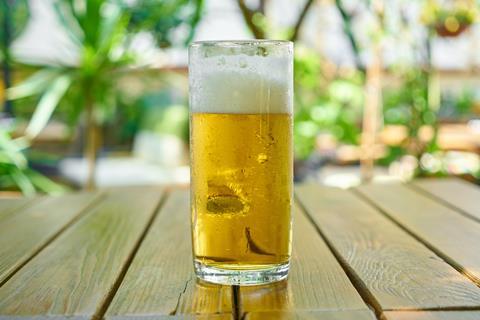 It's been a stellar year for Stella Artois. An extra 287.9 million litres of the UK's favourite lager passed through tills as Covid-19 hit Britain, adding just under £105m to its value. That's the largest gain of any non-tobacco brand – ahead of huge names such as Coca-Cola and Pepsi.
Stella's not alone in its soaring success. Other big-name lagers are some of the highest-grossing brands in this entire Top Products report.
Take the £92m gains made by San Miguel, distributed by Carlsberg in the UK. Combine this with the fact Carlsberg's core pilsner has achieved growth of £17.8m, and the once-beleaguered supplier is in a healthier position than it's been in some years.
It's largely thanks to the pandemic, which drove shoppers to buy an extra 382.6 million litres of lager, ale and cider this year.
After the initial shock of lockdown, "we saw consumers shift and try to make the best of things – and off-trade sales saw the results," says Carlsberg marketing director Emma Sherwood-Smith.
"As the hot weather hit over summer and the nation took to the great outdoors and socialising outside, we saw 750k new shoppers who purchased San Miguel."
Watch: how lockdown is shaping the beer & cider category sponsored by Heineken UK
So, summer sunshine was a boon for beer. And for cider – which saw massive gains for premium, mainstream and flavoured brands alike. The most noteworthy performance was by Strongbow Rosé. Having launched just this year, its £17.1m worth of sales makes it the UK's 14th biggest cider in grocery.
But not all brands have benefited. Greene King, for instance, saw volumes of its Old Speckled Hen ale fall 8.1% after canning supplier Molson Coors shut down its line.
No matter their fortunes in grocery this year, all brands have taken a hit this year due to the closure of pubs and restaurants, points out Sherwood-Smith.
"While retail sales have seen a boom, we are still mindful of the impact the hospitality sector has faced," she says. "Overall consumption of alcohol has fallen and the boom in retail does not compensate for the loss in on-trade sales."
Top Products 2020
In association with Nielsen
Top 5 Ale & Stout
£m
£ change
%
Total volume change:
14.8%
Total Category:
930.8
149.7
19.2
Total Own Label:
16.1
-3.1
-16.4
This year's rank
Last year's rank
Brand
Manufacturer
£m
change (£m)
change (%)
1
1
Guinness Draught
Diageo
104.5
27.1
35.0
2
2
John Smith's Extra Smooth
Heineken UK
75.1
14.1
23.1
3
3
BrewDog Punk IPA
BrewDog
64.2
20.2
46.0
4
4
Old Speckled Hen
Greene King
41.9
-1.0
-2.3
5
5
Sharp's Doom Bar
Molson Coors (UK)
30.8
1.9
6.7
Top 5 Cider & Perry
£m
£ change
%
Total volume change:
12.0%
Total Category:
1273.2
175.2
16.0
Total Own Label:
54.0
-3.0
-5.3
This year's rank
Last year's rank
Brand
Manufacturer
£m
change (£m)
change (%)
1
1
Strongbow Original
Heineken UK
186.6
21.3
12.9
2
2
Strongbow Dark Fruit
Heineken UK
147.6
15.0
11.3
3
5
Thatchers Gold
Thatchers Cider
76.3
23.4
44.2
4
4
Kopparberg Strawberry & Lime
Cider Of Sweden
76.0
20.2
36.2
5
3
Kopparberg Mixed Fruit Cider
Cider Of Sweden
73.5
15.3
26.5
Top 5 Lager
£m
£ change
%
Total volume change:
18.4%
Total Category:
4416.6
792.0
21.8
Total Own Label:
38.1
-7.5
-16.6
This year's rank
Last year's rank
Brand
Manufacturer
£m
change (£m)
change (%)
1
1
Stella Artois
AB InBev
691.9
104.9
17.9
2
2
Budweiser
AB InBev
479.1
73.8
18.2
3
3
Fosters
Heineken Uk
424.0
54.4
14.7
4
4
Carling
Molson Coors (Uk)
279.8
53.3
16.3
5
6
San Miguel
Carlsberg UK
238.9
92.1
62.7
The Grocer's Top Launch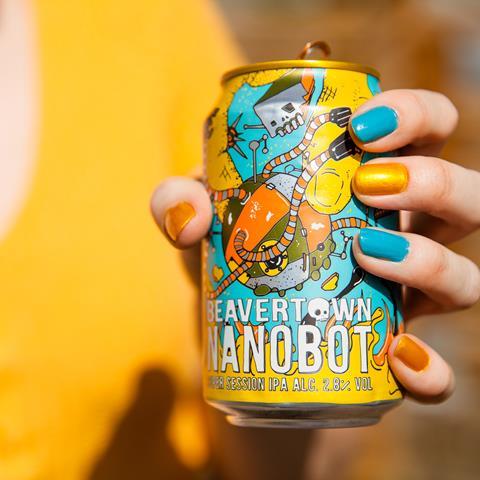 Nanobot Beavertown Brewery
North London's trendy Beavertown Brewery made its long-awaited debut in the low & no market in May. It wasn't with a 0% version of an existing brew, but with a 2.8% abv take on fashionable table beer. Billed as a "super session" IPA, Nanobot is made with Sabro and Simcoe hops. Promising "punchy citrus and juicy tropical top notes", it's available from Sainsbury's at 97 calories per 330ml can. It's since been joined by Lazer Crush, Beavertown's first alcohol-free lager.