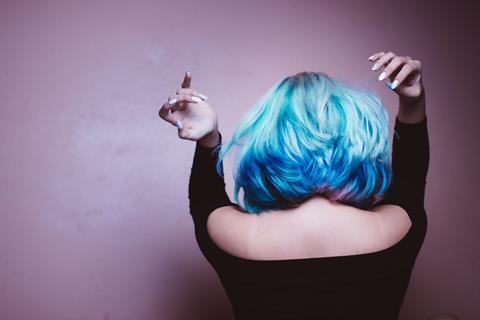 The events of the past year have been enough to turn your hair grey. In fact, that's just what happened to some Brits.
With hairdressers shuttered over lockdown, silvery strands and unruly roots were a reality for many. It's a hair-raising problem that led to specialist products receiving a boost from stores, in an effort to provide an at-home salon experience.
Retailers have designated more shelf space to colour-protect lines such as Pro:Voke's Touch of Brunette and Touch of Blonde conditioner, notes Nielsen senior analyst Sara Timms. And brands such as John Frieda have cashed in with NPD designed to combat grey hair (see our Top Launch below).
Aside from dye, though, it was a bad hair day (or year) for the haircare sector. Shampoo, conditioner and styling products lost a combined £58.1m, as largely housebound Brits washed and styled their hair less often.
The few winners in the category largely spoke to the specific needs of the pandemic, such as promoting good hair health while hairdressers were closed. "Consumers are moving toward brands that nourish and maintain the condition of their hair and scalp," says Nielsen's Timms.
This is reflected in the performances of products such as dry scalp aid Neutrogena T-Gel, Shea Moisture and Maui Moisture – all up in both value and volume.
There has also been a greater desire for natural haircare this year. That's been a focus for Garnier, whose Ultimate Blends range grew £200k after "tapping into growing appetite for natural origin ingredients and vegan, eco-designed formulas that really deliver".
Such on-trend credentials have driven another successful year for many smaller and newer players, Timms says. "These brands are becoming more and more appealing to consumers because they can satisfy different, more specific needs and often." She notes how sustainable brand Faith in Nature has grown significantly across both shampoo (126%) and conditioner (116%) thanks to NPD.
Within styling, smaller brand Eco Styler, which includes a 100% olive oil gel, has grown 121.8%. Now that's natural beauty.
Top Products 2020
In association with Nielsen
Top 5 Shampoo
£m
£ change
%
Total volume change:
-5.1%
Total Category:
407.6
-14.5
-3.4
Total Own Label:
11.3
-1.7
-13.0
This year's rank
Last year's rank
Brand
Manufacturer
£m
change (£m)
change (%)
1
1
Head & Shoulders
P&G
65.3
1.7
2.7
2
2
Elvive
L'Oreal
41.9
–2.2
–5.1
3
4
Tresemmé
Unilever
27.1
–1.9
–6.4
4
6
Pantene Pro-V
P&G
26.7
1.2
4.9
5
3
Batiste
Church & Dwight
25.5
–3.6
–12.5
Top 5 Conditioner
£m
£ change
%
Total volume change:
5.9%
Total Category:
196.6
–6.1
–3.0
Total Own Label:
3.2
–0.7
–17.8
This year's rank
Last year's rank
Brand
Manufacturer
£m
change (£m)
change (%)
1
1
Elvive
L'Oreal
31.4
–1.2
–3.8
2
3
Tresemmé
Unilever
19.7
–1.5
–6.9
3
2
Aussie
P&G
19.3
–1.9
–9.0
4
4
Herbal Essences
P&G
18.0
–0.7
–3.9
5
5
John Freida
Kao
16.1
–0.7
–4.0
Top 5 Hair Styling
£m
£ change
%
Total volume change:
-17.9%
Total Category:
176.7
-37.5
-17.5
Total Own Label:
7.7
-2.1
-21.5
This year's rank
Last year's rank
Brand
Manufacturer
£m
change (£m)
change (%)
1
1
Vo5
Unilever
28.5
-7.5
-20.8
2
2
Elnett
L'Oreal
25.0
-6.3
-20.2
3
3
Silvikrin
Coty
19.0
-3.9
-17.0
4
4
Got2B
Schwarzkopf & Henkel
16.4
-3.8
-18.8
5
5
Tresemme
Unilever
15.9
-2.2
-12.0
The Grocer's Top Launch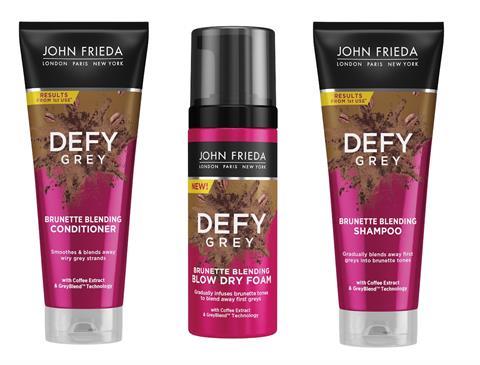 Defy Grey, John Frieda
Consumers of all ages are embracing their grey roots – or even choosing to dye their locks silver. For those not ready to take that plunge, there's John Frieda's Defy Grey range. It hit retailers in November 2019, aimed at brunettes who have discovered their first white strands. Available in shampoo, conditioner and blow-dry foam, it works "by infusing warm brunette tones into grey strands". Covering all bases, Frieda also added Shimmering Silver, a range to "transform dull grey to bright silver".