Twelve months after a chastening slump that saw the top yoghurt brands haemorrhage sales, things haven't got any easier for the category's giants. Just one of the top eight brands - Activia - posted an increase in value. But even that 2% increase to £142m was driven by price rather than volume, which fell by 3%.

The remaining seven brands racked up combined losses of almost £30m, with market leader Müller Light the biggest victim, losing £14.3m in value (an 8% drop).

Müller aside, many of these losses would have been even higher if it weren't for price rises. Yeo Valley is 6.7% more expensive, Fage is up 4.8% and Cadbury is up 2.9%.
Indeed 2018 was the year yoghurts finally experienced the inflation seen in other parts of the dairy category. Average prices increased 3.4%, rising to 4.4% for brands.

These price rises aren't the only thing putting consumers off the big names. Retailers are also looking for "new ways to differentiate", suggests Müller Yogurt & Desserts head of category Carol Hand. That means increasing shelf space not only for own label - up 12.8% in value on volumes up 12% - but also "alternative brands". In this case, alternative means catering to trends such as free-from, health and indulgence, says Nielsen analyst Kate Goodman.

A look at the high-performing brands tells you all you need to know. Free-from giant Alpro is up 24%, indulgence guru Gü has risen 15% and health-orientated brands Arla and Danone's Light & Free have increased 19% and 31% in value respectively. Those value gains were matched by similar strides in volume terms.

Smaller, premium brands have also benefited from the shift in consumer behaviour. The Collective registered a 12.5% increase in value to £31.3m, bringing it into the top 15 for the first time. Meanwhile, Nomadic has delivered a 29% sales boost to £16.9m by catering to on-the-go and convenience trends.

But a fightback could be on the cards from the big guns, suggests Nielsen analyst Rupert Austin, as they take a leaf out of the book of smaller players.

Leading brands are no longer relying on the same formulaic approach to NPD, says Austin. He cites the success of Danone's Light & Free skyr, which includes 0% fat and 0% added sugar variants for the health-conscious crowd.

Brands have also continued to cater for demand for big pots, which have risen 3.2% in value according to Nielsen. Meanwhile, Hand points to this year's launch of Müller Corner Plain - made with unsweetened, natural, high-protein Greek-style yogurt - as another example of on-trend innovation.

Hopefully that will translate to some sweet growth for the big boys.
TOP LAUNCH
---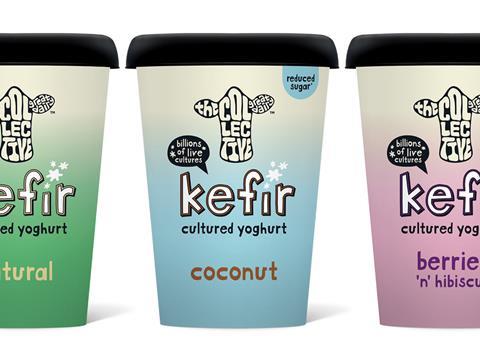 The Collective Kefir, The Collective Dairy
The Collective has been busy on the kefir front this year. First came the kefir drinks range - described as a major new direction for the brand - in April. That initial dabble was swiftly followed by the launch of this on-trend kefir yoghurt range in October with four flavours: Natural, Madagascan Vanilla, Berries 'n' Hibiscus and Coconut. Co-founder Amelia Harvey says the "completely guilt-free" products contain 30% less sugar than other flavoured yoghurts.