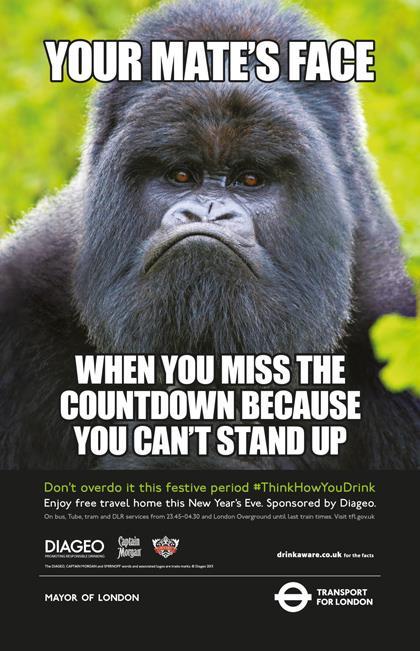 Diageo is launching a humorous ad campaign to promote safer drinking as part of its sponsorship of free travel home on New Year's Eve in London and Edinburgh.
The 'Grumpy Gorilla' ad is a new tack by the drinks giant to communicate a serious message to young consumers in a more light-hearted way. It includes a hashtag linking it to Diageo's 'Think How You Drink' campaign, which was launched in July 2013. The company is also giving away 10,000 iPhone cases illustrated with the 'Grumpy Gorilla' outside Leicester Square, Covent Garden and Westminster tube stations on 12 December.
The drinks brand has partnered with Transport for London (TfL) for the third year running to offer free travel home on all bus, tube, tram, DLR and London Overground services on New Year's Eve. It is also sponsoring TfL's 'Safer Travel At Night' (STAN) campaign, which provides information and access to safer travel alternatives at night, as well as funding street pastors to patrol the area around Trafalgar Square on New Year's Eve.
Diageo is also sponsoring free bus travel in Edinburgh for Hogmanay in a partnership with Lothian Buses.
Mark Baird, head of industry affairs & alcohol policy at Diageo, said he hoped the ad would grab people's attention. "It will remind people that they will have a much better time if they drink sensibly."