Booker has outmanoeuvred most its opponents in recent years, but by one group in particular the UK's largest wholesaler has been continually outfoxed: smugglers.
In October CEO Charles Wilson blamed the 1.1% fall in its half-year like-for-like sales to retailers on the illicit tobacco trade. And he called for indies to come together to fight "a real problem" facing the trade.
It's a "real problem" that's only going to get worse. Already HMRC's upper estimate of non-UK duty-paid consumption for 2012/13 was 16% for cigarettes and 48% for RYO - the first increased estimate recorded since 2008/09 for cigarettes and since 2003/04 for RYO - and calculates that the tax losses to the Treasury total almost £3bn (or £1.8bn and £1.1bn respectively).
How you can help tackle black market
Don't get involved: The penalties are severe - prison sentences, hefty fines and the removal of your tobacco gantry.
Suspect it? Report It!: If you have seen or heard of any illegal activity, report it. Contact the Customs Hotline (0800 595 000), your wholesaler, your tobacco representative, or the police.
Introduce tighter laws on proxy purchasing: "Legislation has to be brought in to punish adults who buy for minors," says Bestway director Dawood Pervez. "Retailers who flout the law must also be brought to book."
Prioritise tobacco theft: "Tobacco theft has a severe knock-on effect for communities," warns the FWD "because it gives indiscriminate access and fuels criminal activity."
Be prepared for new tobacco legislation: With the tobacco display ban in effect in small shops in 2015, communication is key regarding access - all the more so if plain packs are in place.
Now, last month's decision by the DH to order a new independent review into plain packs (after a government u-turn in June), once again opens up the possibility of what critics call a "smugglers charter", in which not only are heavily doctored packs hidden behind gantries, they are now stripped completely of all branding.
So what can independent retailers and wholesalers do to tackle the problem? And how does this concern them?
The average c-store is losing over £40,000 a year in tobacco sales to the illicit trade [IGD and MS Intelligence]. And the Tobacco Retailers' Alliance estimates one in six corner shops will shut in the next 12 months due to black market fags and cross-border shopping. But although the majority of black market fags are more likely to be found in car boot sales and pubs, a small minority of independent retailers are getting "sucked in". In October, JTI removed a tobacco gantry from Central News in Cheltenham after owner Mohammed Sedoo was sentenced to six months in prison for selling counterfeit and non-UK-compliant tobacco. And in July Pius Sedani, owner of Southall-based ethnic food retailer Quality Foods, was jailed for two years and four months for evading £580,000 in duty and VAT on 3,250g of handrolling, chewing and shisha tobacco.
Steve Parfett, chairman of wholesaler AG Parfett & Sons, believes "there was always little involvement from c-stores in the illicit trade, but more retailers are chancing their arm."
Wholesalers are feeling the pinch too. While Booker's tobacco sales fell 2.2% in the six months to 13 September, it got away lightly compared with the 7.3% decline in tobacco volumes reported by P&H - the UK's biggest tobacco wholesaler and distributor - for the year to 6 April. And without citing figures, Bestway admits the illicit trade is "certainly having an impact on our tobacco business". Tobacco sales have "stopped growing" adds Parfetts.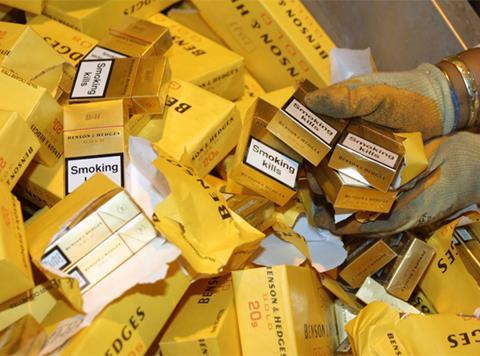 The illicit trade is made up of three components - genuine products sold legitimately abroad, but then smuggled back to the UK counterfeit copies of brands and illicit or 'cheap white' branded cigarettes, like Jin Ling, made by small manufacturers with names or, in Jin Ling's case with its Camel cues, packs that look like well-known brands.
According to JTI, both illicit whites and counterfeit RYO are increasingly common. "A real emerging threat is how counterfeit RYO is being distributed and created," explains JTI head of communications Jeremy Blackburn. "Packaging is coming into the UK through the postal system, independent of loose tobacco, and then the packs are being constructed by criminal gangs. A pouch of RYO is much easier to construct than cigarettes." This explains the higher incidence of illicit share in RYO than cigarettes.
Taxing issue
Illicit whites and counterfeit RYO are big threats, but the biggest driver of the illicit trade is tax. Illicit traders can make a much larger margin selling contrabrand in the UK than in other countries. Tax accounts for over 75% of the cost (or nearly 16 of the cigarettes) of a pack of 20 cigarettes. "The HMRC faces a very difficult task as the UK has one of the highest excise tax regimes in the world for tobacco," says Nelson. "It is taxed much higher in the UK than in Continental Europe. Blackburn adds: "HMRC is effectively fighting with one hand tied behind its back because of the tax increases."
"The economic conditions allied to the ever-growing sophistication of the gangs make it very difficult to gain traction"
And P&H warned earlier this year "the decision to increase duty by 2% above RPI is likely to lead to an increase of non-UK duty paid products".
So what is the government doing? HMRC says it has more than halved the size of the illicit market in cigarettes. In the last two years, it seized 3.6 billion illicit cigarettes and more than 1,000 tonnes of RYO, resulting in 432 prosecutions. But annualising seizures in the latest quarter - between July and September - the additional 310 million cigarettes worth £88m and 58.4 tonnes of RYO, worth £13.2m - suggests a slowdown. And in September, a Committee of Public Accounts (PAC) report slammed it for being too optimistic in its proposals to tackle smuggling in the 2010 Spending Review. It also came under fire for not making full use of enforcement actions available, and for not challenging manufacturers for failing to prevent oversupply.
"Additional investment has been named by this government to tackle tobacco smuggling, and our officers posted overseas have made a significant contribution to the drive against smuggling, as the PAC recognises," an HMRC spokeswoman insists. "HMRC's strategy is to tackle issues further up the supply chain, where the quantities involved are much bigger, allowing us to have a bigger impact on the fraud and the best return on investment. Seizures of illicit cigarettes targeted on the UK have increased 28% under this strategy."
More commitment needed
Despite HMRC's recent successes, wholesalers, indies and manufacturers believe more could be done. "The current economic conditions, allied to the ever-increasing sophistication of the organised criminal gangs that peddle illicit tobacco and the difficulty in taking these criminals permanently out of circulation, make it very difficult to gain traction," says Peter Nelson, anti-illicit trade manager for Imperial Tobacco. "We need more commitment and resources from the government for HMRC, the Border Force and the law courts to effectively step down on these activities."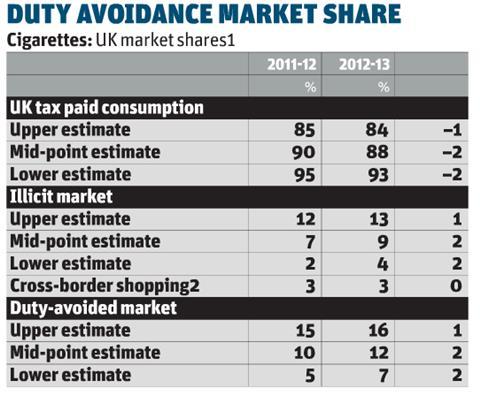 The renewed threat of plain packs will only make the situation worse, warns Bestway director Dawood Pervez. "In Australia, illicit consumption has grown from 11.8% to 13.3% since plain packs were introduced there last year, the highest level recorded," he says.
The best way for the trade to combat black market fags is to report any illegal activity as soon as they can. Imperial Tobacco has just launched a new campaign called Suspect it? Report It! to encourage just that. "Intelligence is like a series of jigsaws individually we may only have one piece each, but if we all contribute our piece, a more detailed picture can be built by those responsible for completing the jigsaws," says Nelson.
As JTI's Blackburn adds: "If you know something's going on, report it to the Customs Hotline. It's time to take a stand."