It's time for rum to ditch the pirate image. After decades of 'ahoy there' puns and packaging that would tempt Captain Jack Sparrow, the spirit is going premium. Waitrose tipped rum to be the next big thing at the tail end of last year, and sales suggest it's on to something. The retail market has shot up an impressive 7.9% in value over the past year on volumes up 5% [Kantar Worldpanel 52 w/e 20 May 2018], suggesting that not only are prices rising, but people are buying more of the stuff. So what's steering this ship?
Encouragingly, it's the younger generation that is fuelling this rum boom. Nearly 80% of 25- to 34-year-old spirit drinkers are partial to rum, according to a poll of over 1,400 consumers conducted exclusively for The Grocer by Harris Interactive. This compares with just half of the over-55 crowd (see below). These younger shoppers are prepared to go higher end than older generations. "We know that millennials are drinking less than their parents," says Faith Holland, head of category at Captain Morgan. "As young people are drinking less, they are seeking higher quality in their purchases. We're finding that customers are drinking less, but better."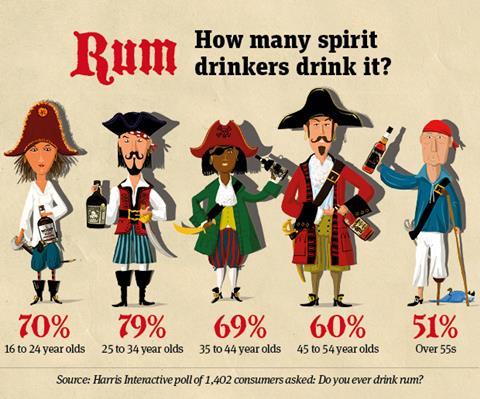 The rise in younger drinkers is mostly down to changing perceptions. No longer a cheap and cheerful plonk, rum is increasingly being seen as a sophisticated option. "Similarly to the way in which gin has come a long way from being 'mother's ruin', consumers are viewing rum in a different light," says Lyme Bay Winery's Fran Taylor.
Rum brands are unveiling more premium lines to cater for this new drinker. Lyme Bay Winery, for one, launched a premium Caribbean spiced Lugger Rum in May, and Don Papa unveiled a small batch Rare Cask in November last year. Despite the hefty £65 price tag, the majority of the 6,000 bottles had sold out by Christmas. The launch was so successful the brand is planning a second Rare Cask batch this November at Harvey Nichols (see innovations, below).
Retailers are taking note. Waitrose spirit buyer John Vine last year upped its range of premium rums, favouring those with a focus on their country of origin. "Our shoppers are interested in both the regional differences and individual flavour profiles of authentic rums," he says.
Watch: How hipsterism is changing rum
Regional differences and authenticity all sound reminiscent of the language used to describe craft beers. This is no accident. Jay Swanborough, marketing director at online alcohol business 31 Dover, says there is a burgeoning market for craft-style rum. "Craft brands like Scotland's Dark Matter Rum and Sussex Over Hoof Rum (at 66.6% abv) are generating new areas of passion in the sector," he says.
James Stocker, marketing director of Halewood Wines & Spirits, has also noticed this shift in attitude. "Consumers are becoming more interested in exploring different brands and flavours of rum, as we've seen in the rise of craft beers and gins," explains Stocker. It's a trend that could well pay off – nearly two thirds of drinkers may pay more for a craft rum, according to Harris Interactive research.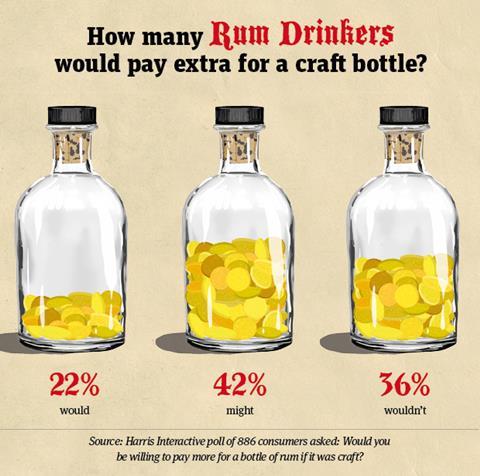 This craft approach won't work with all types of rum. While white rum is in decline, for example, aged variants are proving a particular hit with the more discerning drinker. Swanborough of 31 Dover confirms more and more people are using these as high-quality 'sipping spirits', rather than something to be drowned with a mixer. "As prices and education increase, the consumer isn't keen on throwing a cola mixer into their 25-year-aged rum," he explains.
These 'sipping rums' have even been successful in stealing shoppers from other spirits, says Marek Szoldrowski, president of Colombian rum producer Dictador. "Customers who have previously preferred whisky or cognac now constitute a strong purchasing group for aged rum." The brand took a leap of faith into this market with the launch of its six-strong 2 Masters range in June, with prices starting at £400. Described as "the first programme of its kind", the 2 Masters range comprises aged rum paired with premier cognac, whisky, champagne, armagnac, bordeaux and sauternes to create a unique variant on the sipping spirit.
Affordability
Saying that, not all rums are this pricey. In fact, affordability has been key in the movement away from whisky, says Chris Hare, brand manager of new launch Cut Rum. "Aged whisky prices have risen over the last two years, which has led a lot of consumers to look to the rum category to acquire their aged spirits." Keen to capitalise on this trend, Cut Rum made its UK debut in April with a spiced, overproof and smoked rum, starting at a more affordable price of £24.99 (see innovations, below).
That spiced rum is in growth bodes well for this fledgling brand. Waitrose's Vine said he spotted a spike in sales of gold, dark and spiced rums, which prompted a swift range revamp. "We introduced more of these rums to our range to reflect our customers' tastes and allow them to experiment further," he says. Proving his instincts were correct, sales shot up 12% in 2017.
Showing the strongest growth of all is golden rum. This variant has shot up 18.5% in value over the past year, says Halewood's Stocker. "It's still smaller in overall volume than spiced rum, but we're seeing tremendous growth," he says. "Consumers are beginning to trade up in a way that they haven't in the past with rum."
New flavours are also proving a hit, he points out. Halewood acquired Cornish rum brand Dead Man's Fingers in February and didn't waste any time in adding two new variants – coffee and coconut – to its portfolio. "We know consumers are interested in new flavours," says Stocker. "We've had huge success in introducing new flavours to our Whitley Neill gin brand, and we wanted to recreate that within our rum portfolio."
All this means more mainstream brands are scrambling to get on board. Bacardi may be known for its trademark white rum – the only variant in decline – but it's hoping to change all that. The brand is now putting more investment behind golden variants with premium launch Bacardi Cuatro and the relaunch of Bacardi Reserva Ocho (see innovations, below).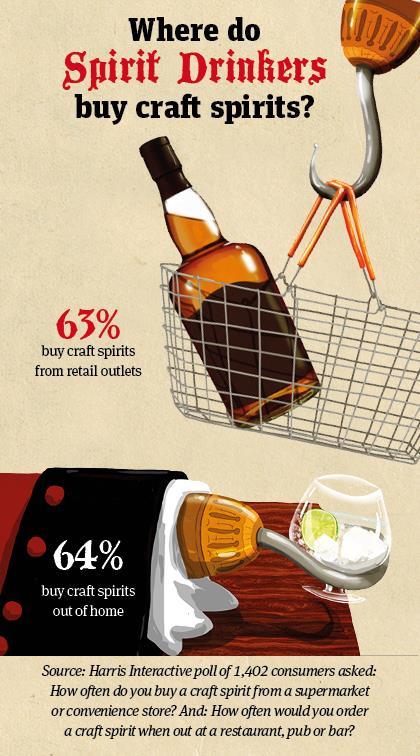 Describing the two launches as "rounding off Bacardi's portfolio", Bacardi Europe's VP of marketing Sarah Doyle says they each target a significant but different consumer group. "Cuatro is an entry point rum for people who may not have considered rum in the past – people who are a little adventurous and looking for something sophisticated but easy to drink," explains Doyle. In contrast, Reserva Ocho is extra aged and aimed at more experienced rum drinkers looking for a strong flavour profile.
She is confident these products can appeal to today's consumer. "It's a really exciting time for rum, the category is undergoing a massive premiumisation in the UK market."
"We've found that around a third of premium spirit drinkers drink rum, but there have historically been very limited options for those wanting to trade up in rum," she adds. "There's a space to fill for premium rum which consumers are really interested in."
Doyle is confident rum can be just as much of a success story as gin, if not more so. The brand has predicted gold rum volumes are set to rise 30% faster than gin. "Bacardi has been creating rum for 156 years and we haven't seen a trend like this since we launched our first flavours," she says.
Doyle points out that out of home is really driving this trend (where two thirds of drinkers buy craft spirits). "Bartenders are instrumental in the rise of rum. They're the ones getting the message out about premium and new rums, and they're the ones experimenting with these spirits and exciting customers," she stresses.
To prove it is serious in its bid to attract the craft shopper, Bacardi has partnered with design agency Here Design for its global packaging revamp.
"Far more consideration is now being given to the design of rum bottles as producers understand that the pack has an important role to play in telling their brand story," says Caz Hildebrand, creative partner at Here Design. "The shape and feel of a rum bottle can provide authenticity, heritage and provenance cues about the liquid within. Rum brands are using these subtle design cues to add a sense of craft and premium value to draw attention on the shelf and bar, and make the drinker feel rewarded and proud of their brand selection."
As investment pours into packaging and formulas, it seems rum is giving gin a definite run for its money. With a bit of rum luck, Jack Sparrow's favourite bevvy might just have what it takes to become the next spirit craze.
Creative Challenge
While rum continues to enjoy growth from the craft movement, blended whisky brands are failing to stir any interest in younger shoppers. W e challenged creative agency Biles Hendry to come up with a blended whisky that might arouse the same enthusiasm in millennials. Here's what they came up with.
Presented with the challenge of revitalising blended whisky with a millennial-focused NPD, the creative team at Biles Hendry first considered the reasons behind the sector's flagging sales.
"Blended Scotch whisky is struggling to capitalise on the increased interest in spirit drinking in the UK," says Biles Hendry founder Anthony Biles. "We believe there are two fundamental factors at play here: image and flavour."
The team discovered many spirit drinkers view blended whisky as low-energy and old-fashioned. "This perception is further exacerbated by the visual language of the category," says Biles. "Everything from the gold foiling and script typefaces to the heritage dates and founder's stories is off-putting to younger consumers."
The focus on heritage across whisky is missing the mark with millennials."Younger drinkers are less interested in how long a whisky has been aged for than their parents," says Biles. "It's all about the experience for this group, and they're not finding that in blended whisky at the moment."
Flavour profile is another challenge for the sector. "It can take years to develop an appreciation of the subtleties of flavours in blended scotch, which the new generation of drinkers don't have time for," he explains.
To overcome these issues and attract younger consumers, the team took inspiration from gin, which managed to shed its reputation as "the preserve of maiden aunts" and capitalise on the craft craze. "Whilst millennials are drinking less than the generations before them, we learnt from the gin trend that they are more interested in exploring new experiences, and are happy to pay more for quality and exclusivity," says Biles.
With that in mind, the Biles Hendry team created 15 Grams, a four-strong range of blended whiskys designed to attract a younger customer base into the sector. A key focus for the team was to create a range with an attractive story behind it. "Two per cent of whisky evaporates from the barrel, it's a critical part of the ageing process," says Biles. "The reason behind the name 15 Grams is that for every bottle we produce, we say an angel takes 15g."
On the back of each bottle is an explanation of this process. "We want millennial consumers to understand what our angels 'give back' in return for their share – the ageing process imbues the liquid with smoky, spicy, floral and fruit flavours from the barrel," he explains.
After barrel ageing, the brand's master blender then combines the whiskies with botanicals such as lemon, lapsang, vanilla and cinnamon to create four flavours: floral, smoky, spiced and citrus. "We wanted to give consumers a choice and focus on the distinct flavour of the product rather than the age," says Biles. "Each variant has a signature serve and brings something different to a cocktail. The range has simple flavour descriptors which deliberately downplay that they are blended scotch to create an easy entry point to the category."
Positioned as a premium spirit, 15 Grams bottles are priced above standard blended whiskies at £25/75cl. "The unique flavours and bottle design adds value and provides perception of being worth paying more for."
The new line will target millennial drinkers through online and social media marketing, including an augmented reality app aimed at "demystifying whisky, bringing to life each flavour profile and providing cocktail recipes".
Free scratch and sniff cards are available in bar stockists and in store, with whisky wine gums in each flavour available as tasters prior to purchasing. "It's not easy to convince a consumer to take a chance and spend money on something completely new," says Biles. "Having free sweets as tasters and interactive elements like the scratch and sniff cards go a long way in encouraging consumers to give 15 Grams a try."
Innovations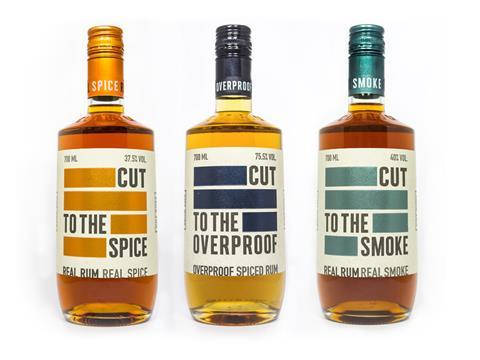 Cut Rum range
Launch date: April 2018
Manufacturer: Cut Rum
New brand Cut Rum is making a play for the sophisticated drinker with the introduction of its three-strong range of rums into the on trade and specialist retail shelves in April. Under the tagline 'No pirates. No sea monsters. No pin-up girls, just the best tasting rum for people who know the difference', the line comprises of a 37.5% abv spiced rum, a 40% smoked rum and a 75.5% overproof variant (rsp: £24.99-£37.99/70cl). Each bottle contains rum from Trinidad and Jamaica infused with all-natural ingredients including aniseed, nutmeg, ginger and lemon.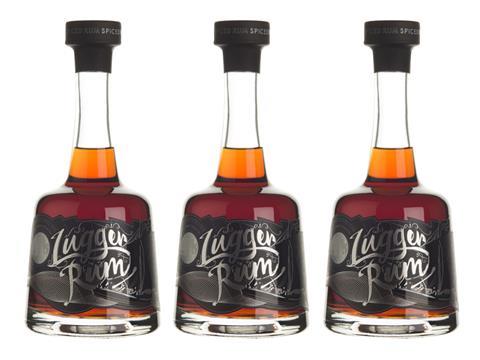 Lugger Rum
Launch date: May 2018
Manufacturer: Lyme Bay Winery
Named after the fishing boats used to smuggle contraband into Lyme Bay in the 18th century, Lugger Rum (rsp: £38.50/70cl) is already in its third batch of production after launching last month. Produced and packaged by hand at the Lyme Bay Winery site in Devon, the NPD has gained listings in independent outlets, with the brand stating it is in talks with larger retailers regarding national distribution. The Caribbean rum is aged in bourbon-charred oak barrels before being spiced with nutmeg, orange peel, clove and vanilla, resulting in a premium 40% abv spirit designed for mixers and cocktails.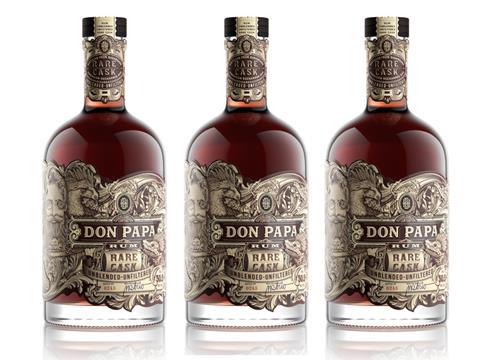 Rare Cask Rum
Relaunch date: November 2018
Manufacturer: Don Papa Rum
After a successful launch last Christmas, Don Papa is preparing to launch the second batch of premium sipping rum Rare Cask this November (rsp: £65/_). Distilled from Noble sugarcane and sourced in the Phillipines, the rum is aged for several years in carefully selected oven roasted and toasted American Oak casks to ensure the batch delivers the brand's signature complexity of flavours. Each 50.5% abv bottle is signed by Don Papa's master distiller and packaged in a wooden canister, available exclusively online and in store at Harvey Nichols.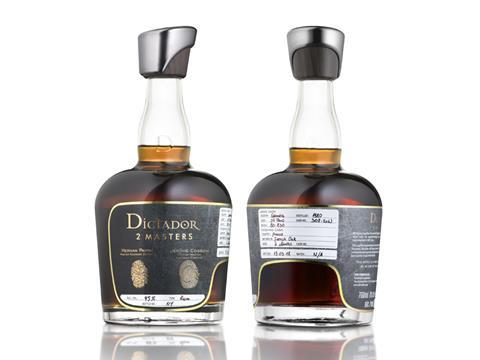 Dictador 2 Masters range
Launch date: June 2018
Manufacturer: Dictador
Colombian lifestyle brand Dictador has teamed up with a range of renowned wine and spirit producers including Hardy Cognac, Champagne Leclerc Briant and Glenfarclas Distillery to create a unique line of aged sipping rums. Each collaboration began with Dictador sending a rum aged for a minimum of 37 years to the respective partner for as much or as little further ageing as they choose. Prices range from £400 to £950 per bottle, with the range rolling out across Europe in June and the US from September.