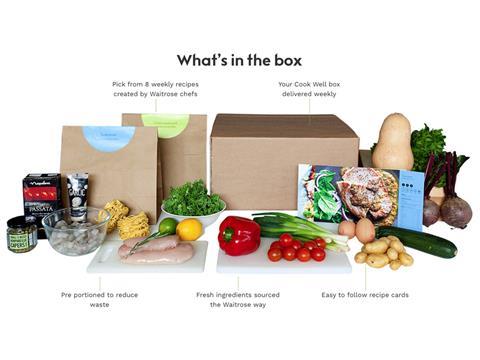 Waitrose is expanding its recipe box service six months after launching a "small scale" trial.
The retailer is adding 60 new dishes to its Cook Well recipe box service – up from its initial choice of 16 – all of which are "nutritionally balanced" with no red traffic lights on satfat, sugar and salt.
It is also adding a third weekly delivery day on Mondays, plus the extra option of a four-person box on top of the standard two-person meals.
Waitrose will also be marketing the service, which until now has received limited publicity, across "a number of channels".
Customers can choose to buy Cook Well meals either as a one-off or on a subscription basis. Every week, they will have a choice of eight meals, ranging from miso cod fillets with coconut rice to a roasted chicken risotto.
A box of two meals for two costs £28 and a box of three meals for two comes for £39, meaning individual portion prices range from £6.50 to £7.
The pricing structure makes Cook Well slightly more expensive than its established rivals in the recipe box market such as Hello Fresh, which charges a maximum of £6.50 per meal, and Gousto's most expensive option at £6.
Archie Mason, head of business development at the John Lewis Partnership, said the initial response to the service had been "greatly encouraging". "Customers have been delighted at the quality and convenience we are offering and the fact that recipes have been specifically tailored to be nutritionally balanced," he said.
Nathalie Winn, a senior nutritionist who helped develop the recipes, added: "The trial has been a great example of how Waitrose is able to bring together its food expertise in different areas to create a unique offer of recipes to our customers. Its success has highlighted how, with a little help, customers can enjoy delicious and nutritionally balanced, home-made Waitrose-quality meals easily."