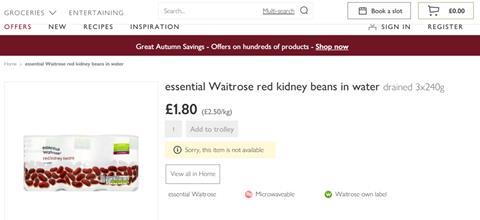 A move by Waitrose to scrap plastic wrapping from multipacks will see customers lose multibuy savings from its kidney beans.
While the supermarket said bulk buy deals would be maintained on the majority of its canned lines, with the price changed at the checkout on quantities of loose tins, its kidney beans are excluded. Waitrose did not outline why.
It means customers who buy Essential Waitrose kidney beans will be charged 70p per unit, no matter the number they purchase. Its multibuy three-tin option came in at £1.80, or 60p per tin, but has been delisted.
The removal of the plastic wrapping, which is used to bundle together three or four cans, will apply to all Waitrose own label multibuy tins.
The vast majority of its multibuy cans will now be stocked loose, with the exception of tuna and tomatoes, which will move to a recyclable card sleeve. Waitrose said the change would save more than 45 tonnes of plastic a year.
Waitrose said most of its tinned products would see the change this year.
It will also remove the multibuy plastic on Essential Waitrose tissues, eliminating a further 4.5 tonnes annually.
It follows a successful trial of the move in 17 stores on its bestselling staples last year, including Essential Waitrose baked beans, plum tomatoes and sweetcorn.
Waitrose said the pilot revealed customers still preferred the convenience of buying certain canned foods together.
The retailer experienced record sales of its tinned goods during the peak of lockdown, with canned tomatoes up 2,000%. Sales remain up 50% across "most lines" compared with the same period of last year, it said.
"Our Essential Waitrose tinned food has been selling in record numbers since March and we want to ensure that we can continue to give customers the best quality and value, without passing on the plastic on such popular products," said Claire Mitchell, canned food buyer at Waitrose.
"Our customers expect us to keep tackling plastic, which includes eliminating single-use shinkwrap on our multibuys. This is a significant step towards our plan to phase out non-recyclable plastic from all our packaging by 2021."