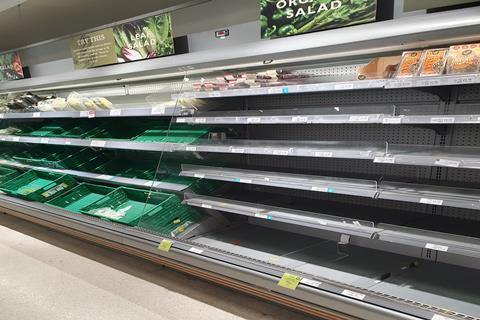 Waitrose has apologised to customers after an IT glitch led to widespread availability issues in a number of its stores in the build-up to and during the bank holiday weekend.
Some stores ran low or completely out of items including salad veg, bakery products and chilled condiments after an update to the supermarket's delivery system led to backlogs at some of the grocer's distribution centres.
The IT glitch, first reported by The Telegraph, meant deliveries were not sent out or were sent with fewer items, meaning stores could not properly replenish.
Signs in stores at the weekend said: "We apologise to all our customers for the severe disruption to our supply chain at the moment. We are working hard to resolve the issues as quickly as possible."
A Waitrose spokesman told The Grocer on Tuesday the cause of the issue had since been fixed and fresh product availability had "largely" improved.
Customers took to social media over the weekend to voice their frustration, saying they were unable to buy products including coleslaw, salad veg and apples.
Stores in the Channel Islands, Cheltenham, Cambridge, Hove and Stratford-upon-Avon were among those affected.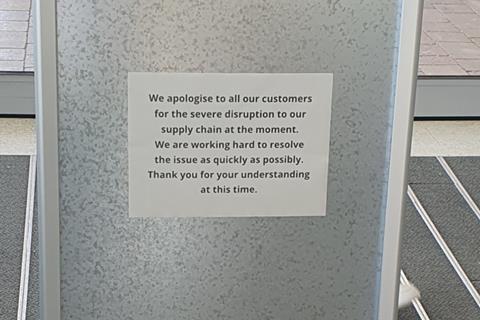 It's the latest in what has been a series of sporadic, but sometimes widespread, availability issues at the supermarket as a result of IT problems.
A report by The Sunday Times in November said an upgrade to its ERP system had led to shortages of fresh dairy products, as well as other lines including baked beans.
Waitrose later denied that the stocking system upgrade was the cause of shortages in fresh categories, insisting that its availability across its stores in the run-up to Christmas 2022 was higher than in previous years.
However, in accounts filed at Companies House in May, the retailer revealed the implementation of a new merchandising system last year was partly behind availability issues, which contributed to a £217.3m pretax loss last year.