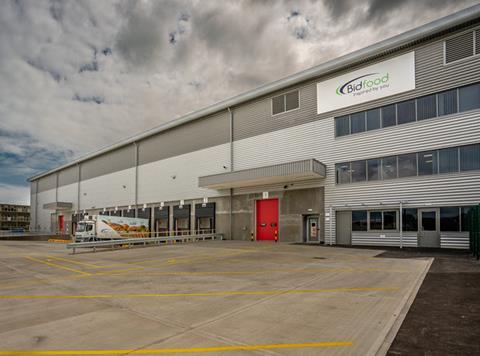 Bidfood has made in excess of 500 employees redundant, closed five depots and shut down two subsidiary businesses as the coronavirus pandemic continues to wreak havoc through the hospitality industry, The Grocer can reveal.
The job losses account for around 7% of the foodservice giant's 7,500 strong-workforce and come at the end of a three-month consultation process working alongside trade unions.
The redundancies are understood to be predominantly from five of Bidfood's 22 sites, which have been forced to close.
The site closures include fresh fruit & vegetable subsidiary Oliver Kay in Bolton and a depot in Wednesbury.
Operations at these sites have been absorbed by its Bradford, Cannock and Hoddesdon locations.
Quality Cuisine, Bidfood's manufacturing facility in South Devon, has also closed. It supplied bespoke, handmade, savoury products to the UK's hospitality sector.
In addition, subsidiary business Bidfood Catering Equipment has ceased trading, resulting in the further closure of its Bristol and Glasgow depots. Sales of catering equipment will now operate out of its Chepstow warehouse.
The Grocer understands a number of redundancies have also been made at Brighton-based wholesaler Elite Fine Foods, which Bidfood bought in July 2019.
Bidfood CEO Andrew Selley told The Grocer the number of redundancies would have been greater had Bidfood not been awarded, along with rival Brakes, the government contract to deliver food parcels to the elderly and vulnerable people at the height of the crisis.
According to government figures seen by The Grocer, the contract was worth just under £200m between the two wholesalers.
"Being given the opportunity to support the government's shield pack initiative was a lifeline for us as a business," said Selley. "Delivering the shield packs allowed us to mitigate to a degree what could otherwise have been a very damaging time resulting in higher levels of redundancy. We regret the loss of any roles within the business but have a duty to all our employees to remain strong for the future whilst being as efficient as we can.
"We have also worked very closely with elected employee representatives and trade unions at identifying relocation opportunities and other ways of avoiding or reducing as far as possible the effect of these closures, including offering voluntary reductions in hours and voluntary redundancies in some instances. Through these alternative solutions, we've managed to preserve a large number of jobs which could have otherwise been at risk, which we believe is a really positive result.
"The impact that the Covid-19 pandemic has had on our industry, and our own business, has been significant and we would certainly add our voice to the call for more sector support for the sector, for example by extending business rates relief to the food and drink wholesalers who are a vital part of the food supply chain."