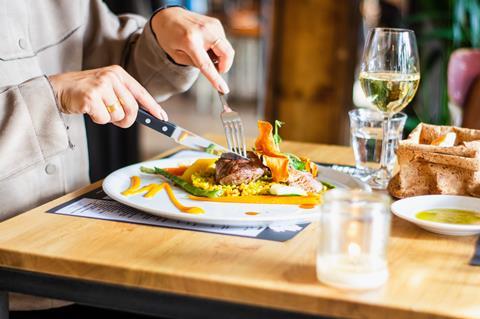 Foodservice wholesalers are reporting strong sales boosted by the government's Eat Out to Help Out scheme, with some even performing better this month than during August last year.
Federation of Wholesale Distributors figures show the initiative, which gives diners up to £10 off food Monday to Wednesday, generated an average rise in sales of 20% for the week ending 7 August compared with sales from the last week of July.
However, The Grocer can reveal some wholesalers have seen far greater increases.
Suffolk-based Brook Street Foodservice saw sales jump 50% in the first week of August compared with the previous week, but said sales were now ahead of the same period a year ago.
Sales for the week ending 14 August were £277k, up 31% on the same week in 2019.
"The scheme has significantly helped, and customers are telling us it's making a big difference, with coastal trade particularly busy," said Brook Street MD Mark Thomas.
JMP Foodservice said it had experienced a similar surge in business.
The initiative has enabled the Cumbrian wholesaler to bring all furloughed staff back to the office, having used the job retention scheme for half of its 42-strong workforce from April to August. It had suffered an 80% decline in business overnight as its customers were shuttered.
"It has been tremendously useful," said JMP sales director Shaun Atherton. "We have seen a big increase in sales from 1 August. Last week we were 22% up on the same week in 2019. We would really like to see the scheme extended."
Both wholesalers told The Grocer more expensive menu items such as steak were particularly popular at the moment and in high demand.
Pilgrim Foodservice said sales of steak were up 15% this month compared with August 2019.
The company saw 90% of its business wiped out during lockdown but this month has seen turnover return to that of pre-coronavirus levels.
"If you'd have asked me back in the spring if I thought sales would return to the same level as last year by August I would have laughed," said MD Charles Bateman. "This scheme is helping out massively. Our butchery department is very busy. Its been a horrific time for our industry, we are all working really hard."
FWD CEO James Bielby added: "Eat Out to Help Out is providing life support to this critical supply chain but it won't cure the underlying problem.
"The furlough scheme is coming to an end, and with just days to go there is no clarity over what food provision schools will require when and if students return. Combined with the possibility of further national or local lockdowns, we're facing a potential catastrophe for the foodservice distribution sector in September. Businesses that have already had to endure three months of near-total shutdown cannot be abandoned again.
"Extending the Eat Out scheme until October would give wholesalers the confidence to invest in stock and retain staff. Alternatively, the specific support offered to hospitality operators, which includes business rates relief and grants, must be extended to the companies that supply that sector.
"We also ask the government to consider a sector-specific extension of the Coronavirus Job Retention Scheme for food wholesalers and distributors and their customers."