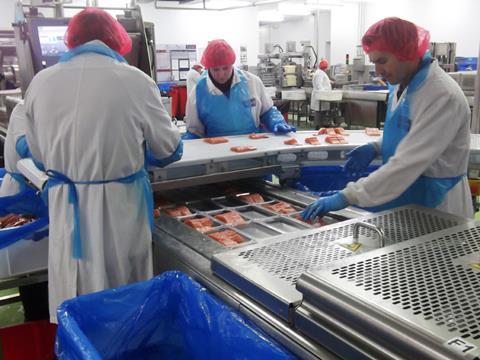 The future looks uncertain for a Young's Seafood processing site in Grimsby, after it lost a major salmon processing contract with Sainsbury's.
The seafood giant confirmed today (23 June), that it had not been retained by Sainsbury's for the processing of fresh and smoked salmon, with several hundred jobs at its Marsden Road site in Grimsby believed to be under threat as a result of the contract loss.
Young's currently employs 300 permanent and 200 agency staff at the site, and a total of 1,700 people across the Lincolnshire town. Marsden Road lost white fish production last year when the supplier shifted production from Grimsby to the Scottish port of Fraserborough.
Sainsbury's confirmed today that its contract had instead been handed to Norwegian seafood giant Marine Harvest, which had previously provided farmed salmon from Scotland for processing by Young's in Grimsby, but will now fulfil the whole process at a new facility in Rosyth, Scotland.
Young's CEO Pete Ward said Sainsbury's had "wished to protect its Scottish salmon sourcing credentials, and believed an alternative proposal could better achieve this objective".
The Grocer understands Young's will now conduct a review of the operation at Marsden Road, but the processor has not yet launched an official redundancy process and would not speculate on the number of potential job losses at the site when asked.
"Sainsbury's remains an important customer for Young's and we will continue to work together in other categories to deliver great fish and seafood products to Sainsbury's customers," said Ward.
"We will be engaging with our employees and other stakeholders to discuss the implications for our business and how we can best position our company to achieve long term, sustainable growth in the current competitive market place."
The announcement was met with concern by Unite. "This is extremely serious and very worrying news for the workforce at Marsden Road and also for the local economy," said Unite regional officer Dave Monaghan.
"We will be working closely with management in the days and weeks to come to mitigate any job losses," he added. "We will be asking Sainsbury's if Marine Harvest has the ability to provide the processed salmon directly to Sainsbury's. Young's Seafood's facilities in Grimsby are first class and top of the range."
A spokeswoman for Sainsbury's said it had carried out a "thorough review of our Scottish salmon suppliers to ensure we can offer our customers the best products possible."
As a result of the supplier tender, it had "given advance notice to Young's Seafood that they will no longer pack and process salmon products for us", however, "Young's will continue to supply us with fish, including cod and haddock," she added.
Marine Harvest Consumer Products MD Andy Stapley, said the contract win was "excellent news for the company as well as for Rosyth" and would mean significant expansion for the facility, with a projected increase in its workforce from 90 to 350 people during the next 12 months that would make it one of the largest processing plants in the UK.
"This latest contract builds on the strong relationship Marine Harvest has established with Sainsbury's over many years and is part of the company's strategy to manage the entire food production process from farm to fork," he added.
The Rosyth plant, which started production in January 2015, has until now been mainly producing products under Marine Harvest's Harbour Salmon Co. brand.