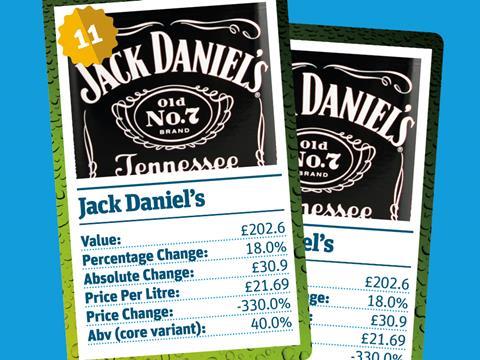 Sales: £202.6m Growth: +18.0%
Jack has turned in the third greatest growth of the past year, putting an extra £30.9m through the tills. Bacardi Brown-Forman Brands says the growing vogue for all things Americana - including US whiskey - and continued marketing investment have been crucial drivers.
The numbers suggest a deal-driven fall in average price has also played a role. Average prices have fallen 3.3% across the portfolio and by 4.3% and 7.7% for the Tennessee Whiskey and Tennessee Honey lines respectively. Deals on one-litre bottles of Tennessee Whiskey in the major mults are a factor here, as is activity around seasonal events.
"Attractively priced gifting options during key trading periods like Christmas and Father's Day have slightly impacted price per litre," says Crispin Stephens, head of commercial planning & activation. "There's been an increase in consumer penetration as more people are buying into the brand."
The 2012 launch of sweeter variant Tennessee Honey, which has brought in an extra £9m on its own in the past year, and apple-flavoured Winter Jack last October have played central roles in broadening the brand's appeal, claims BBFB. The Jack & Cola RTD has also performed well.
Further launches are on the cards, says Stephens. "Brand extensions will absolutely continue to have a role within the Jack Daniel's portfolio."