'Canned fish brands' sales have sunk to new depths'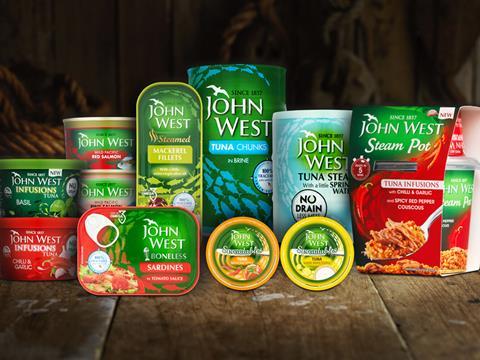 Last year: 42 ▲
Sales: £175.3m (-1.7%)
---
Canned fish brands' sales have sunk to new depths in the face of stiff competition from more sustainably sourced own-label tuna and range rationalisation in the mults.

Morrisons, Asda and Tesco have all reduced their branded tuna ranges, while John West and Princes have both faced scrutiny over their tuna sourcing policies.

Still, John West's £3.1m decline is but a drop in the ocean compared to rival Princes (44), whose £46.9m loss was chiefly felt on its canned fish lines, which have lost a quarter of their value. John West volumes have actually risen 3.3%, primarily as a result of swingeing price cuts.

Price is the crucial factor when it comes to shoppers' migration to own label, says John West's marketing director Jon Burton. "There's no evidence to suggest this switch [to own-label tuna] is due to consumers proactively choosing pole and line," he says.

Using price to hook shoppers puts you in a precarious position, however. Tesco delisted a raft of core John West tuna in July after announcing plans to extend the "same sustainability requirements" applied to its own-label tuna - which has been 100% pole-and-line since 2012 - to branded products. But the brand did hang onto some Tesco listings, and launched its biggest innovation since 2008 in May with the John West Fridge Pack.

Arguably its biggest news of the year came in December, when owner Thai Union announced plans for 100% of its branded tuna to be sourced from sustainable fisheries, with at least 75% achieved by the end of 2020.