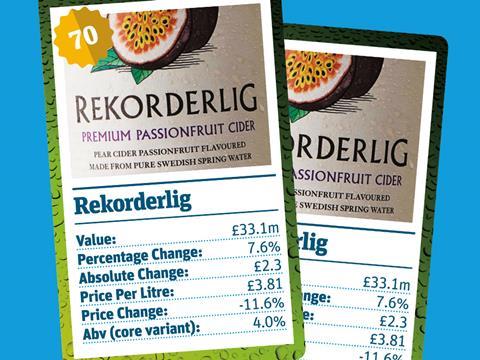 Sales: £33.1m Growth: +7.8%
What attracted Molson Coors to take on the UK marketing and distribution of Rekorderlig two weeks ago is no mystery.
The brand has enjoyed year after year of rocketing growth since it first touched down in the UK in 2008, and it blasted into our top 100 a year ago on the back of staggering 65.4% growth. Admittedly, this year's £2.2m surge on volumes up 7.8% represents a marked slowdown, but Molson Coors says the brand still has legs.
"It's demonstrated incredible success in the cider category and we'll look to invest in Rekorderlig UK and the brand to fuel incremental growth and category development," says Molson Coors UK MD Frederic Landtmeters.
The brewer has taken on Rekorderlig UK's employees, who will continue to lead sales and marketing for the range and maintain a working relationship with Rekorderlig global brand owner Åbro Bryggeri, while distributing Rekorderlig across the UK, Eire and the Channel Islands.
The deal gives Molson Coors a strong presence in the booming fruit cider market. But it's not just about fruit. In the spring, Rekorderlig launched a 5% abv Dry Apple variant in a bid to reinvigorate the apple cider market, which it said was "crying out" for a modern, premium product.
With a distributor of Molson Coors' scale, it might just fulfil its ambition.