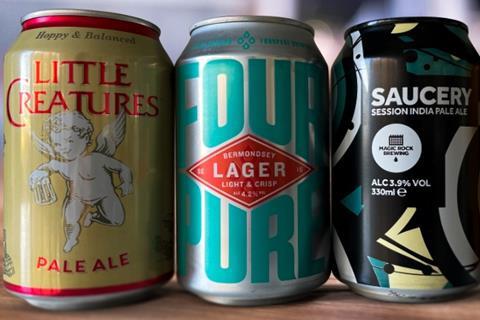 Lion Little World Beverages is putting its UK craft beer brands up for sale, less than four years after it snapped the first of them up.
The Australian megabrewer said it was "reviewing options" for its UK business Little World Beverages, which includes well-known UK craft brands Fourpure and Magic Rock, as well as imports Little Creatures and New Belgium Voodoo Ranger, and would be shifting its focus to the US and Australia instead.
Lion made its debut in the UK in July 2018, when it snapped up Fourpure for an undiclosed sum. This was quickly followed with the acquisition of Magic Rock in 2019. Then in 2020 it combined the two into one business, which it christened Little World Beverages.
It had encountered "difficult trading conditions over the past two years" in the UK, but had "continued to invest in the business and have been building momentum," said Lion Little World UK MD Gordon Treanor. "We believe that the business is well placed to benefit, particularly as trading conditions improve."
However Lion had "made very significant craft beer investments in both Australia and the United States, to the extent that our US business is now a leading US craft brewer," he added. "Like any business, we need to make choices as to where we continue to direct our investment.
"While no decisions have been made, we need to determine how to best set Magic Rock and Fourpure up for success in the coming years. Our team have been informed of the review and we are committed to supporting them through this time."
Fourpure has struggled to make headway in the supermarkets, despite the huge surge in alcohol sales over the course of the pandemic. The brand's off-trade volumes were down 28.5% in the 52 w/e 18 December 2021 versus the same period in 2019 [Nielsen].
In contrast, Magic Rock's off-trade volumes rose 125.4% over the same period. Supermarket sales of its bestseller, Saucery Session IPA, were up 26.1% to £1.2m in the 52 weeks to 11 September 2021 [NielsenIQ].
Lion isn't the only big brewer currently looking to offload craft beer brands. December, for instance, saw Carlsberg Marston's Brewing Company shutter its East London craft brewery London Fields with a view to a sale.
As it closed the business, it stressed it could not "shy away from making the difficult choices that we believe are crucial to investing in scaling the right brands for the future and making CMBC a stronger industry-leading business".