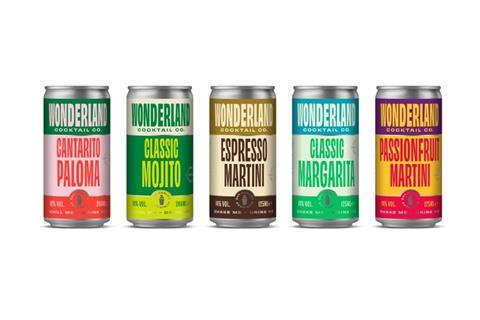 BrewDog is to launch a range of five ready-to-drink canned cocktails under an umbrella brand called Wonderland Cocktail Co.
Martin Dickie, BrewDog's co-founder and CEO of BrewDog Distilling Co, revealed the move via a LinkedIn post.
Writing on the platform, he said Wonderland Cocktail Co's initial offer would comprise a Classic Margarita (14% abv, 125ml) and Cantarito Paloma (10% abv, 200ml) made using its as-yet-unreleased Casa Rayos Tequila.
It would also feature an Espresso Martini and Passionfruit Martini (14% abv, 125ml) made using its Abstrakt vodka, and a Classic Mojito (10% abv, 200ml) with its Duo White Rum, he added.
The range will be available to buy via BrewDog's bars and online shop from 11 September, before rolling into Morrisons from mid-October.
An rsp for the products was not made immediately available.
"We released our first premium RTD in February 2017. This was a whisky old-fashioned made using our exciting single grain scotch whisky (aged in a new American oak barrel) – Uncle Dukes," Dickie wrote. "Since then we have released a host of other great-tasting bar-quality cocktails. We always use our own spirits as the base in the cocktails we make and in two weeks' time will be releasing our new canned cocktail company – Wonderland.
"Wonderland Cocktail Co will be bring you a great range of full flavour, bartender quality, carbon neutral cocktails in a very handy can."
Dickie also teased the possibility of further lines from Wonderland, sharing images of canned versions of a Negroni, an Old Fashioned, a Manhattan and a Cosmopolitan.
He did not give further detail about when these products might launch.
BrewDog first branched into spirits in 2016 with the launch of its Lone Wolf gin brand.
BrewDog Distilling Co presently represents a small part of BrewDog's overall business, with annual revenues of just £10m (compared with the £286m turned over by its group operations in 2021).
The Scottish business invested £7m in May to overhaul the brands within its spirits roster. It also commissioned a new distillery on site in Ellon that would treble the distilling company's production output.