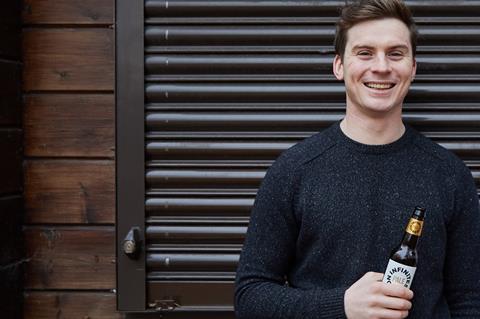 What do you call a 0.5% abv beer? As the founder of a brand that exclusively brews them, I wish that question was easier to answer.
Sales of low and non-alcoholic brews are surging in the UK and indeed across the world. In the past year alone, 'low and no' beer sales in the supermarkets were up almost 50% to £37.9m [Kantar 52 w/e 14 July 2019].
In many countries like Spain, Germany and Russia, the category is already well established, in some cases accounting for a significant market share of the total beer category. And it is looking ever-more likely that the UK will follow in these footsteps.
But guidance around how UK suppliers should describe these products is holding back the market and needs to change.
UK suppliers are told to label 0.5% beers 'de-alcoholised' or 'low alcohol'. But if you were to buy a 0.5% beer from Munich, you'd find it called 'alcohol-free' or 'alkoholfrei'. From a New York brewer it would be called 'non-alcoholic', and in Sydney it would be 'ultra-low alcohol'.
This simply does not make sense, especially considering beer is a global industry, with products from across the world next to each other on the shelves. Take a trip to Tesco and you'll see what I mean. It is leaving British shoppers confused.
Because it is proven that what you call these drinks is important. In 2011, Denmark changed the threshold of what can be called 'alcohol-free' from 0.1% abv to 0.5% abv, and there was a three-fold increase in sales over the subsequent three years.
Remember, a 0.5% abv drink has no physiological impact on the body. It is too weak to affect your blood alcohol level, and is safe even for those driving, and pregnant women.
'De-alcoholised' or 'low alcohol' does not convey this in a way that makes sense to shoppers. So the rules leave independent British businesses, like ours, at a disadvantage versus multinationals, which can use 'alcohol-free' – arguably a much clearer designator.
Luckily, it seems like the Department of Health, whose shambolic consultation last year resulted in no change to guidance whatsoever, has twigged how wrong this is. It is now looking into changing the labelling guidance so that <0.5% does equal 'alcohol-free'.
It's a start. 'Alcohol-free' is better than what we are currently stuck with. But 'non-alcoholic', arguably, is an even better descriptor, as 0.5% abv beers do technically contain alcohol, but have no alcoholic effect. The Americans have it right on this one.
It may seem nit-picky, but this all matters because we are trying to make it easier for people to make healthier choices in their lives. The reason we brew to 0.5% (rather than 0.0%) is that we believe it produces the fullest flavour beer, that is as close to the real thing as possible.
After all, the only way we're going to get people to switch to a 0.5% abv beer every now and then is if it tastes great.
William Reed – the publisher of The Grocer – has launched a new trade show exclusively for the low and no alcohol sector. For more information, visit low2nobev.com