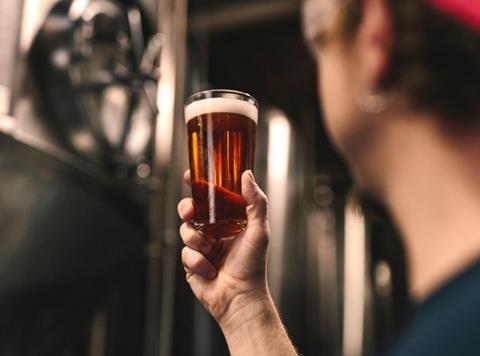 They say imitation is the sincerest form of flattery: turns out some of the UK's biggest craft brewers do wish they were making Budweiser after all.
This week has seen not one but two major craft brewers slash the alcohol content of their products: Camden has dropped the abv of its India Hells Lager from 6.2% to 5.2%, while Chapel Down-owned Curious Brew has cut the alcohol content of its IPA from 5.6% to 4.4%, a move it claims will make the IPA more 'sessionable'.
BrewDog's latest big launch, meanwhile, is a 4.7% abv lager. The marketing for it may be comfortingly abrasive (BrewDog is inviting shoppers to swap cans from other lager brands for a pint of its own brew across its bar estate) but that the UK's biggest craft brewer is now promoting 'a clean, crisp pilsner' is somewhat ironic.
Not that there's anything wrong with a clean, crisp pilsner. But you can't help feel there's a degree of neutering going on here. Why on earth would craft beer, which cut its teeth on making beers that stood out from the crowd, want to tone itself down?
When it comes to Camden, the answer more evangelical craft drinkers will likely turn to is that in slashing the abv of India Hells, a portion of cost has probably been stripped out of the product. This would certainly fit owner AB InBev's MO.
The acquisition of Camden in 2015 will have come with ambitious growth targets, and a dulling of the brewery's sharper edges in pursuit of accessibility makes sense. (It's also fair to say it was never totally at the forefront of experimentation in craft beer, anyway.) Thus it would by no means be unreasonable to suggest that we may see more moves like this from the ever-swelling ranks of multinational-owned craft brewers over the coming months.
BrewDog's move is more interesting than Camden's, because BrewDog is still technically independent. Yet while the Scottish business may continually bang on about how it can do beer better than the big boys, it has released some tremendously, well, safe, beers of late.
Remember Indie Pale Ale? It was less than a year ago that BrewDog was actually forced to change the recipe of the brew after fans railed against what many saw as a mediocre, mainstream-tasting release.
With the release of Lost Lager – which is, interestingly, being released as a Tesco-Booker exclusive – BrewDog's head of UK sales has admitted the brewer was "challenged" by Tesco to produce craft beer's answer to mainstream lager. The resulting product arguably brings very little new to the category.
The message from Tesco is clear: let's see if you can steal share from the big brewers on their own turf. Remember, Tesco has nothing to lose from selling more BrewDog in place of Foster's or Carling. It will almost certainly make a higher margin on those 330ml cans. If BrewDog's push into lager proves profitable for brand and retailer alike, some devastating delistings for even more stagnating mainstreamers could follow.
Perhaps the craft sector's biggest names are also beginning to worry that the tremendous growth they've seen over past years may begin to stabilise. That while they have turned a veritable sea of drinkers on to weirder, hoppier beers, there is still a vast ocean of dyed-in-the-wool lager drinkers who just won't drink their products, put off by not just the taste but the price. That the category has established mature brands means the end of the craft boom may be in sight.
Obviously there are many brewers that will pointedly never be anything but specialist. But for those that set their sights on 'going mainstream' by dulling down their products and moving into more familiar styles, there is a risk of losing the experimental and rebellious edge that got them where they are now. Pray they don't stray too far from their roots, lest craft beer's howling hounds end up castrated pups.