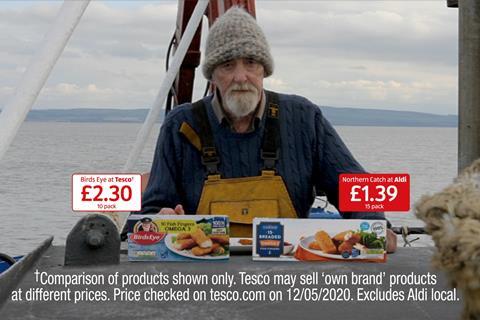 Aldi is relaunching adverts comparing its own label prices with brands at rivals.

From this week, the 'Like brands only cheaper' TV ads are making comparisons including Northern Catch fish fingers at Aldi versus Birds Eye at Tesco. The cost is £1.39 for a pack of 15 Northern Catch versus £2.30 for 10 Birds Eye fish fingers at Tesco, according to the ad.

The ads include the written message "Tesco may sell own brand products at different prices."

It's the same wording that featured in small print in a 2018 Aldi newspaper ad comparing branded products at Tesco to own label ones from the discounter. The Advertising Standards Authority subsequently ruled it was insufficient to "counteract the overall misleading impression given by the selection of products", after Tesco complained. The ASA ruled it was permissible to compare branded with own label products provided the comparison was not misleading.
Because the latest ads are on TV, they are subject to the Broadcast Committee of Advertising Practice code.
Aldi said the 2018 newspaper ad compared a basket of products, while the latest used single product comparisons, which were permitted by the ASA.

The retailer said they were re-runs of ads that initially aired in 2011 and 2012, with prices and packaging updated.

The ads are running on ITV, Channel 4, and Sky channels, as well as Eurosport.

"There's always been a lot of love for Aldi's iconic 'Like brands only cheaper' adverts and now felt like the right moment to re-run some of the all-time classics to spread a bit of nostalgic cheer through the homes of the nation, while reminding families that they'll save money by shopping at Aldi," said Aldi UK marketing director Sean McGinty.

"We understand that for many, the current situation is tough financially, so we believe it's our duty to remind people how much they can save by swapping their shop to Aldi. The ads show that our prices have always been low and always will be, because we want customers to have access to good quality food, every day."