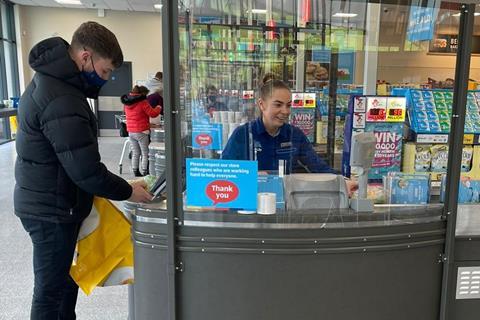 Aldi is to sell National Lottery tickets in all its 900 UK stores by the end of June.
The draw-based games, including EuroMillions, Set For Life and Thunderball, will begin rolling out to Aldi checkouts nationwide from next month.
It follows a trial launched in 2018 in Aldi stores in the north of England, as Lottery operator Camelot sought to extend its reach into the growing discounter sector.
National Lottery tickets are also sold by B&M, Heron Foods, The Original Factory Shop, Co-op, Waitrose and the big four, and are being trialled by Iceland in about 30 stores.
The National Lottery generates over £30m a week on average for causes ranging from food banks to repairing local scout huts.
"We're absolutely delighted to now be working with Aldi," said Camelot retail director Jenny Blogg.
"Making The National Lottery available in its stores has been a priority for us as we continue to make playing The National Lottery as convenient and easy as possible for people, wherever and however they shop."
Aldi communications director Richard Thornton said: "Customers will now be able to enter The National Lottery while doing their weekly Aldi shop.
"We hope to hand out some winning numbers to lucky customers across the country."