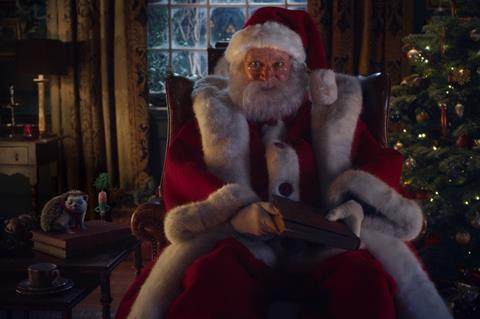 Kevin the Carrot has been joined by Jim Broadbent in Aldi's Christmas ad, due to air tonight during ITV's Coronation Street.
The ad picks up where Aldi's Top Gun-style teaser ended, with Kevin plummeting to Earth after falling out of a plane.
Kevin then has to find his way back through the snow to his family for Christmas, something he manages with the help of a hedgehog, Broadbent's Santa and an ET-style flying bicycle.
Broadbent has narrated previous Kevin the Carrot Christmas ads for the discounter.
"It is my great pleasure to step into Father Christmas' shoes and bring the festive spirit to life for Aldi with my co-star Kevin the Carrot," he said. "I hope this campaign brings a little joy and magic to everyone this Christmas."
Aldi marketing director Sean McGinty said: "We're all thrilled to see Kevin back on our screens again, getting up to his usual tricks. Kevin's popularity keeps on growing and this year, more so than any other, Kevin's return to TV screens will come as a welcome relief for so many."