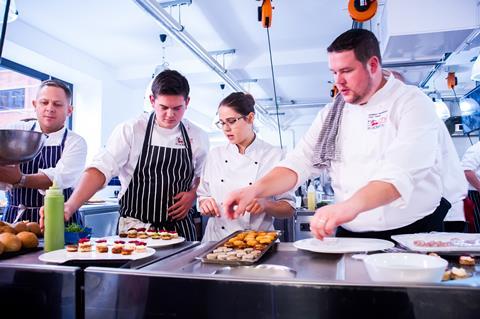 Deliveroo has called on the government to let companies pass a bigger cut of their Apprenticeship Levy funds "down the supply chain" to tackle what it has called a "national chef shortage".
The food delivery company said it was lobbying government to "urgently free up" large companies so they can transfer more training money to partnering businesses.
The effort comes as Deliveroo commissioned research found eight in 10 of its 35,000 restaurant partners were struggling to hire new chefs. More than half said there were too few qualified candidates in the market.
"Our priority is to help our restaurant partners hire, train and upskill restaurants' workforces and develop a new generation of culinary talent," said Deliveroo chief operating officer Rohan Pradhan.
Employers like Deliveroo, which have a pay bill of more than £3m a year, pay the Apprenticeship Levy and receive funds in return to spend on training staff.
Since April last year, 25% of an employer's funds can be passed on to suppliers and same-sector partners. For Deliveroo this amounts to £100,000 a year, which the company said would be awarded to HIT Training to train 20 chefs at small restaurants.
"If Deliveroo were able to transfer up to 50% of the levy, for example, this sum could amount to a million pounds of investment over five years directly to support a new generation of chefs and the restaurant sector," the company said.
The company wants the power to pass on "as much as they choose" of the levy to partners. Failing to deal with the chef shortage could "arrest growth in the UK restaurant sector and harm British high streets" Deliveroo added.
Deliveroo – whose deal with Amazon is currently being investigated by the Competition & Markets Authority – on Friday extended the availability of primarily free online training courses to all its restaurant partners and their staff.
The courses have been made available to Deliveroo's exclusive restaurant partners since 2018. The most popular modules are food health and safety, business management and hotel and catering training.
"We wanted to respond to our restaurant partner concerns and support their skills training to develop more young chefs," said Pradhan.
"We speak to restaurants across the country every day and want to help them tackle the challenges they face. That is why Deliveroo is investing in new chef apprenticeships and rolling out thousands of online training courses for all our restaurant partners and their staff," he added.