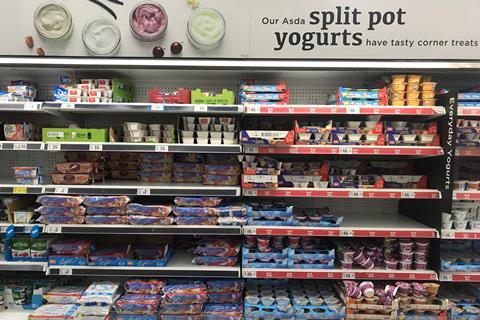 Asda is in the midst of rationalising its dairy fixtures, in a move that has bolstered its offering of locally sourced products.
Standout winners of the reset include brands like Northern Ireland's Coleraine cheddar and Scotland's Graham's the Family Dairy, both of which have doubled their number of SKUs stocked by the retailer.
Asda also boosted the presence of Northern Irish dairy brand Dale Farm within Northern Ireland, taking on its Delightly yoghurt range, while in butters and spreads Golden Cow doubled its SKU count and Dromona tripled its listings to nine lines.
"We're very proud of our commitment to local suppliers and we know how much our customers value locally sourced produce," said Asda's NI buying manager Emma Swan.
Overall, the retailer has cut the amount of dairy SKUs on sale by 16 since mid-February. BSM SKUs are up by 20 lines, but Asda has culled a net amount of 36 yoghurts [Edge by Ascential w/e 16 April 2019].
Those given the boot included Arla's lactose-free, sorbet-style Ihana yoghurts, which have now lost their only UK listings.
The trendy brand, which enjoyed success in Scandinavia before being brought to the UK, launched last year with stylish black packaging in a bid to bring something "new and different" to the category.
Meanwhile, The Collective lost a third of its listings, going from 15 SKUs to 10, and Müller's Corner Plain range replaced four-packs with two new six-packs. Dairy alternatives were not exempt from the shake-up, with Rude Health losing all five listings for its milk alternatives in the free-from section, though it said it hoped to get the range back into Asda in the ambient fixture.
The latest fixture to undergo a shake-up is cheese, with Dairy Crest's top-tier Davidstow brand among the winners, after being listed in 245 "affluent" stores, up from 26.