Wouhra bought back part of the business founded by his family 50 years ago, in the middle of the pandemic
I wasn't ready to go into the sun just yet," says Lioncroft Wholesale CEO Dr Jason Wouhra. He's explaining why he bought back two cash & carry depots from the private equity firm that had just acquired his family's business – all in the middle of a pandemic.
It's a move that is typical of his backstory. Although Lioncroft is only three years old, it dates back more than 50 years to when five brothers, recently arrived from New Delhi, set up a shop in Wolverhampton selling Asian food to the fast-growing migrant population.
In 1972, the brothers moved operations to Birmingham and established East End Foods as an ethnic food brand. Then, in 1979, they added a wholesale business, while continuing to manufacture products. They thrived as a wholesaler and branded supplier before accepting a multimillion-pound offer from Exponent for East End Foods in 2019.
Exponent wanted to create a larger business supplying branded ethnic food. That made sense – it had also acquired London-based TRS, which was similarly both a branded supplier and a cash & carry operator. So Exponent combined the East End and TRS Manufacturing businesses with three other suppliers to create Vibrant Foods.
Name: Dr Jason Wouhra OBE
Age: 45
Born: Wolverhampton
Status: Married to Daali
Lives: Birmingham
Education: Masters in commercial law, chartered director and doctor of sciences
Career: CEO of Lioncroft Wholesale, previously director, East End Foods
Hobbies: Cooking and watching motorsport
Best book: Good to Great by Jim Collins
Favourite movie: Any Bond film is a hit with me
Favourite album: Coldplay's A Rush Of Blood To The Head
Favourite meal: Classic tandoori chicken
Business idol: Sir Richard Branson. He's an inspirational character with such a broad range of business and charitable interests
Wouhra and his wife Daali, a former forensic accountant with Ernst & Young, were retained by Exponent as consultants to run East End cash & carry operations. But Exponent was not overly interested in that side of the business and Wouhra sensed an opportunity. By June 2020, they completed the deal to create Lioncroft.
The move came as a shock to some. "I told friends I was thinking of buying the wholesale business back, to which their response was 'what's wrong with you?'"
Part of the answer lay in his work ethic. "I had worked on the wholesale side from a young age and there was an element of not knowing what else I would want to do," Wouhra admits. But he also saw clear potential in the business – one that he convinced his immediate family of, too. Jason now runs Lioncroft with Daali as COO and his younger brother Indi as associate director and head of customer experience. His father Jasbir, one of the East End founders, is company chairman while mum Pam is also supporting the business.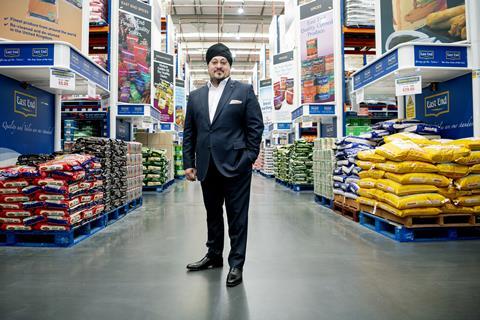 "Mum was very emotional about the sale of East End and so she was easily convinced," Wouhra says. "I knew we could do something really good, and my wife, who has always been my right hand, said it seems to be a good thing to do – and we haven't looked back."
The numbers certainly back him up. In the year to 30 April 2019, East End Foods – including the manufacturing side – recorded sales of £205m. Without the manufacturing business, Lioncroft turned over £157m with sales primarily from its two depots – a 120,000 sq ft site in Aston, Birmingham, and a 100,000 sq ft depot in Wolverhampton.
'We are comfortable but not complacent'
It wasn't easy. The buyout took place during the pandemic, meaning it was all hands to the pump to maintain availability while keeping staff and customers safe. After covid, there were industry-wide supply issues that made its relationships with suppliers vital. "We have come out the other side with an even stronger relationship with our customers and suppliers," says Wouhra.
There is now a sense it is in calmer waters. The new Lioncroft identity has been rolled out via staff uniforms and van livery, and the East End fascia was replaced with Lioncroft this summer. Even without this branding, the business has a clear identity. Crucially for long-standing customers, Lioncroft remains committed to its huge ethnic food range. "We are Vibrant Foods' biggest customer," says Wouhra, adding that the business is ordering up to £250,000 of stock from Vibrant a week.
But he isn't just looking to re-establish the old business. For the first time, there are non-Wouhras on the board and Jason is keen to promote "a family feel whether you are part of Wouhra family or not".
"The first three years have been about creating a foundation for growth," he explains. "That period has now determined we can now look to grow at pace."
Consolidation
In the medium term, Wouhra believes the business could grow to "anywhere between three and five times bigger than what it is". He is expecting news on potential new depots or acquisitions within the year, and sees growth beyond its Birmingham heartland. This could be part of wider consolidation within wholesale.
"There will be people who will want to get out and enjoy the fruits of their labour and, in terms of potential acquisition, that would be the best option but sadly there may also be some casualties," he says.
In the shorter term, growth is coming from changing demographics in the Birmingham area. As such, the range is growing to include food from the Far East, Africa, the Caribbean, Turkey and eastern Europe.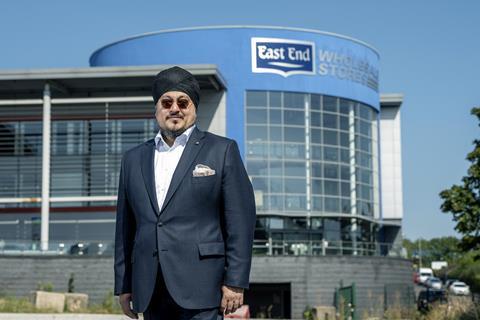 There is also a focus on tech and click & collect. A dedicated delivered hospitality business, bolstered by the addition of a bonded warehouse at its Birmingham depot, is already paying dividends. As well as national chains, Lioncroft is supplying stadia such as Edgbaston and West Bromwich Albion's Hawthorns ground. It is also starting work on redeveloping Unitas Wholesale's Lifestyle Express retail fascia.
Such growth will help Lioncroft meet increased competition in the Birmingham area. London-based wholesaler Dhamecha pushed north into the city in 2017 while Stockport-based Parfetts expanded south to Birmingham in March this year. Wouhra isn't fazed.
"We are comfortable without being complacent. Competition is good," he insists. "There is some overlap, but ours is a much broader offer. We have been here 50 years. We know the area, we know the customers and we know the market very well."
With such determination, it's clear Wouhra won't be riding off into the sunset any time soon.