M&S' food business is undergoing a dramatic transformation under MD Stuart Machin. New stores, Ocado, and now Costa Coffee are helping reignite its spark. But the work isn't done yet
Stuart Machin's excitement is tangible. We're on a store visit to the newly refreshed M&S Stratford store in Westfield. And throughout the tour he's picking up products, pointing out the reduced packaging on the fresh meat, waxing lyrical about the Christmas pudding recipe upgrade, or the new chocolate sourdough ("better than Gail's"), and the Snow Globe gin that plays a little Christmas tune when you press a button. "It took us ages to find the right song," he adds.
He even claims credit for some of the NPD, including the Collection Tzaztiki, chicken shwarma skewers and some of the new frozen lines. And as he goes he's snapping pictures of products that still have the M&S 1884 logo (instead of the M&S Food logo that's replaced it), to send to "the team".
This hands-on approach is not limited to store visits. Rattling cages, shaking things up, by all accounts Machin has his mitts on everything: the NPD (including feedback on cooking times), in-store refurbs, category management, supply chain. And with his elevation to joint COO this summer, he now has a say in several other areas too – all central and store operations, including property and store development, plus technology and HR, and the island of Ireland strategy.
And crucially it's working. After joining in 2018, Machin's ambitious five-year food transformation plans have taken a while to come good, after a turbulent Covid-ridden 18-month hiatus. But this week M&S's share price hit a two-year high amid rumours of a private equity bid, following two profit forecast upgrades. And M&S's food division, led by Machin, deserves much of the credit.
In the half-year to October, food sales rose 10% compared with the six months before the pandemic and 17% when adjusting for the hit to its cafés and franchises. Clothing & Home, by contrast, was down 1%. Kantar switching data shows M&S has stolen share from almost every grocer in recent months, with fresh produce, meat and grocery seeing particular gains.
Name: Stuart Machin
What's your favourite M&S Food product and why? It's like choosing your favourite child – I just couldn't!
What's the best business advice you've ever been given? You're never as good as they say and never as bad.
What's your career highlight to date? Running the M&S Food business and taking on the broader group role of COO as I am now involved in the whole of M&S.
What's the last great book you read? I'm currently reading The Hungry Empire and Digital Business Transformation.
If you could have dinner with one person who would it be? Princess Diana.
How do you relax outside work? Anything to do with music or walking the dog.
What's been your best career learning? Learn from your mistakes, never make the same mistake twice but continue to be bold. Also take business seriously without taking yourself too seriously.
So how has Machin turned things around? And what is still left to do? A crucial piece of Machin's transformation plan has been the store renewal programme, which kicked off in 2019. The Stratford store is one of 29 refreshes so far. And with a massive increase in food floor space (occupying the whole of the ground floor in this case), they've enabled Machin to position these stores as a destination for a full weekly shop. And they're delivering: sales in renewal stores were up 15.7% in the half-year to October.
And thank goodness Machin made the change. When he first joined, M&S was perceived as a grab-and-go type of grocer, specialising in the meal for tonight, due to its focus on small stores and historically limited range in all but a handful of outlets. With the coronavirus, both the mission and the location of many of its stores in transport hubs further compromised the model. So the approach – "bigger, better, fresher" locations that can accommodate a growing food range and allow for trolley shops – has been even more important.
Stratford is a case in point: footfall has plummeted from 179,000 per week pre-pandemic, to 108,000, because less people pass through the shopping centre these days. While shoppers used to make more frequent trips, often to browse clothes during their breaks or grab smaller food items, they are now purposefully coming to the store to buy bigger baskets, meaning there is more cash through the tills.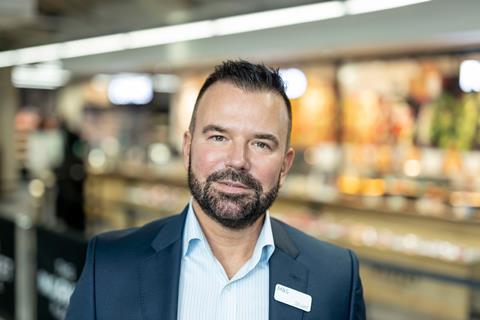 The transition to bigger and better was accelerated in May with the announcement that M&S will close a further 30 stores in the next decade. For the remainder, Machin wants to run them with "the efficiency of a supermarket, but a differentiated type of feel".
That may include more retail park stores – where M&S Food sales were up 23.3% compared with two years ago. But Machin insists new stores are not just about the location, but facilities. Things like good car parking, which is vital to attracting more families and growing basket size.
Remarksable
The expansion of the food range is also critically important. The full M&S food range now comprises 7,500 products (up from 6,000 in August 2019), including new lines added last year to match the Waitrose range ahead of the M&S Ocado switch. And the range is evolving all the time. The focus is not just on 'food porn' NPD but good-quality affordable core products as well as bigger packs. And M&S has ditched many promos on food to offer cheaper core items, including its cheesy 'Remarksable' range, launched last year.
Of course, crucial to the M&S full-basket proposition is Ocado. And while some questioned the sanity of paying £750m for a joint-stake in Ocado's UK retail arm in 2019, no one is doubting the rationale now. Previously, "all our customers who were shopping in the smaller stores would then go elsewhere online for a bigger shop," he says. "Now those customers can shop on Ocado and find the full M&S range even if they're not near a store."
Although Ocado Retail's half-year revenue to November were down 2.7% after its stellar performance in the first lockdown last year, the joint venture has been a key driver of sales and customer growth, says Machin. "We've had no cannibalisation in our stores, so we see this as new business."
He also claims that M&S products are more popular than those of Ocado's previous partner Waitrose, making up 27% of total sales (£309m). And earlier this week, both M&S and Ocado shares soared on speculation that the retailer was planning to buy the remaining 50% of the digital platform.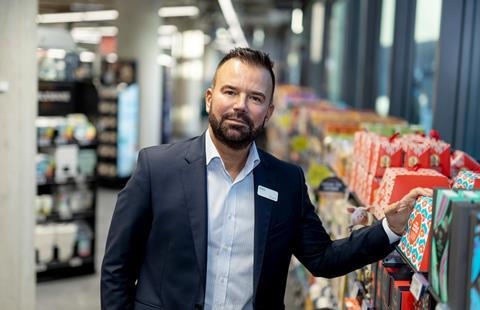 Project Vangarde
Another crucial change is the M&S supply chain modernisation programme. It launched in 2020 after CEO Steve Rowe blamed the wastage for the retailer's lacklustre results at the time.
The programme is still only halfway through, Machin says, though delay is only natural considering the strain the pandemic and labour shortages have placed on supply chains. But in a way, the recent challenges have helped "expose the cracks", he adds, allowing the company to efficiently tackle specific problems as it rolls out Vangarde to all stores.
"All our customers who were shopping in the smaller stores would then go shop somewhere else online"
Nonetheless, Machin is not entirely satisfied with progress. He's getting "about 80% of it correct" – mainly because he believes the other 20% is ever-evolving.
Just last week, M&S announced a tie-up with Costa Coffee to sell food in its high street stores. Innovation still needs to be ramped up on core ranges and plant-based options, he believes, plus he is "obsessed" by frozen. He is currently looking for a new head of trading to run the category separately.
In-store bakery also has room for growth, he argues, with the Stratford bakery section seeing a 28% increase since being moved to the front of the store.
Frozen
And topping up his to-do list is supporting his buyers – "a really tough job in this climate" – and developing closer relationships with suppliers.
Supermarket-supplier relationships have become increasingly strained this year due to rising inflationary pressures, but Machin insists M&S has "not passed any primary distribution costs on to our suppliers".
He wrote to his 80-odd suppliers recently to thank them and to offer additional help, and says he has not refused to support any supplier "that can justify cost increases". "But inflation should be transparent and fair for everybody because ultimately we all need to protect the customer," he adds.
For the next four weeks though, Machin and his team are focused on delivering Christmas. Securing enough seasonal drivers has been "really hard work" for the grocer's logistics partner Gist (it still has 70 vacancies open), but he's confident that Christmas sales will be strong.
And after that? While M&S's results represent a point of inflection in the turnaround, Machin is adamant about not wanting "anyone to think the job's done". Rowe echoed those thoughts in the half-year results, stating he wasn't claiming victory just yet.
But in the final stage of M&S's transformation strategy, rumours about Rowe's potential departure in the next 18 months have been circulating. Would Machin aspire to take on the CEO role?
"Too busy to think about that at the moment," he says. "I've got my work cut out and I love what I'm doing."