Restaurants are a font of innovation. And whether it's high-street chains or small independents, they're in a great place to translate that into grocery
Cocooning is the new going out. Driven by delivery technology, the rise of in-home entertainment subscription services like Netflix and Amazon Prime, and a desire to save money, more people are ordering in, more often.

But restaurants are using another channel to capitalise on this cocooning trend and develop an additional revenue stream: the grocery channel.

When the decision to eat in is made, there's a "massive opportunity for restaurant brands still to be front of mind and involved in the in-home meal occasion", says All About Food senior brand account manager Tessa Weston.

So what sort of products are being taken into grocery and by whom? What does it take to translate items from a menu on to a supermarket shelf? And how much money is there in it?

All sorts of restaurants have developed grocery spin-offs. And some are past masters at it. Nando's launched its first product into grocery in 1999 and has developed a wide range of sauces, dips, rubs, and even a Nando's houmous with a little bottle of its famous Nando's Peri-Peri attached. Its latest grocery NPD is a range of meal kits, which launched into Tesco and Asda in April 2019.

Perhaps the best-known example of a restaurant extending into grocery is Pizza Express. It first entered the retail sector even earlier, with a range of salad dressings launching in 1998. "The launch gave us a unique position in the category at the time - and it was extremely well-received by retailers and customers alike," recalls head of retail Richard Mills.

Two years later, off the back of this initial success, it launched a chilled pizza range as well as Dough Balls for the 'retail at home' market. Pizza Express is today one of the UK's largest grocery brands. Retail sales are expected to surpass £114m this year, and with 34 products in the range, more than 32 million Pizza Express pizzas are bought by customers in over 3,000 stores across the UK every year. "We're constantly working to innovate and optimise the range to ensure we're able to provide the best-quality product for both our customers and retail partners," says Mills.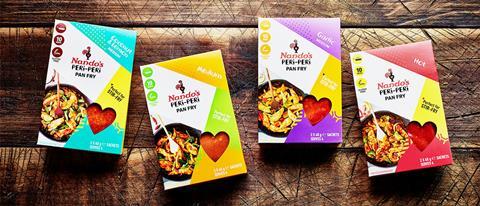 Healthy snacking
Japanese restaurant chain Itsu has been another successful import into grocery. It launched its first SKU eight years ago, recalls Itsu Grocery's marketing director Natalie Sugarman.

"It started with snacking. At the time, food to go and snacking fixtures were dominated by unhealthy crisps and chocolate bars." With Itsu's chocolate-covered rice cakes and crispy seaweed thins "flying off the counters" in its restaurants, it went to Sainsbury's and Waitrose and these early listings formed the foundation of its supermarket offering.

With the snacks selling well up and down the country (not just in London, where the presence of the restaurants is most prominent), it was encouraged to develop the range still further, launching miso soups in 2012 and noodle cups in 2014 that were "single-handedly responsible for creating a premium segment for instant pot snacks and revolutionised the product quality of this fixture", claims Sugarman.

And the Itsu range continues to show strong growth, with the chain forecasting 22% growth year on year in 2019, across three categories - snacking (crispy seaweed thins, prawn crackers, chocolate-covered rice cakes, beef 'twerky'), ambient world foods (rice noodle cups, udon noodle pots, miso'easy, meal kits) and frozen (gyoza, bao buns, noodle kits and rice bowls).

It also launched seaweed thins for children this month in two variants, Original and Tomato, based on research that showed a gap in the market for healthy children's savoury snacks.
Frozen
A more recent convert is the chain Bella Italia. In late 2018 it partnered with Tesco to launch a range of 10 frozen ready meals based on the casual dining chain's à la carte menu. At the time of launch, Bella Italia's chief operating officer James Spragg said the NPD highlighted Bella Italia's "commitment in utilising its knowledge, experience and expertise to target different markets within the UK".

The chain already had "a wealth of experience that can be utilised to tap other markets, such as retail", he added.

When it comes to ready meals, frozen is certainly one of the most popular ways in which restaurant brands can play. There's less competition from own-label chilled offers, and supermarkets are desperate for brands to bring both the pizazz of a brand and their technical expertise to the category.

For example, Tesco recently approached Itsu "to help bring more shoppers into frozen by demonstrating that frozen food could be high-quality and nutritious, as it had a proven track record and the credibility to deliver this message successfully", says Sugarman.
This venture into the frozen aisle resulted in gyoza dumplings and bao buns launching last August. "Our product development team spent months perfecting these recipes to make them the best gyoza you can buy on the market," claims Sugarman. "And this pride, passion and love for the product is reflected in the strong performance to date. The launch of Itsu gyoza into frozen has been 87% incremental, bringing new customers down this aisle, and we are forecasting 73% year on year growth."

Indeed, such as been the success of Itsu's new frozen range it has contributed to the "changing perception of frozen food, making it the UK's fastest-growing food category", a Tesco spokeswoman says.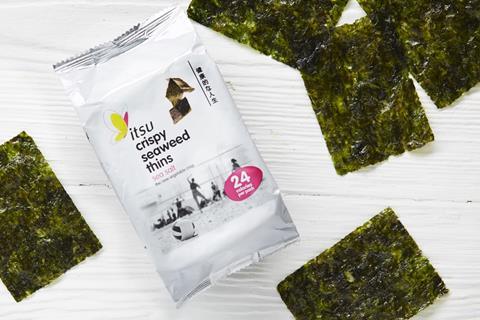 Vegan
It's not just high street giants that are playing this game though. Vegan restaurant The Brook, an independent based in Hackney, has had a stab at its own premium frozen range too. "We're insanely passionate about showing people how delicious plant-based food can be. While it's amazing doing this in a restaurant setting, you're limited to your physical location, which makes reaching a lot of people a challenge," says founder Thea Brook. "By launching a meal range that can be enjoyed at home we're able to reach a lot more people."

Another trend that restaurants are capitalising on is around plant-based. In mid-July, Brighton-based Belgian fries restaurant BeFries announced it was seeking to raise £30k to launch a vegan sauce range on to supermarket shelves, under the brand BeSaucy. At the time of going to press, the company had raised more than £12,000.

The independent restaurant had found that customer demand for its sauces was so high, it started jarring them just over a year ago. It realised it was "on to something" with its vegan basil mayo, when it won two stars at last year's Great Taste Awards - making it the highest awarded mayonnaise of 2018. It then started receiving interest from retailers and wholesalers, including Planet Organic, wanting to stock its products. However, it didn't feel confident to really push the wholesale arm of the business until it had a "better set-up in terms of production", said co-founder Chan Beevers when the crowdfunding campaign kicked off.

"We really believe this can go nationally across all supermarkets and stores, and then globally too," he adds.
Routes to market
There are many routes to successfully launch into the supers. Some do so on their own. Others work with a manufacturer to scale up production. But there are also specialist development agencies. The best known is All About Food, which started in 1999, taking Nando's Peri-Peri sauce into UK retail.

Since then, it has grown to represent some of the UK's leading restaurant brands in grocery, such as Pizza Express, Wahaca and Costa. The developer co-creates retail ranges with its brand partners, leveraging relationships across manufacturing, design and procurement, as well as consumer and category insight, to deliver products that are "right for the brand, retailer and consumer".

"We provide a link for restaurateurs looking to navigate the ever-changing and complex UK grocery market," says senior brand account manager Weston. "Retailers use our in-depth knowledge of the UK restaurant and eating out market to identify opportunities to grow category sales and brand awareness."
Since restaurants often specialise in certain cuisines, techniques and flavours, All About Food can "help consumers overcome the barrier to trial for cooking new cuisines at home with a brand they trust".

A new product or range needs to "reflect the core values and proposition of the restaurant brand," she adds. "We work with retailers, data providers and consumer insight to shape the brand proposition in retail, and work closely with the restaurant development teams throughout the process."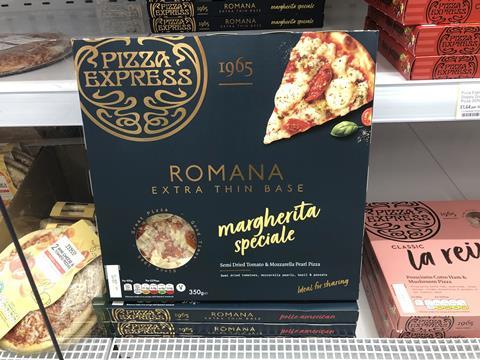 As well as working with All About Food, Pizza Express believes it's important that its food and beverage team works "very closely" with its manufacturing partners to help develop the "best in class" retail products. The chain adapts its products to ensure they "perfectly meet" the channel requirements. "We're allowing our customers the freedom to enjoy making Pizza Express in the comfort of their own home," adds Mills.

Itsu takes the same tack. "The same love, care and attention goes into all Itsu products," says Sugarman, who heads up this specialist arm. "Itsu restaurant food is made fresh on site daily in the Itsu restaurant kitchens. And every recipe for our Itsu Grocery range is first created by our product development team in our own in-house kitchen. We spend months perfecting the recipes until everyone is proud of them.

"We then travel the world to find suppliers that can replicate our kitchen recipe and our product vision on a larger scale for the supermarket shelves, always using ingredients of the highest quality."

Itsu uses its restaurants as "valuable" market research, and only launches products it knows consumers want and where it can re-create the "great restaurant quality" on the supermarket shelves.

All the products need to meet Itsu's development pillars of being Asian-inspired, restaurant quality, innovative market firsts, nutritionally beneficial and accessible.
Production process
Having said that, the process for developing products to take into grocery can differ slightly from that in a restaurant kitchen, argues Weston. After all, it needs to be easy for the consumer to cook. And that isn't always feasible.

"Consumers don't have the professional kitchens, expertise or chefs at home, but still want to be able to enjoy the flavour or style of their favourite restaurants in their own kitchen.

"We help consumers by creating products inspired by the restaurants, using similar ingredients, providing recipe inspiration and ensuring every grocery launch is a legitimate brand extension that shoppers are excited to see."
"Consumers don't have the professional kitchens or expertise at home, but still want to enjoy the flavour of their favourite restaurants"
Itsu faced this challenge when it wanted to create a "restaurant-quality" sticky rice, which is "notoriously difficult" to cook from scratch. "Itsu has worked on a new way to create restaurant-quality sticky rice in minutes either in the microwave or pan-cooking," says Sugarman.

Smaller restaurants, on the other hand, tend to go the solo route. For example, BeFries will use the investment it raises through crowdfunding to purchase "key" industrial equipment and scale up its sauce production.

The brand is currently produces about 500 jars a week, but wants to upscale that tenfold to produce around 5,000 a week, using the same process.

The Brook is using the same process for mass production of its ready meals as it is in restaurants, just on a larger scale and using bigger pieces of equipment.

"The main difference for me is that we lose control over how the customer enjoys the meal, for example what they pair the dish with to serve it," adds Brook. "We're hoping to find a new way to connect with our customers to overcome this, by showing different ways the dishes can be enjoyed in order to really optimise their flavours." Itsu claims 11 packs of its crispy seaweed thins are sold every minutePizza Express re-launched its Romana pizzas last month, to include a range of new recipesNando's took its first product into grocery in 1999. Recent launches have been a range of meal kits and pan-fry pastes.
Four recent and upcoming launches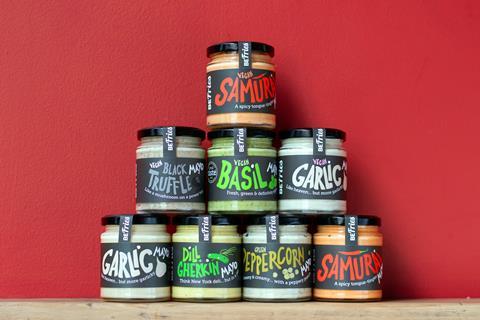 BeFries
BeFries is a Brighton-based Belgian-style fries restaurant, launched in 2016 by Chan Beevers and his siblings, Dashal and Ezda. Since December 2017, it has produced and sold more than 10,000 jars of its 11 home-made sauces.
It is now seeking to raise £30,000 to launch its vegan sauce range on to supermarket shelves, under a brand new sister brand - BeSaucy. It will use the funds raised to acquire a large emulsifier to increase weekly production tenfold to 5,000 jars.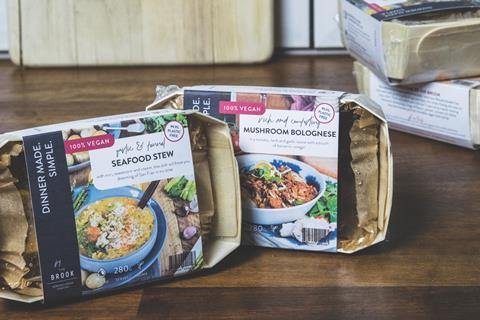 The Brook
In March, London restaurateur Thea Brook launched a range of sustainably-packaged plant-based ready meals.
Eight frozen recipes based on dishes from her Wallington restaurant, The Brook, are available following a three-month testing phase in which Brook and her team trialled 24 variants.
The restaurant kicked off a "beta test" of its frozen dishes in January, selling them via its website after it raised £170k on Seedrs in four days in autumn 2018.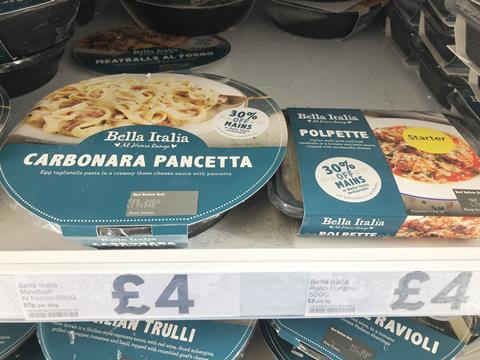 Bella Italia
In October 2018, Bella Italia partnered with Tesco to launch a range of frozen ready meals based on its à la carte menu.
The 10-strong lineup across starters, mains and desserts was developed by Bella Italia executive chef Vittorio Lettieri "to build on the authentic Italian dishes proudly served in restaurants".
The Casual Dining Group-owned business said the products use the same ingredient suppliers as dishes served in Bella Italia's 111 UK locations "wherever possible".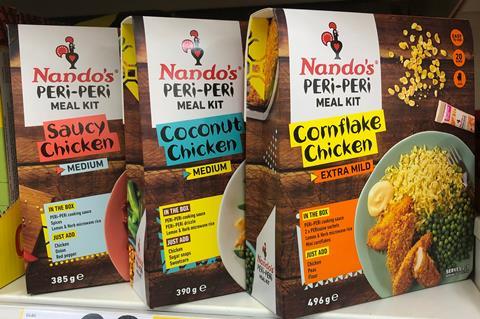 Nando's meal kits
Nando's first started selling its Peri-Peri sauce in grocery stores in 1999. Earlier this year, the company started selling meal kits in Tesco and Asda. The meal kits come in four varieties: Cornflake Chicken, Zesty Chicken, Coconut Chicken and Saucy Chicken. The restaurant chain also launched 'Peri-Peri pan fry' - a range of pastes to add to stir-fries.
The previous year, the company had released 'bag & bake', a range of dry cooking sauces to tap the popularity of "restaurant-inspired" cooking.