This article is part of our 2016 Bread & Baked Goods digital feature
Dave's Killer Bread: a timeline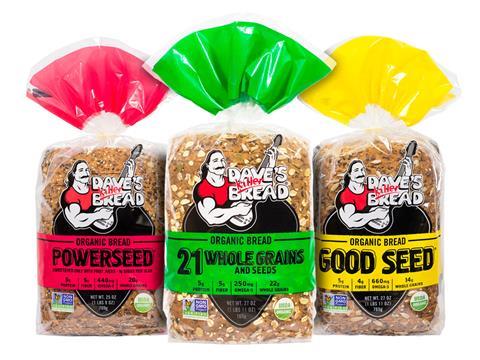 1955: Jim and Wanene Dahl (Dave's parents) purchase the Midway bakery
1984: The company is renamed NatureBake as Jim was experimenting with sprouted wheat breads and organic ingredients
2005: Dave returns to the family business to lead product innovation after spending 15 years in jail
2005: Dave's Killer Bread makes its debut at Portland Farmers Market Summer Loaves Festival
2011: Inc Magazine names Dave's Killer Bread as one of America's fastest-growing companies
2014: The loaves gain listings in Costco in Western Canada
2015: Flowers Foods acquires Dave's Killer Bread
2016: The national rollout of Dave's Killer bread begins, with over 9,000 new stores stocking it
UK bread sales are in the doldrums and its biggest brands are getting burned as the price war rages. A whopping £95m has been wiped off wrapped bread's value over the past year alone as the price of a loaf plummets to 89p [Kantar Worldpanel 52 w/e 14 August 2016].
Bread, it seems, is a bit boring. And yet, across the water in the US, one brand is shaking things up. Dave's Killer Bread has recently gained nationwide listings for loaves that look more rock n' roll than bread roll with lines such as Powerseed and White Bread Done Right.
Everything, from the logo (featuring guitar-touting founder Dave Dahl with his long locks and bulging biceps) to its so-called 'breadhead' fans, screams cool.
Back home bread is stuck in a bygone era. The three biggest bread brands – Warburtons, Kingsmill and Hovis – command 77% of the market but their sales are rolling away like the Hovis boy down that cobbled street. They're speaking a language (wholemeal, farmhouse, granary, etc) that people no longer want to hear. Households are getting smaller, yet the big brands are for the most part still touting their oversized and outdated 800g loaves.
Bread should, and can, be exciting. Dave's high protein, high fibre organic seeded breads could easily become part of a boring marketing narrative. But it hasn't been. Not even after the buyout by Flower Foods. It's social media pages are full of infographics simply showing the goodness inside, hashtags from fist bump to mic drop with a hefty dose of puns thrown in for good measure.
This combined with the heartfelt, honest story behind Dave's Killer Bread (see box), plus its work with people with criminal backgrounds, make for a truly engaging brand loved by consumers. You only need to look at its Facebook page for proof.
While this kind of attitude doesn't come naturally to the UK's bread behemoths, they can certainly draw on it to stay ahead of the times.
Here in the UK, bread has been weighed down by its heritage. There are those that are moving with the times - Hovis' Chia Bread and Northern Irish baker Irwin's Nutty Krust are noteworthy examples – but for the most part, bread's biggest players are moving too slowly. The days of standard sliced loaves are gone. The world speaks a different language now. Bakers need to wake up. The UK needs its own Dave's Killer Bread.
Previous article: Revealed: 40% of Brits ditch bread in their sarnies
Next article: Welsh are biggest bread fans with 60% tucking in daily