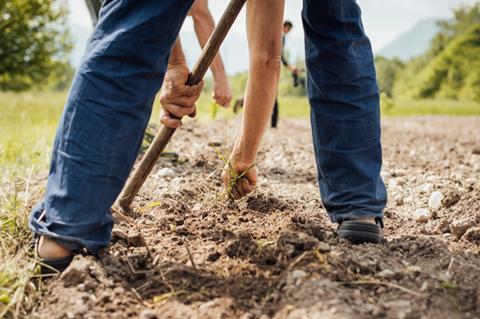 The government has faced a furious backlash from growers following its announcement it will end freedom of movement on Halloween in the event of a no-deal Brexit.
On Monday, the Home Office released a statement which said: 'Freedom of movement as it currently stands will end on 31 October when the UK leaves the EU', a move which marked a shift away from the previous government's plan for a gradual transition.
In response, sources from agriculture and recruitment have warned of immediate consequences, with an anticipated lack of migrant labour potentially meaning some farms would be unable to pick winter crops.
When asked if this prospective shortage of workers could see vegetables left to rot in the ground, CEO of the British Growers Association Jack Ward said: "Potentially, yes."
"There is a real risk that we have not got sufficient labour to harvest the crops we need. [In a no-deal scenario] Not only are we potentially making it more difficult to bring crops in from other parts of the world, but we're making it difficult to harvest our own crops," Ward added.
Ward's "real concerns" about staple seasonal vegetables disappearing from this year's Christmas dinner plates were echoed by the director of Hops Labour Solutions, John Hardman, who said he "could not be any more discombobulated" by the Johnson government's stance.
"We are beyond bamboozled because we had reassurances under Theresa May's administration that the transitional period would pretty much happen come what may. The direction we were taking seemed to be quite a sensible one," said Hardman, whose business recruits thousands of workers for agriculture.
"The people that are here already have the right to remain but we have absolutely no steer, no direction and no clue from the Home Office as to those people we will need to recruit from 1 November. We just have a lot of broad-brush statements which, to our industry, are apocalyptic," he added.
In addition to confirming the government's change of tack, a Home Office spokeswoman said: "After Brexit the government will introduce a new, fairer immigration system that prioritises skills and what people can contribute to the UK, rather than where they come from."
The announcement did not carry further specifics about how this new system would work, other than a promise to bring in tougher criminal checks on people seeking to enter the UK.
NFU's horticulture and potatoes board chair Ali Capper said the sector had not been consulted over the policy, adding the government had "lost their marbles".
"I think it is potentially catastrophic for horticulture because we do not have a scaled-up fully functioning seasonal workers scheme, we have a pilot. October and November is the time at which the horticultural industry is trying to recruit its labour for next year and ensure that as many people who were here this year return next year.
"I am not quite sure how the government expects the UK industry to recruit for next year and we need 80,000 workers next year, just like we do every year. With 60 working days left to go, it is unbelievable that the government would do this."